Micro-influencers can really be great in terms of marketing. Yes, they are usually not big celebrities, they have from 10 to 100 thousand followers on some social media platform, and some may say that it's too little. But there are profits from working with micro-influencers that make them the people of the decade.
Micro-influencers have a high engagement rate, especially when compared to mega-influencers with over 1 million followers. For Instagram creators, it's 15,4% for micro- and 1,7% for mega-influencers on average according to the BuzzGuru influencer marketing platform. It means that the audiences you can reach out to through micro-influencers are more receptive and responsive. Considering the average level of ER, the performance of the micro-influencers in terms of CPM and CPA appears to be more profitable.
Micro-influencers' services are way cheaper than those of the celebrities, and splitting your marketing budget among smaller creators helps diversify risks. Also, they are more suited for brands with modest budgets and for those who just want to touch the waters in the influencer marketing field.
Micro-influencers are like good neighbors or friends and authorities for their followers at the same time. They look more like "average" people, their followers can see themselves in such creators, therefore the trust grows stronger. At the same time, micro-influencers are seen as experts in their fields, this highthens their credibility a lot.
The marketing trend for the upcoming years is to pay more attention to micro-influencers and attract them to marketing campaigns more frequently. So, how do you find relevant creators and analyze their data? See what you need to consider.
Before starting your search for micro-influencers
First, you have to make up a clear portrait of your potential customer. It's vital to know your target audience as well as possible. During your search for micro-influencers, it will help you a lot as you will need to analyze the influencers' audiences and see if they match your target one.
So, a marketing campaign with micro-influencers needs preliminary research, just like any other advertising campaign.
Then, you have to determine the regions/countries you want to target. The research has to be performed there too: learn about the region's local specifics; in a new market, there may be some tricky pitfalls you're not familiar with yet. Also, see if there is a specific type of content that is loved and usually goes viral in the country of your choice: it will help you prepare a technical task for the influencers you will be working with. Read further to learn some tips on how to make a tech task for a micro influencer.
Searching for micro-influencers
There are two ways to discover relevant micro-influencers for your ad campaign:
Surf the social media. Check all the platforms manually. Check the accounts, count the CPM and ER, see if the influencers' content suits your product. Some micro-influencers are happy to help you and can show their audience data, so reach out and kindly ask them to. But still there are no guarantees you will get the data fast.
Use an automation tool of your choice. It has to contain the data on the influencers' accounts in the region you want to cover. Also, such tools count CPM, ER, and other metrics for you and help analyze them. For example, the BuzzGuru discovery and analytics platform automatically counts and shows a possible price for an influencer's services right away. Be sure to choose a platform that can also help you analyze an influencer's content so that you don't need to go back to manual checking.
The first way is somewhat outdated and doesn't give you all the possible data, but hey, it's free. You pay with your time only. The second way demands you to invest in the upcoming campaign, but the influencer marketing tools save you time and human resources, and also give more information relevant to advertisers. Such platforms as BuzzGuru can help you a lot here.
BuzzGuru allows you to search for influencers on YouTube, Instagram, Twitch, and TikTok.

Let's take YouTube as an example. There are over 15 million channels in the base, how do you find the ones that will bring you profit? Filters help you here.

You know your target audience, so you know: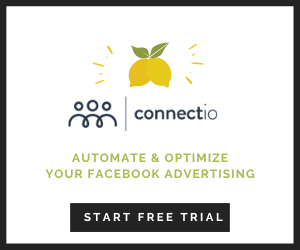 where they live;
what language they speak;
and what they may like.
Also, you have an understanding of how much you can spend on influencer marketing. So, you simply use this knowledge to set the filters! And as you're searching for micro-influencers, you have to choose the number of their subscribers: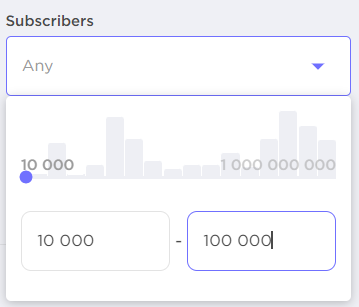 For example, you want to promote a young chemist set to Danish-speaking audiences from Denmark and Sweden. Here are some of the influencers that can fit your campaign.

You see the basic data on the influencers' channels at once. The number of subscribers, the average number of views on the videos, the price for ad integrations counted by BuzzGuru based on the information on the region's average CPM.
To make it easier to reach out to the influencer of your choice, on the influencer's profile page there are links to all their social media accounts available.

The influencer's profile page also gives you data on the YouTube channel's performance and the influencer's audience.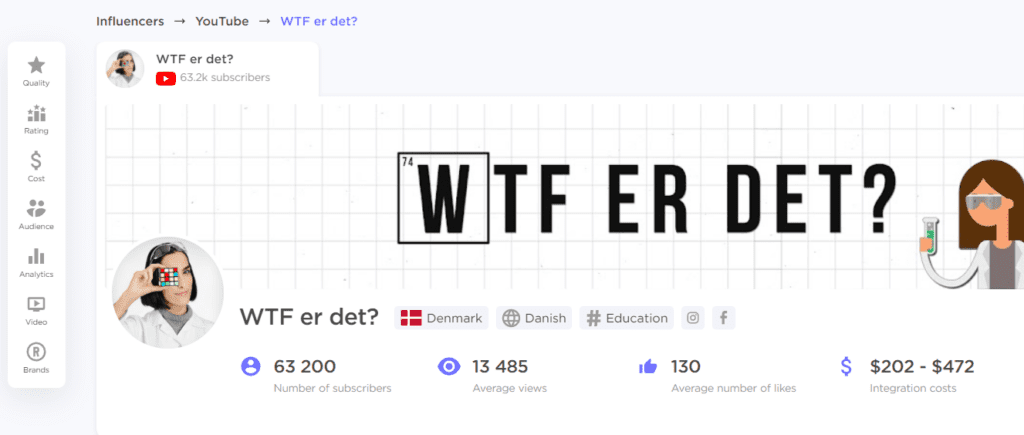 In addition, BuzzGuru helps analyze your competitors' marketing campaigns and shows what brands the influencer has been engaged with.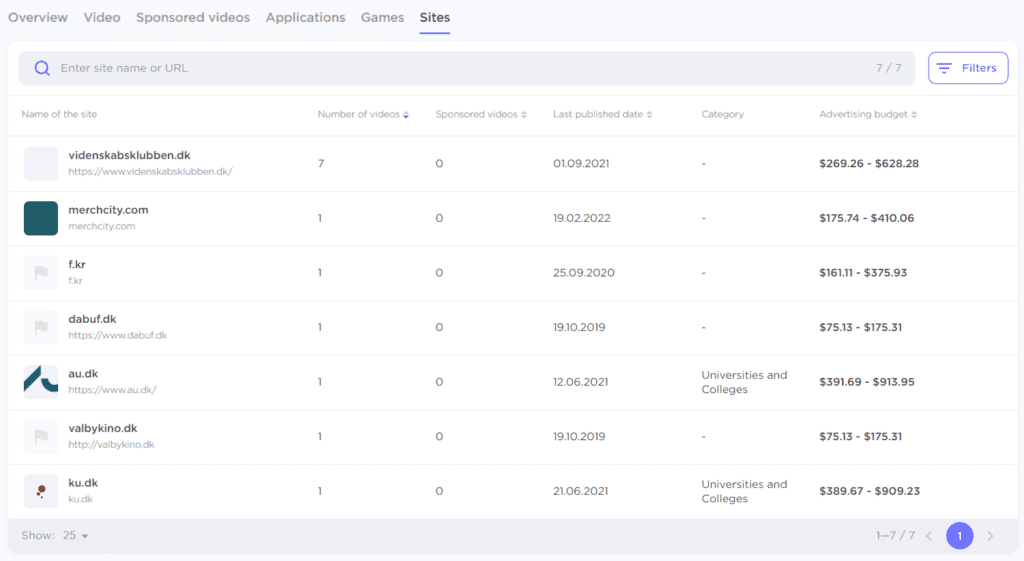 When you find influencers to your liking, you can put them on a list to save for further work, future campaigns, or to share with your colleagues. You can also download the data for further analysis.
The BuzzGuru platform is suited for those new to influencer marketing as well as for the experts.
Briefing micro-influencers
Micro-influencers are happy to get clear tech tasks. You can even write what the influencer has to say, for example, give them a specific CTA or demand to say your brand's motto. So be sure to make your brief as detailed as possible.
Give the influencer your basic information: what's your brand, your product, and a link to your site.
Set a tone of voice. Every micro-influencer has their own style, but there are things you can define yourself: the words and phrases the influencer should and shouldn't use, for example.
Tell them what needs to be highlighted, what aspects of your product are the coolest and need to be in the video/Insta-post.
Tell them what is important from the technical point of view. Maybe you need some particular music to play in the background or want the influencer to use a better camera than they usually do.
Specify the ad's duration and the time of start, if you're promoting with the help of video.
Set the deadlines.
Give the influencer contacts – someone has to be in touch.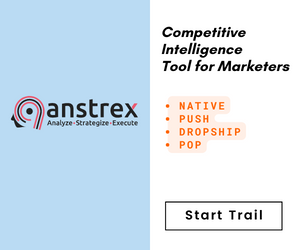 Be sure to discuss all the details beforehand. Micro-influencers will be grateful for your guidance as it's in their interest to do things right.
Our 'Handpicked' Tools for Internet Mareters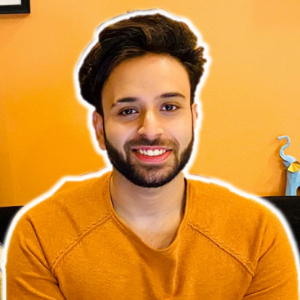 I and my team research various media buying platforms and can help you choose the right network; so you could rake in more greenbacks with an increased ROAS. I am just a mail away, so reach out to me if you need assistance with scalable media buying. mail: [email protected]