Facebook advertising is one thing. But, optimization of your advertisements and getting a return on the advertisement is a different thing. If you do not constantly improve and maintain your Facebook campaign, there is a reasonable probability that your results will start to decline pretty rapidly. To get a higher campaign ROI and reduce advertising budget while increasing conversions, you need to understand Facebook ad optimization. When you optimize your ads, you actively try to get the best results as efficiently as possible. So, optimization is the desired outcome that the system bids on in an ad auction. For instance, if you optimize for link clicks, your ads get targeted to the people in your audience who are more likely to click on the link. Based on your optimization, the delivery system uses machine learning to better the performance of each ad and reduce cost per optimization event. You can set your optimization to be different from your campaign objectives. For instance, you can select Conversions as your campaign objective but optimize your clicks within the ad set. Other optimization choices will be available according to your campaign objective. Given that optimization of ads can change how your ads reach people, you must use the best Facebook Ad Optimization Software Tools.
Benefits of Facebook Ad Optimization
Facebook ad optimization can be very beneficial to your company and help you constantly improve your ad campaigns.
Facebook Ad Fatigue is when your target audience members have seen your Facebook ads so much consecutively and have grown tired of them. This causes people to stop noticing your ads, and they have grown immune to these. The interested audience has already acted upon the ads, and now, you are spending large sums of money and not acquiring any new customers. Facebook ad optimization helps you overcome this problem.
To predict ad fatigue, you must check your Facebook ad frequency, which is a metric that shows how many times the target audience has seen your ad. It is suggested that you aim for the ad frequency to be under 2-3 points. But, when you target a narrow audience, you can let your ad frequency go relatively higher. If you have reached a high ad frequency and have no conversions, you need to optimize your campaign to manage it.
No Facebook marketer would not want to get excellent results at a low cost. You can apply Facebook ad optimization to your bidding methods and campaign budgets, which will lead to smart bidding that helps increase your Facebook advertising ROI.
The way in which you set up your Facebook target audience and how you set up your campaign targeting will have a significant effect on your Facebook ads results. If you optimize your Facebook target audience well, you will show your ads to the audience that is most likely to convert.
The Facebook ads relevance show shows how relevant your Facebook ad is to its target audience. Facebook uses this critical metric to calculate which advertiser wins the bidding auction and whose ads must be shown to the target audience. You have to optimize your ads well to increase your Relevance score.
Best Facebook Ad Optimization Software Tools: 2021
Here is a list of some of the best Facebook ad optimization software tools to help you scale your advertising campaigns.
1. Madgicx: Best Facebook Bid and Budget Optimization Software Tool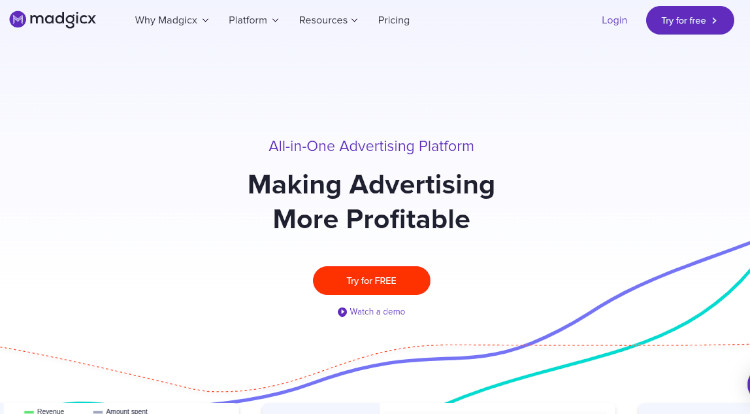 Description: The all-in-one advertising platform, Madgicx makes advertising more profitable. It is a team of elite ad buyers working for you for the price of the software. It is an AI-backed omnichannel marketing platform with creative intelligence and autonomous ad buying capabilities that optimizes ads. Their computer visioning algorithms analyze millions of data points from your creatives and evaluate the performance of each element separately to tailor the perfect content for the right audience. It provides you with unprecedented performance insights, revealing hidden metrics and directing you towards revenue-oriented decision-making.
Features:
They help you create a full-funnel strategy with AI Audience classification and targeting and use computer visioning-based tags to gain insights about each element in your creatives.
They provide a deep understanding of your ads and creatives to brief your creative team thoroughly. Their, algorithms unify, categorize, and analyze your ads to quickly identify the strongest ones, the ones experiencing ad fatigue, and your future winners.
They automate your advertising, so you can focus on content, concepts, and strategies and leave the technicalities of ad optimization to the machine.
Pricing: Their plans are primarily based on your monthly ad spend. If your ad spends are up to USD 1K, you will be charged USD 49 per month. If your ad spends about USD 5K, you will be charged about USD 99 per month. This increases and goes up until you have an ad spend of USD 3M; you will be charged USD 11K each month.
2. AdEspresso: Best Facebook Ad Optimization Tool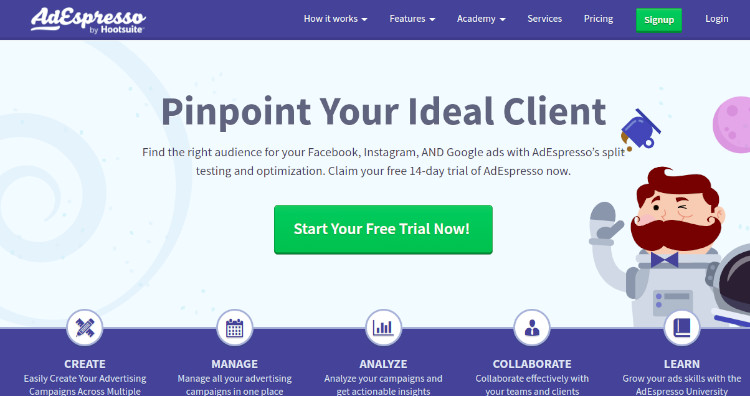 Description: AdEspresso makes digital advertising very easy. They help you find the right audience for your Facebook ads with their split testing and optimization. They help create your campaign in one place and make it very easy for you. They allow you to identify the strongest ones quickly manage all the advertising channels, so you spend less time switching between Ad Managers and spend more time making money. They analyze everything and provide actionable insights.
Features:
Their Optimization Algorithm analyzes your Facebook campaign's metrics in real-time and recommends improvements to your campaign's performance.
With their advanced analytics tool, you'll be able to understand how every experiment influences your Facebook campaigns, and you can discover which images are performing better for each gender, interest, and much more.
They help you optimize your Facebook campaigns while you sleep. They have designed a set of rules which examines all the ads within your campaign by CPA-pausing the under-performing ads and allocating budget to the best ads within the movement that works for every industry.
They allow you to create your own set of optimization rules at a campaign, ad, or adset level. They include one or multiple metrics and the frequency in which they'll be applied so that your campaigns will be optimized according to your specific needs and KPIs.
Pricing: They offer a Starter plan, where you are charged USD 49 each month. They offer a Plus plan, where they charge you USD 99 each month. They offer an Enterprise plan, where they charge you USD 259 each month.
3. Datasine: Best Facebook Ad Creative Optimization Software Tool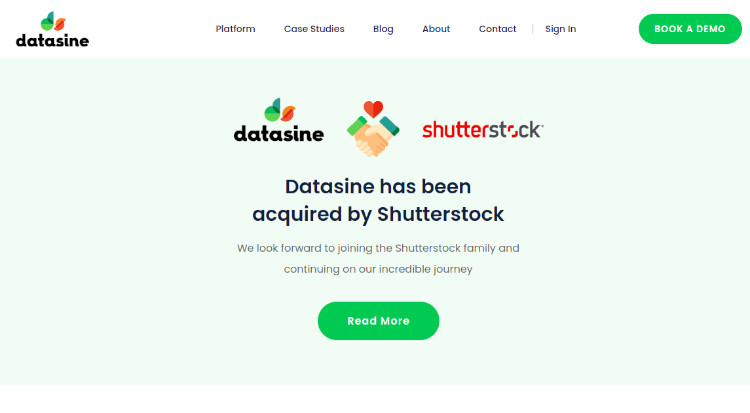 Description: Datasine is an AI platform that helps you create high-performing ads. They use AI-powered creative analysis and help you create ads that convert. They save you a lot of money by telling you which ads do not work. Their AI analyzes the creative elements of ads better than humans. With their innovative data, you can improve the ROI and performance of your ads.
Features:
Their AI can predict the future performance of your ad campaign and enable you to accurately optimize your ads without putting hours of your time into A/B testing.
They use tried and tested artificial intelligence to analyze your past digital advertising assets and optimize their performance for a lower CPC and higher ROI.
They analyze your previous campaign data to understand what makes your audience convert.
They provide instant alerts if an ad is underperforming, with recommended changes to copy.
They show which creative elements worked and what to drop for the next campaign.
Pricing: You have to book a demo with them, post which they will send you a quote based on your needs.
4. Connectio.io: Best Facebook Ad Optimization Strategy Planner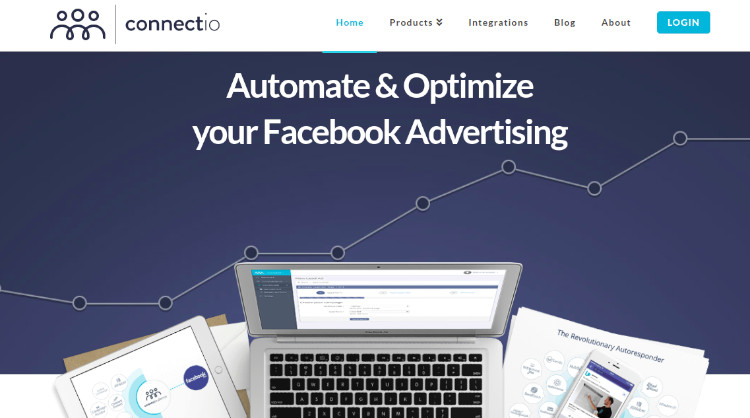 Description: Connect.io helps automate and optimize your Facebook advertising. They provide all the solutions that an advanced marketer needs in one place. They allow you to grow your following, increase engagement, and boost sales. They help you make automated campaigns on social media that sell.
Features:
They help you easily synchronize your Autoresponder into Facebook Custom Audiences.
They help you connect your Facebook™ Lead Ads to your CRM/Autoresponder.
They help run Retargeting Campaigns based on how people behave on your website.
Pricing: You have to connect with them and they will give you a quote according to your needs.
5. Revealbot: Best Facebook Ad Optimization Software Tool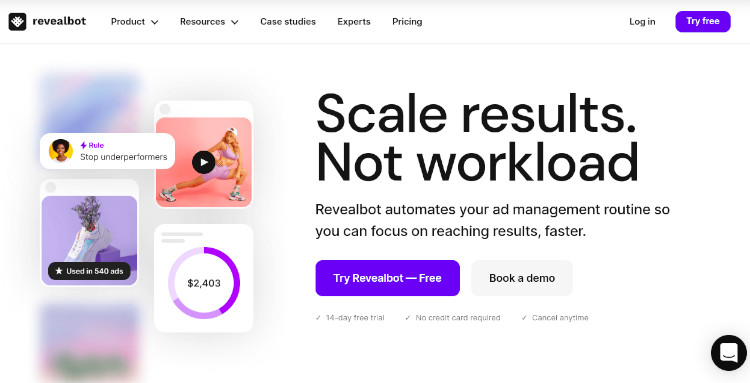 Description: Revealbot provides powerful automation to manage, scale, launch, and analyze ads and helps achieve higher profitability with intelligent ad automation. They help automate your Facebook ad strategies and management to boost ROAS and save time with their Facebook ad automation and optimization tools.
Features:
They help you build automation as complex as you need in a beautiful drag-and-drop interface.
They allow you to choose more than 20 actions to automate and multiply together in single automation.
They help compare metrics to another metric or its ranking.
They help discover new ways to improve and report on KPIs.
Pricing: Their pricing is based on your ad spend. If you have a maximum ad spend of USD 10K, they will charge you USD 83 each month. If you have a maximum ad spend of USD 25K, they will charge you USD 167 each month. If you have a maximum ad spend of USD 50K, they will charge you USD 251 per month. Based on this, your monthly plan increases. This goes up to an ad spend of USD 3,000,000 per month; you will be charged USD 2519 per month,
6. Smartly.io: Best AI-Based Optimization Software for Facebook Ads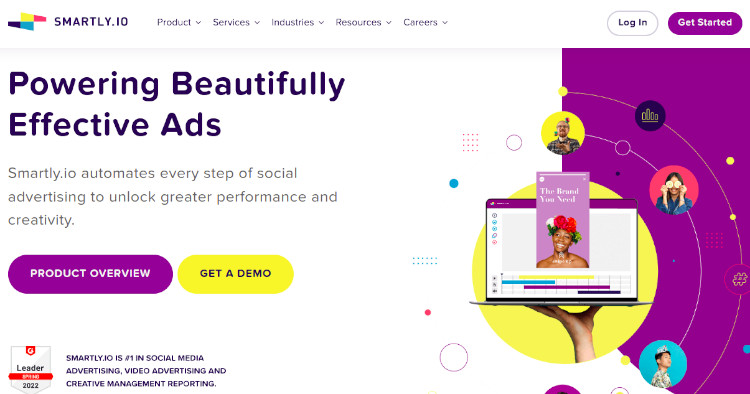 Description: Smartly.io automates every step of social advertising to unlock outstanding performance and creativity and powers beautifully effective ads. It combines media buying and creative automation to make it easy for you to automate your manual work and maximize your ROAS. They take your static images, videos, and other creative assets to the next level. It unlocks growth on Facebook by unifying creative, media, and data into a smarter advertising cloud.
Features:
Their creative toolkit empowers effective testing to learn which creatives, concepts, and elements drive the highest engagement.
They help deliver relevant, personalized Facebook ads that will resonate with your audience and prompt action.
They help use your business data to automatically make oriented decisions directing complex campaigns and update ads and campaigns in real-time when your data changes.
They help maximize results by allocating budgets across ad sets and campaigns using first- and third-party data and autoscale budgets to drive high-performing campaigns.
They help measure the metrics that matter most and rapidly generate insights to make real-time decisions.
Pricing: You need to contact them, and they will send you a quote according to your needs.
7. Rocketium: Best Facebook Ad Creative Optimization Tool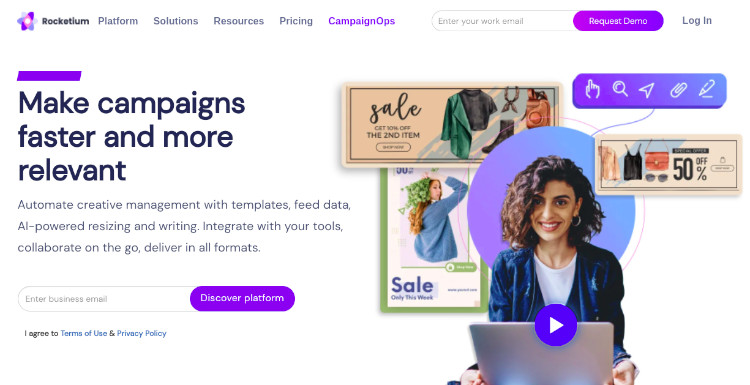 Description: Rocketium helps optimize banners for your eCommerce display advertising campaigns and increase conversions to your stores. They help enhance conversions with less iteration. They help build a great brand identity and grow exponentially. They help make campaigns faster and more relevant. They help automate creative management with templates, feed data, AI-powered resizing, and writing and allow you to integrate with your tools, collaborate on the go, and deliver in all formats. They help run experiments on the entire visual experience and make edits in real-time. They provide solutions for every growth-oriented team.
Features:
They help increase conversions by customizing the banner to target the interests of each cohort.
They let designers focus on the creative aspects, and they take care of the repetitive tasks.
They help build a distinct brand image by using consistent tools across your ads.
They help create thousands of banners and make changes to them in seconds.
Pricing: You have to connect with them and request pricing.
---
Facebook Ad Optimization Tips: 2022
An easy way to get the best results from your Facebook ad campaigns is by letting the ebay Facebook ad optimization software tools do some work for you. They will find the people you are looking to target and utilize the ad spend in the most effective way to drive results for your business. Here are some tips that will help you get the best of your campaigns:
Select a campaign objective that aligns with your business goals: It is necessary to determine what success would look like to you and think about what action you wish your audience takes when they see your ad. After you decide on the goal, you must choose an objective that aligns with your desired outcome. The campaign objectives cover the general business goals, like generating awareness about products, driving traffic, etc
Determine your target audience: You must be very specific about the kind of audience you want to reach. The software tools can then help you find people who fit that description and are likely to be receptive to your message.
Focus on optimizing for business outcomes and not just clicks: For the best results, you must select an ad delivery optimization that matches your business goals. Optimizing your campaigns around clicks will not deliver the results you want, like online sales, and more sign-ups. You must focus on the optimization option that aligns with your business objectives.
Be flexible with ad placements: You must allow the flexibility of showing ads where they will perform best. Hence, you reach the most valuable customers and drive results for your business across platforms. The more placements options you provide, the better your campaign will perform.
Roundup
Facebook ads are critical to businesses. They are very helpful in getting the businesses the sheer reach and making it known to the audience. This is very important in getting you more conversions. Facebook ads have to be approached with a clear strategy. You must know what your business goals are and work actively towards the realization of the same. You must use the best tools to help better your Facebook campaigns if you are not reaching the desired outcome.
As a Facebook marketer, the aim is to get the best results at low budgets and beat the competition. For this aim, you need to optimize your Facebook campaigns. Facebook ad optimization is a consistent process articulated in different campaign phases, which is the campaign setting, and when you review the reports. You must optimize your ads to get the best results and use the best Facebook ad optimization software tools. These tools will help you move towards your business goals and actively make sure you realize them. You can use any of the above-listed best Facebook ad optimization software tools for the same.