With more than 2 billion active users monthly, Facebook has become one of the most popular social media platforms. Simply from the marketing perspective, there are several opportunities to engage with new audiences and expand your reach.
Facebook already has over 90 million businesses. About 1.88 billion users access Facebook at least once a day, and 17 percent of users come on Facebook to connect with brands and products. So, businesses actively pursue customers across Facebook, which makes it important to build your presence there. 
The social influence you can achieve through Facebook in terms of peer effects, ecommerce business, referrals, customer relationships, reputation, brand awareness, and more. It has a sheer number of people and it attracts great attention. Facebook pages are the gateway for businesses to market to their users. It has a public presence that allows fans to like the business, brand, celebrity, cause, or organization. It takes a lot of effort to successfully run marketing campaigns on Facebook. You can use the free Facebook marketing software tools and platforms to reduce some of the pressure and easily promote your business.
Facebook marketing comes in various forms of being paid and unpaid. With the paid version, you can choose between marketing products like fan pages, groups, or the newsfeed. The pricing can depend on your target audience and how long these ads run. However, you will need help from Facebook marketing software to effectively reach the people who would matter to your business. You can always fall back on these free Facebook marketing software tools and platforms to expand your reach.
Benefits of Facebook Marketing Software Tools
Facebook marketing software helps you automate and manage your Facebook presence so that you are consistent with your efforts and constantly engaging with the audience, and at the same, a lot of your time is not spent on maintaining your campaign. We have highlighted some of the top benefits of Facebook marketing software tools:
Planning: Such software allows you to plan your Facebook strategy way earlier. So, if you have an event or a deal soon, you can plan your presence now to make sure that you have proper coverage of the upcoming event in the future. You can write the content and schedule it to post when appropriate.
Targeting: The posts you make on the Facebook pages are available to users beyond your followers and friends. It is particularly great if you can make these posts available to everyone, but this requires an extra push towards specific audiences and demographics. With the Facebook marketing software, you can choose target audiences that you wish to prioritize your posts for to narrow the focus of each post.
Reporting: After each campaign, it is important to view everything in one place. The software helps you easily review your campaign data to see what worked, what did not, and what needs improvement. They show data in easy-to-read and understandable formats for in-depth analysis.
Free Facebook Marketing Software Tools and Platforms: 2022
Here is a list of some of the best Facebook marketing software tools and platforms that are free to get started.
1. PowerAdSpy: Free Facebook Marketing Software for Spying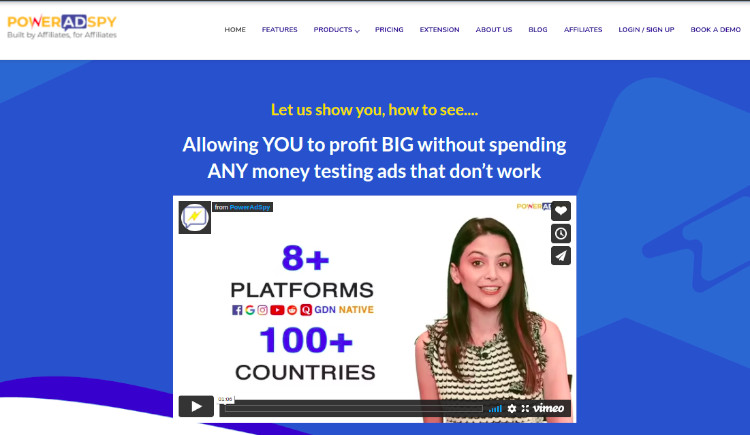 PowerAdSpy helps you profit big without spending any money on testing ads that do not work. It is the first and largest software of its kind to make sure you run Facebook ads that make you money right out the gate in the simplest way. It is the world's largest database of ads that are not just limited to Facebook and include Google, Instagram, YouTube, Native, Reddit, and Quora ads with 50 million listed ads in over 100+ countries, with 50K ads being added daily. With PowerAdSpy, you can see all the current, live, and past ads that are winners in any niche. You can see the targeting demographics and exactly where the ad traffic of the winners is being sent off to.
Features:
They show you exactly what ads are working now, so you do not waste money on ads that do not work. You can look for keywords, niche competitors, and even domains to see what ads are running and winning.
It eliminates the need to test, change, edit ads by showing you the best performing ads in your niche.
They show you the competitor's ads running along with their landing page in the same dashboard, so you know what is working and replicate it.
Given that video ads have become a leading ad strategy, they show what video ads work best in your niche in the present market.
They allow you to filter ads according to their call to action to show which is the right CTA for your campaign and niche.
2. Hootsuite: Free Facebook Marketing Software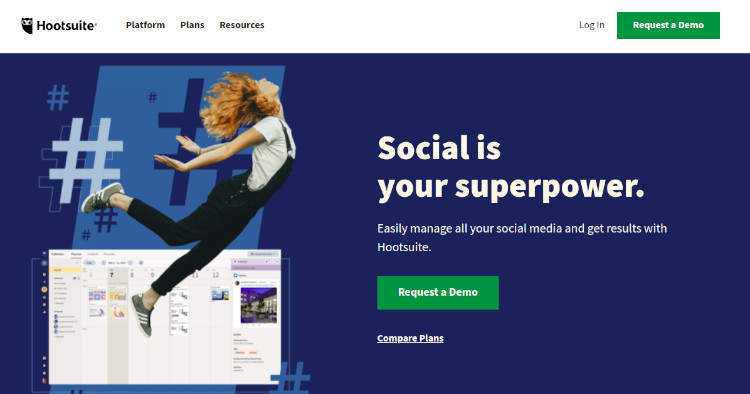 Hootsuite is known to be the best way to manage social media and is trusted by more than 18 million users worldwide. It helps you manage multiple social networks, connect with customers, and grow your business on social media. It is a 360 solution that helps the management of your profiles across the board from the global marketing teams. They also offer a free 30-day trial.
Features:
It helps manage all of your company's social networks in one convenient dashboard and get a bird's-eye view of what's happening in your social world.
It helps you quickly respond to messages, brand mentions, and comments across your social networks through a single dashboard.
You can track performance and grow your audience with their analytics reports that show you what's working and what isn't and learn about your audience and improve your campaigns.
3. Agora Pulse: Free Facebook Marketing Software for PPC Advertising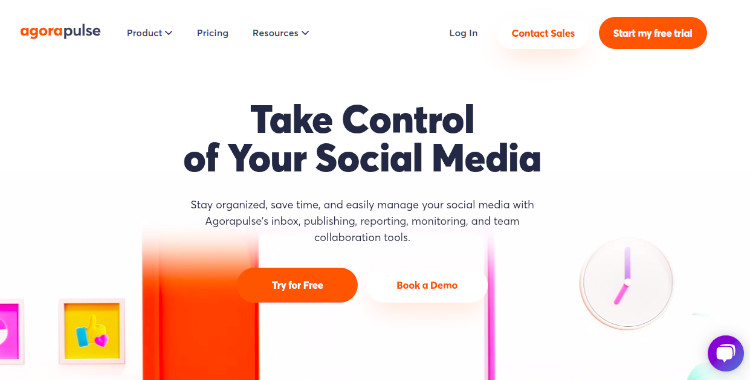 Agora Pulse helps you take control of your social media. You can stay organized, save time, and easily manage your social media with Agorapulse's inbox, publishing, reporting, monitoring, and team collaboration tools. They make Facebook marketing very easy. It is an easy-to-use solution and is loaded with powerful features, which is everything you need to dominate social media. They have the best support that always gets you fast and friendly support in record time.
Features:
It helps you easily manage all your incoming social media messages, comments, and reviews in one place.
It allows you to plan, collaborate, and schedule content for all your social channels.
It helps discover trends and insights about your brand—and your competitors.
They provide beautiful and actionable reports that reveal what's working—and what isn't.
4. Invideo: Free Facebook Marketing Software for Video Creation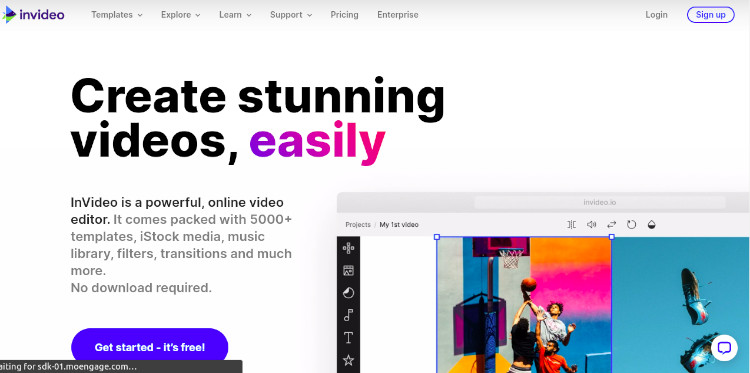 With inVideo's Facebook ad maker, you can create ads in just a few clicks. It allows businesses and marketing professionals to make high-end and compelling videos that will attract potential customers. You can take your Facebook marketing game to the next level with InVideo and its thousands of fully customizable templates that you can use to create professional-looking ads. It has everything your video ads need in one platform.
Features:
You can use InVideo's intuitive video editing platform to quickly design and publish ads in no time.
They help you to create and publish high-performing Facebook ads, quickly.
You can customize any part of the video.
5. Ryzely: Free Facebook Marketing Software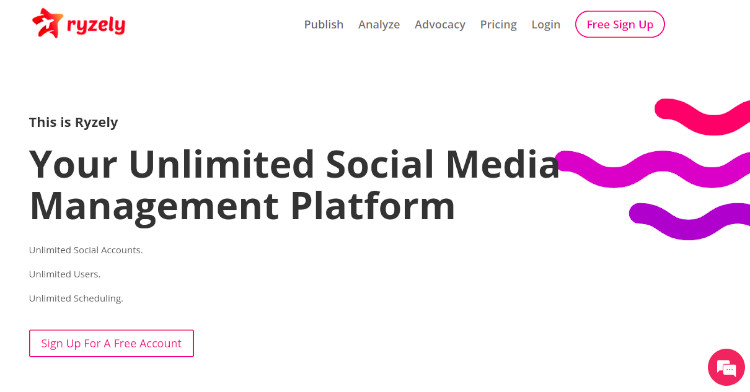 Known to be the most unlimited and affordable, Ryzely helps you take control of your social media planning with easy scheduling and complete social media management. It allows you to craft your posts for all social networks, and you do not have to worry about limitations of the number of accounts you can add. You can add all brands and businesses and focus on growing. It is very easy and effortless, and you can also preview what your posts would look like.
Features:
With the planning for all kinds of posting, you can plan your content with precision. You can schedule posts and plan months into the future.
It allows you to add everyone who can grow your audience and build your brand and empower the entire team.
6. Driftrock: Free Facebook Marketing Software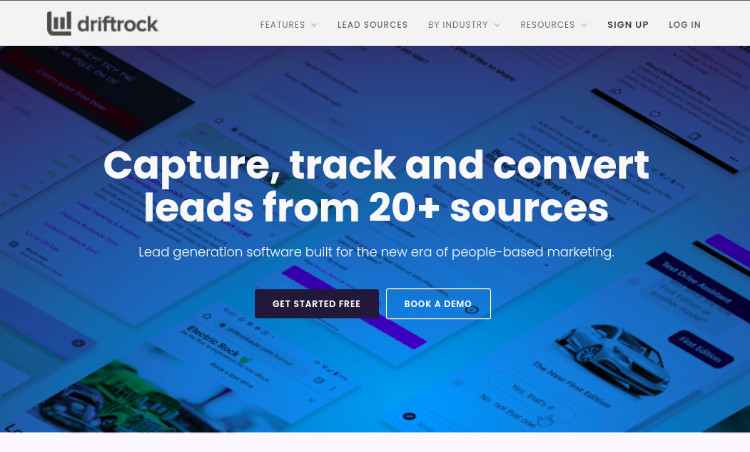 Driftrock is a lead generation and Facebook marketing software that has been built for the new era of people-based marketing. It helps capture, track, and convert leads from more than 20 sources. It helps you boost your lead volumes and sales with the power of data. It effectively helps you capture 3x more leads, with increased lead quality, effortless lead management, and an increase in conversion rates.
Features:
It helps you find and connect the lead generation sources to your CRM.
They offer end-to-end tracking, lead validation, and campaign optimization.
They ensure that each lead arrives safely and securely in your CRM or email system.
They help convert more leads with segmentation and automated audience nurturing.
7. Drumup.io: Free Facebook Marketing Software for Content Scheduling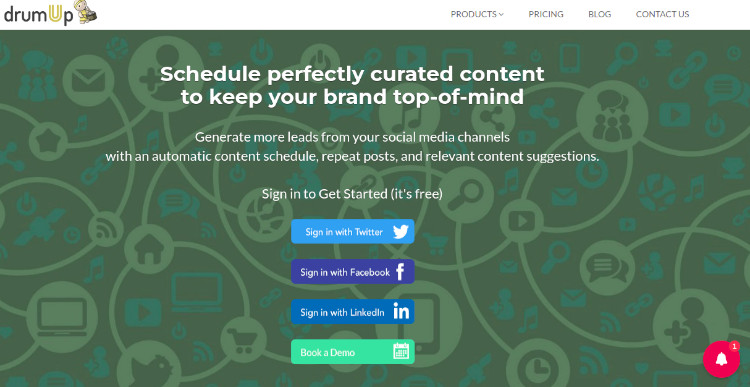 Drumup helps you schedule perfectly curated content to keep your brand at the top. It helps you generate more leads from social media channels with an automatic content schedule, the option to repeat posts, and relevant content suggestions. It discovers and helps you share great content with your social media accounts so you can start meaningful conversations with your followers.
Features:
It helps you create the best content in your industry after mining through tons of content across the web in real-time and using sophisticated algorithms to recommend fresh stories most relevant to your audience.
They do all the heavy lifting and cut your social media management time by 90%. Their smart workflow makes it a breeze for you to quickly review, create and publish posts to your social media followers.
It allows you to add multiple social media accounts and monitor all of them in a single place to stay on top of your social media presence.
It allows you to set important or influential posts on repeat schedules easily.
They help measure engagement with their intuitive and deep social media analytics.
8. Zoho Social: Free Facebook Marketing Software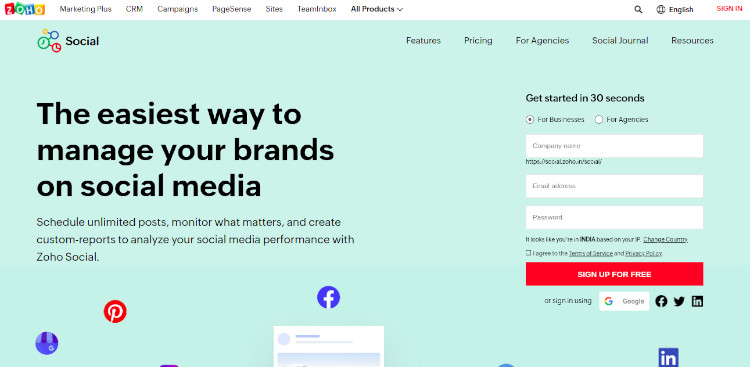 Zoho social is the easiest way to manage your social media brands. It allows you to schedule unlimited posts, monitor what matters, and create custom reports to analyze your social media performance. With their flexible scheduling, you can save time. They offer the content calendar you have always wanted and a monitoring dashboard that is sticky. It offers the best-in-class social media analytics.
Features:
They allow you to schedule your posts for times when your audience is most active and choose from their best-time predictions.
It helps you visualize your content pipeline with an intuitive publishing calendar that lets you organize your posts the way you want.
They offer multiple listening columns that help you stay tuned to everything that's relevant and helps you respond in real-time, and engage with your audience as often as you like.
They help understand who your audience is and how they engage with you on social media.
---
How to Get Started with Facebook Marketing?
To start with Facebook marketing, you must first set up your Facebook page for your business. You can create content, share contact information, link to websites, build a product catalogue, and communicate with your customers on this.
Before that, you need to understand the various ways you can post on this page, like via Facebook posts: photos, texts and videos, Facebook live videos, Linked content posts, Facebook stories, Pinned posts, Watch Party, and more. You need to find out which is the perfect kind of post for your business. That would require experimenting with different combinations and focusing on analytics to see what is working. After that, you need to define your audience. To assure active engagement, you need to first understand who your audience is. You need to understand the general demographics, look at the Audience Insights, and see who the audience is.
It is necessary to define what success looks like for your brand. You must necessarily tie a strong goal to your business objective to create an effective marketing strategy.
Find out the right mix of content. The thumb rule is to use the 80-20 rule, which is 80% of your posts must inform, educate and entertain, and the other 20% must actively promote your brand. After you decide on your content mix, make a content calendar.
It is important to get people to your Page and then compel them to interact with it once they get there. So, you must optimize your content and page to get maximum engagement and responsiveness.
Consider the additional way in which you can find opportunities for engagement beyond posts and comments. Set up Facebook Business Manager, which is a tool that allows you to manage your organic and paid Facebook posts. It helps you to work effectively with team members and contractors, and agencies.
Roundup: The Bottom Line
Facebook marketing offers various ways for businesses to reach customers and advertise their products across Facebook. It is a rising form of digital marketing that is being tried and tested by all kinds of businesses to reach out to their specific audience and get the wanted results. Every business can find its audience on Facebook, and it is a norm to now try Facebook marketing for business. You can try different Facebook ads and measure your progress to make sure that you are getting the best out of these campaigns. You can use one of the free Facebook marketing software tools and platforms to expand your reach without spending a lot.