Most businesses have taken to online marketing and, primarily, social media marketing. Social media marketing has certainly proven to be very effective, especially Facebook marketing. That is simply because of the huge amount of people one can get through via Facebook. Facebook has come up with a new feature, which is interest targeting. It basically just targets the things that you are interested in. As a user, if you scroll through your newsfeed, you will notice that the content you have engaged with in the past is being shown again under Facebook Ads. Facebook derives such information from your lifetime of activities on the platform. It is a great way for advertisers to reach their target audience. In this article, we talk about the best Facebook interest targeting software tools.
Benefits of Facebook Interest Targeting
If, as an advertiser, you do not have behavior, demographic, and interest targeting, your Facebook advertising spend would not yield decent results. Sure, you would be showing your ads to millions of people. But, how many people would actually be interested in your products?
With interest targeting features, you can deliver your ads to your target people. These are the people who have shown interest in your industry in the past, by, for instance, engaging with your competitors and are hence, more likely to engage with your ads. To get to your target audience, you will see innumerable interest categories available for targeting, and if you narrow down your targeting options, you will be able to show ads to relevant and fresh audiences.
This is specifically important for beginners. While big businesses run ads without targeting, small businesses can use targeting, and refine their audience, so that their ads reach people who will engage with them.
Best Facebook Interest Targeting Software Tools: 2021
Here is a list of some of the best interest targeting software tools that can help you immensely increase your ROI and conversions from Facebook ads
1. Audiencer.io: Best Facebook Interest Targeting Software Tool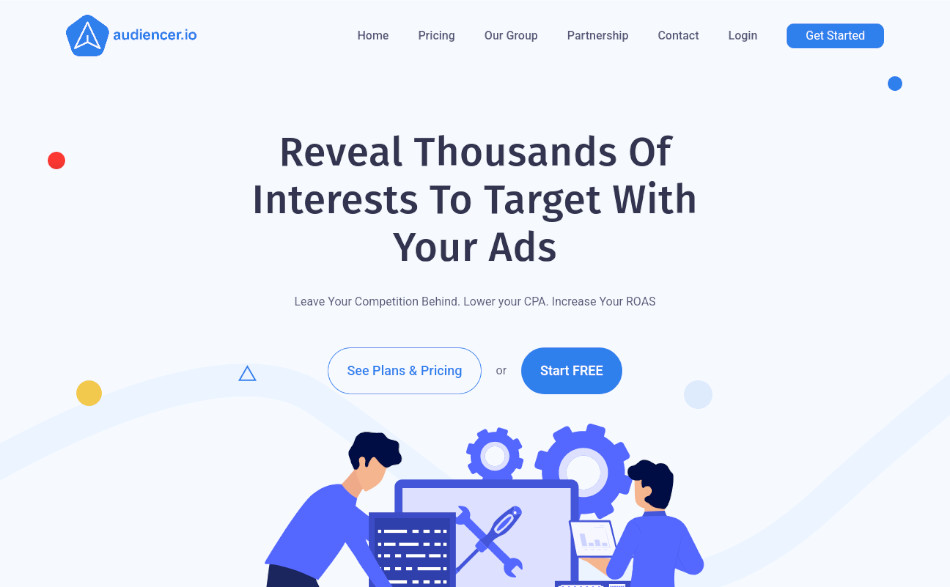 Audiencer.io helps show thousands of interests that you can target with your ads. It is effective in helping leave your competition behind, lowering your CPA, and increasing your ROAS. Audiencer gives you a full list of interests that would appear as results of your searches, instead of just being limited to 25 results in the ad manager. You can handpick the best interests for your campaign and navigate further.
Features:
Lower CPC with high-affinity interests: Audiencer shows you the interests that will place your ads before the most passionate users in your niche.
Speed up research and save time on the way: Audiencers make research easier. You just have to create an audience for your project and point it to your niche. If any research on that niche has been done in the past, you will see interests pop up in their starters section, and you can build upon that.
Adaptive Suggestions: From the list of interests in your collection, you just have to grab a few and get suggestions for those.
Analyse your Audience: Decide if interest is good or bad before actually spending money on it.
Self-Learning System: Audiencer combines human power with advanced algorithms to give you interests related to your niche.
Pricing: You can purchase Audiencer.io at once for just $199. They also offer the 30 days no questions asked money-back guarantee.
2. Connectio.io: Best Facebook Interest Targeting Tool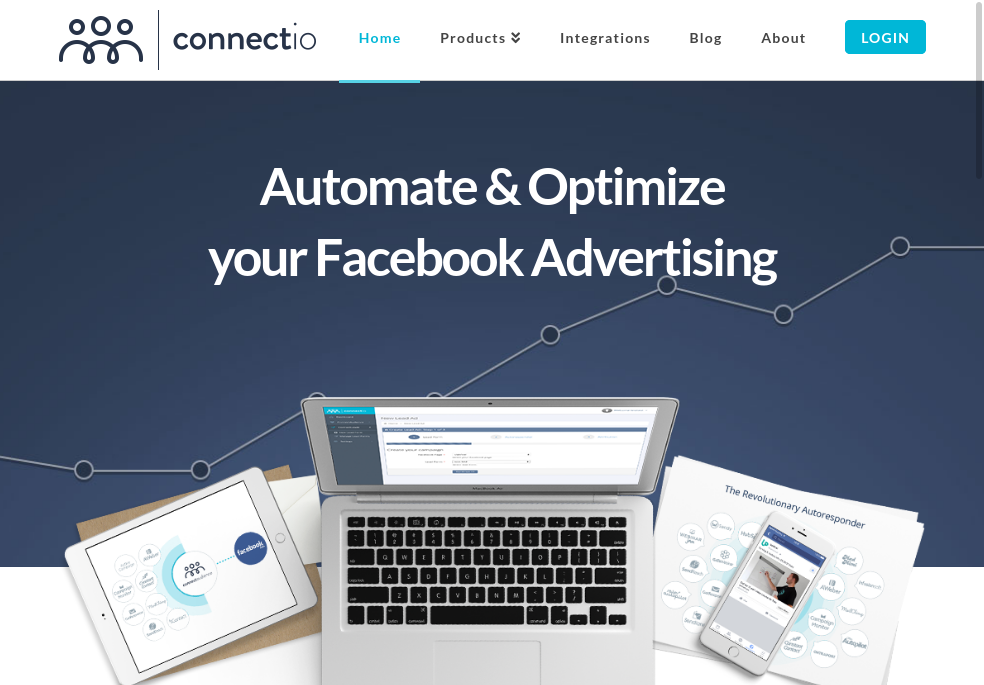 Connectio.io helps you automate and optimise your Facebook advertising. It provides all the solutions that an advanced marketer would need in one place. They help you identify the interests and take the guesswork out of the process. They promise you stunning results from Facebook ads for your business, even if you have struggled with it before.
Features:
Smart Research Tool which helps in Advanced Targeting: This is an automated and smart research tool that uncovers interests which your competition will never find. With their advanced targeting, the performance goes up for the ultimate in ROI.
Layering: It has built-in layering that lets you hyper-target in any niche.
Save time: Optimize your time by effortlessly adding new untapped interests to your ad sets.
Automated Suggestions: It suggests an additional list of highly related suggestions to target.
Filtering results you can use: They have a powerful, smart filter that helps find the best interests for your search strings.
Pricing: You have to connect with them to know about their plans.
3. Interestexplorer.io: Best Facebook Interest Targeting Platform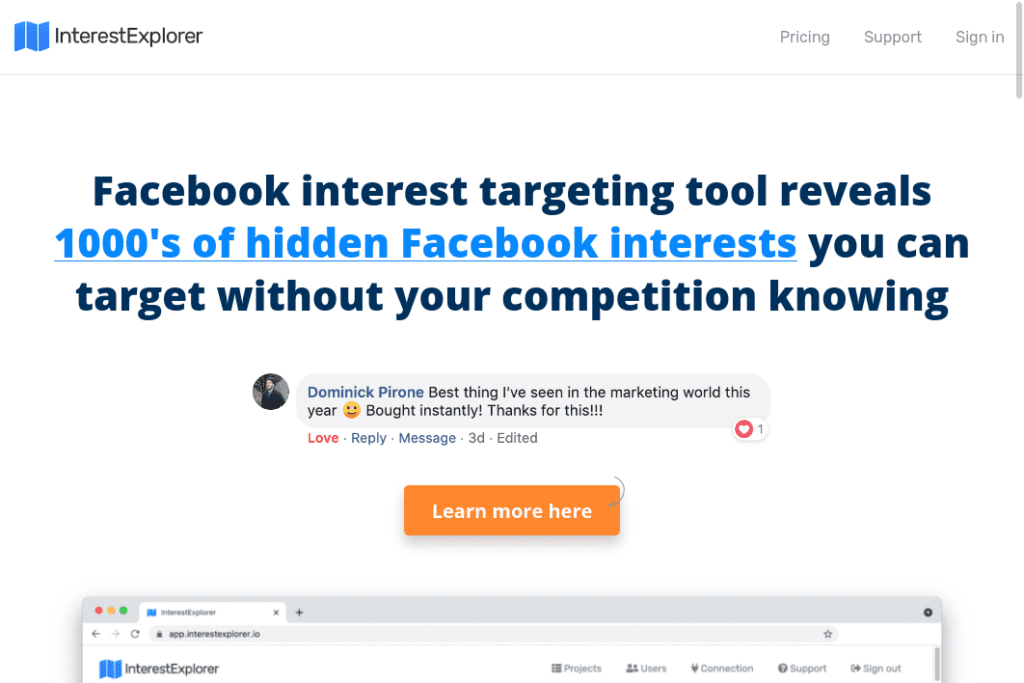 Interestexplorer is the best Facebook interest targeting tool that reveals thousands of hidden Facebook interests that you can target without your competition knowing. This platform is perfect for outsmarting your competitors, saving time on interest targeting research, and skyrocket your ROAS. They show you interesting suggestions that would never be visible on Facebook Ads Manager.
Features:
Shows you targetable, hidden Facebook interests: They use Facebook's API to show interests that are hidden from most advertisers, so you save time on research and find low-competition interests.
Time-saving: Once you enter a broad topic, they show you thousands of Facebook interests in just seconds.
Narrow search results by audience size: With their filters, you can narrow down the results by audience size and increase relevancy by excluding certain topics.
Laser-target with built-in layering: Create layers of interests so that you force Facebook to show your ads just to the hottest leads and buyers.
Pull interests into Facebook: Copy your interests to the clipboard, export them to a CSV file or apply them to existing ad sets.
Pricing: You can get an unlimited, lifetime InterestExplorer account with a one-time payment of $97.
4. Adtargeting.io: Best Facebook Interest Targeting Softwar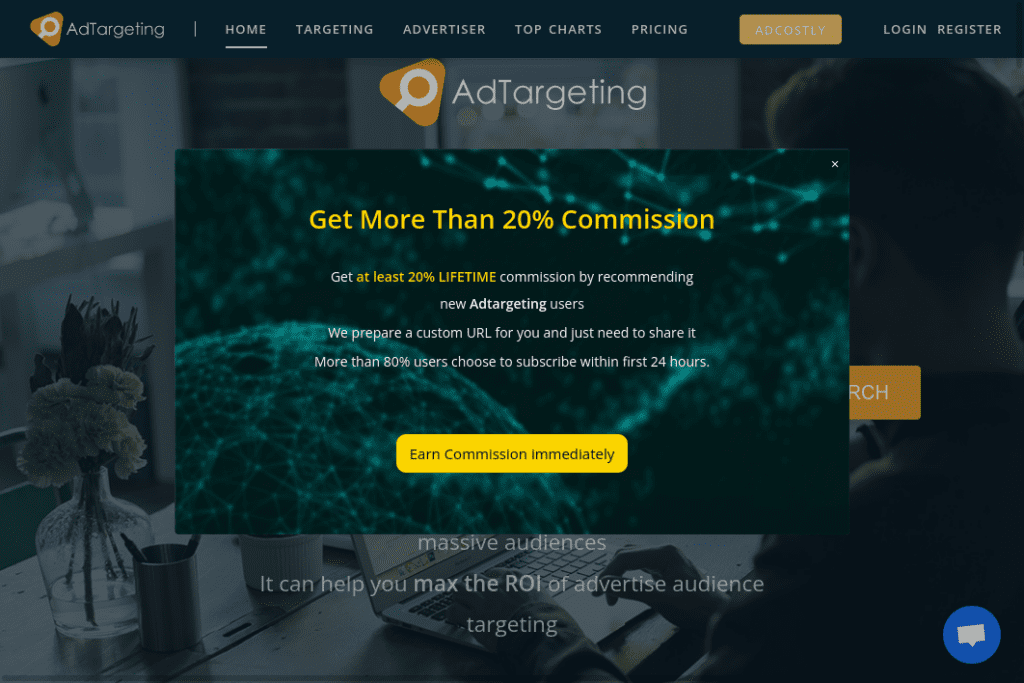 Known to be the best Facebook interest targeting tool, AdTargeting helps you discover hidden or niche interests of massive Facebook audiences that can help you max the ROI of Facebook marketing targeting. They provide a very large number of keywords to show the hidden interests and Google keywords that would help you precisely target the audience and steal the competitor's traffic.
Features:
Search: They show Facebook interests list of 1000 related interests or list of Google keywords by keyword search
Analysis: They show interest analytics report and Google keywords analysis report. You can also get Facebook advertiser analysis as well to spy on Facebook ads of your competitors and steal their traffic.
Category: They provide summary by interest Category,
Compare: It helps compare the audience differences between two interests or compare the differences between two keywords to choose the one that best suits the product.
Rank: Provides an insight into classifications and lists of interest or keywords to grasp industry hotspots and trends.
Pricing: They offer a free plan, a Basic plan for $9 every month, a Pro plan for $69 every month, and a VIP Enterprise plan that would range between $199 to $999 every month, depending on your needs.
5. Audiencebuilder.io: Best Facebook Audience Targeting Tool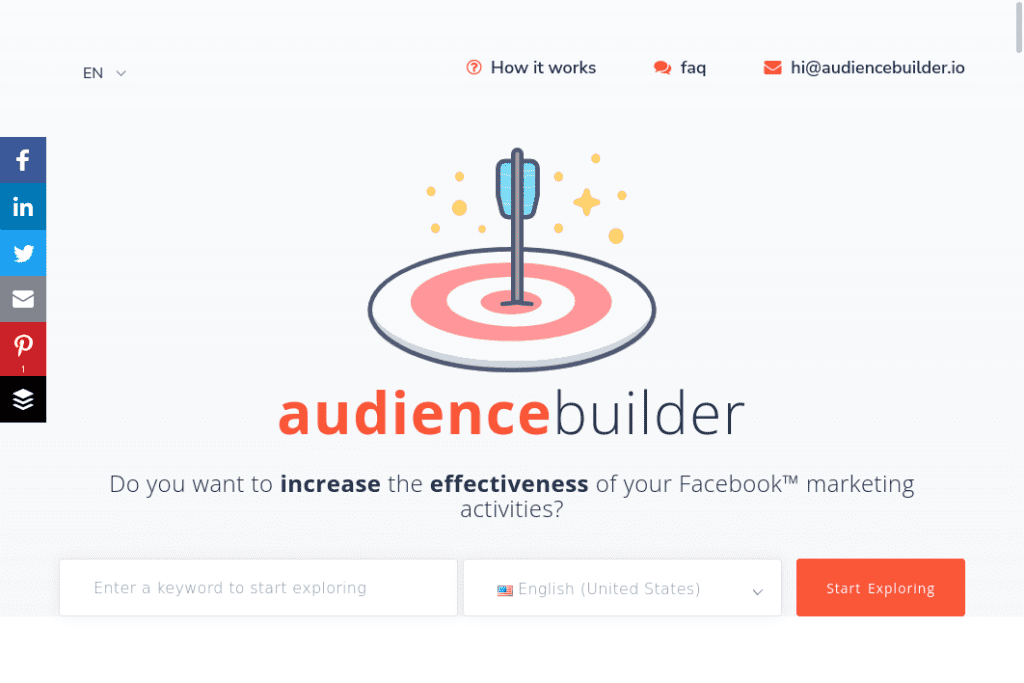 Audiencebuilder helps you increase the effectiveness of your Facebook marketing activities. It reveals the hidden interests and shows the highly related and targetable interests for any of the topics you enter. They have a powerful audience interest search engine that finds the motivated people you can never find with the use of just Facebook Business Manager. They find you the most profitable interests to target that your competitors do not know about and would skyrocket your ROI.
Features:
Find hidden interests: You can sort by size to find those even more hidden interests that one can never find with basic tools.
Search Multiple Keywords: With their auto-suggest feature, you can find related keywords as you search or do a quick search in interest to see how relevant they are.
Integrated with Facebook: It is directly integrated with Facebook ads that make sure you only see targetable results.
Pricing: You have to head over to their site and contact them to receive a quote according to your needs.
Pro Tips: They have an excellent way of presenting interests and their audience sizes, which really sets them apart from other such tools.
6. Interest Insight: Find Interests for Facebook Ads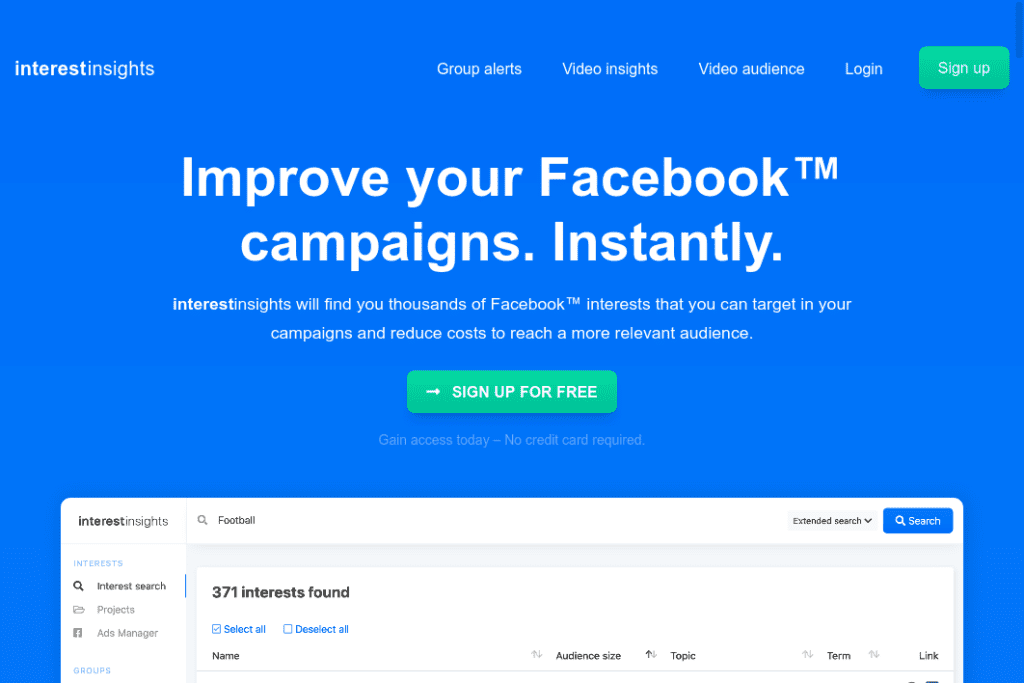 Interest Insight helps you improve your Facebook campaigns instantly by finding you thousands of Facebook interests that you can target in your campaigns and reduce costs to reach a more relevant audience. They help you get the average increase in interest on broad searches. They make it incredibly easy to create a successful campaign with the right tools.
Features:
Improve your search: You can specify additional requirements for your interests search or be inspired by suggestions based on the initial search.
Easy investigation of interests: You can examine if the interest is relevant for your campaign with a single click on Google and Facebook.
Save research for later: It allows you to save and group your selected interests into projects for later use. Create unlimited projects and add infinite interests.
Pricing: For their Monthly plan, you will be charged 29 Euros every month. For their Yearly plan, you will be charged 21.75 Euros every month. However, both plans are free during beta.
---
Facebook Interest Targeting Tips: 2022
You have to consider several things before you get the perfect audience:
There is certainly no concrete number or range for how big or small your audience size should be. It is completely dependent on your objectives and niche. You must, however, decide what it must be. If you are a starter, the customary range would be within fifty thousand to two lakhs. Once you have enough traffic to let Facebook target audiences, you can increase your audience size.
When you run your acquisition ad campaigns, you must necessarily exclude existing website visitors and previous purchases. Generally, the goal is to spread knowledge of your brand to new people, so you must spend the impression budget on new and relevant audiences.
It would be best if you were very specific about interest targeting and further narrowed your targeting options by putting together niche-related interests and demographics information. Combining this will get your ads to smaller audiences, but it will be highly specific.
If you target a high percentage of lookalike audience, your ad will end up around a big and broad audience. So, a good way to narrow down your audience is by intersecting them with interests.
After you have received your perfect audience's keywords, it is important to test them to see what works and what does not. You can either do it by Manual Testing or by Facebook's automated testing.
Roundup
Given that you now know how Facebook interest targeting works and helps you, it is suggested that you put it to use and grow your ROAS. It is always a good idea to put together interest targeting with other targeting methods to narrow down your audience. This will help you get a clearer picture of who you should show your ads to. In the end, you are essentially looking to make the best possible audience list for your ads, and you must make sure it is perfect.