Facebook initially started out as a platform for students to come together and served as an educational hub to communicate in a better way and enhance the effectiveness of education through online channels. Now, it is an excellent social media platform that helps people connect with and has become an excellent platform for marketing for businesses.
Facebook has more than 2 billion active users monthly and has become one of the most popular social media platforms. Simply from the marketing perspective, there are several opportunities to engage with new audiences and expand your reach.
Facebook already has over 90 million businesses. About 1.88 billion users access Facebook at least once a day, and 17 per cent of users come on Facebook to connect with brands and products. So, businesses actively pursue customers across Facebook, which makes it essential to build your presence there.
The social influence you can achieve through Facebook in terms of peer effects, ecommerce business, referrals, customer relationships, reputation, brand awareness, and more. It has a sheer number of people, and it attracts great attention. Facebook pages are the gateway for businesses to market to their users. It has a public presence that allows fans to like the business, brand, celebrity, cause, or organization. It takes a lot of effort to successfully run marketing campaigns on Facebook.
The best part about Facebook is how it is constantly changing and evolving. For business owners and marketers, who are looking to step up their marketing efforts and strategies, Facebook's future is full of endless possibilities. You must use one of the best Facebook marketing software tools and platforms to expand your business.
Benefits of Facebook Marketing Software Tools
Facebook marketing software is very helpful in automating and managing your Facebook presence. They ensure that you are consistent with your efforts and constantly engaging with the audience, and at the same, a lot of your time is not spent on maintaining your campaign. We have highlighted some of the top benefits of Facebook marketing software tools:
Planning: Such software allows you to plan your Facebook strategy way earlier. So, if you have an event or a deal soon, you can plan your presence now to make sure that you have proper coverage of the upcoming event in the future. You can write the content and schedule it to post when appropriate.
Targeting: The posts you make on the Facebook pages are available to users beyond your followers and friends. It is particularly great if you can make these posts available to everyone, but this requires an extra push towards specific audiences and demographics. With the Facebook marketing software, you can choose target audiences that you wish to prioritize your posts to narrow the focus of each post.
Reporting: After each campaign, it is important to view everything in one place. The software helps you easily review your campaign data to see what worked, what did not, and what needs improvement. They show data in easy-to-read and understandable formats for in-depth analysis.
10+ Best Facebook Marketing Software Tools and Platforms: 2022
Here is a list of some of the best and industry-leading marketing tools for Facebook.
1. Social Bakers: Best Facebook Marketing Software for Brands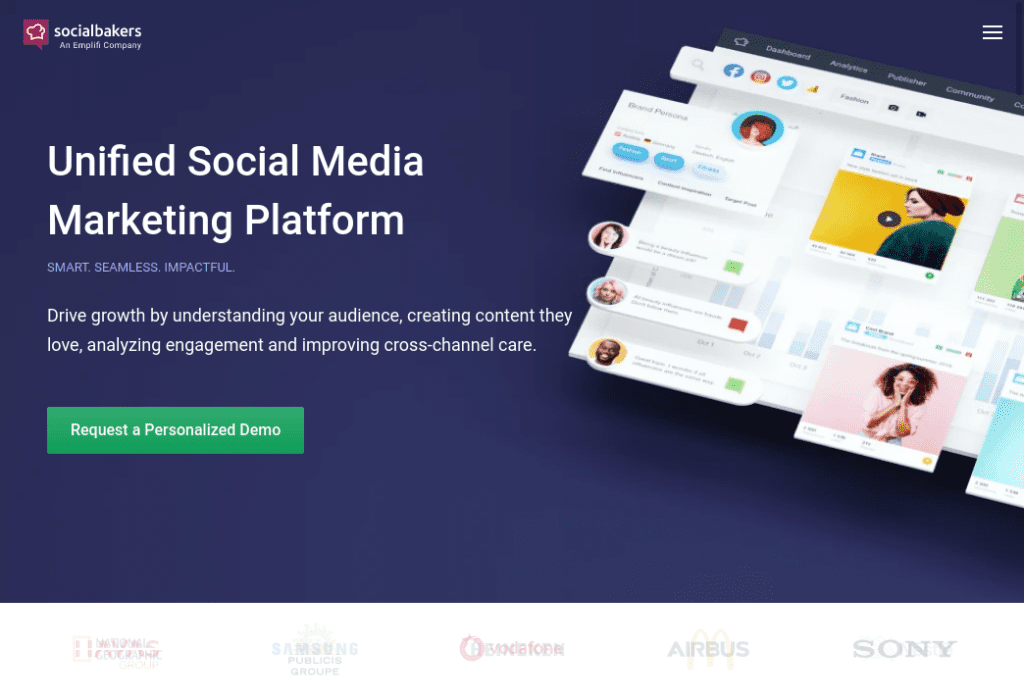 Description: Social Bakers is a unified social media marketing platform that is smart, seamless, and impactful. It helps you drive growth by understanding your audience, creating content they love, analyzing engagement, and improving cross-channel care. It is the one solution for all of your social media marketing needs. Irrespective of the size of your challenges, they take care of everything, including research and planning, content strategy, listening and intelligence, influencer marketing, social media management, measurement and reporting, and customer care.
Features:
They help understand who your marketing personas are, what content they digest, and where you must invest money for the best results.
They help with content strategy and provide all the tools to run a successful content machine.
They help uncover critical trends to understand your audience, competitors, and the entire market.
They help align the influencer marketing strategy and do everything from discovery, tracking to reporting in just one place.
It allows you to easily and successfully manage all your social media activities from all accounts on one platform.
They simplify all your reporting and provide access to a clear, straightforward attribution of your organic and paid efforts.
Pricing: They offer an essentials plan that would cost you INR 32000 monthly for 20 profiles, and INR 16000 monthly for ten profiles.
---
2. Agora Pulse: Best Facebook Marketing Tool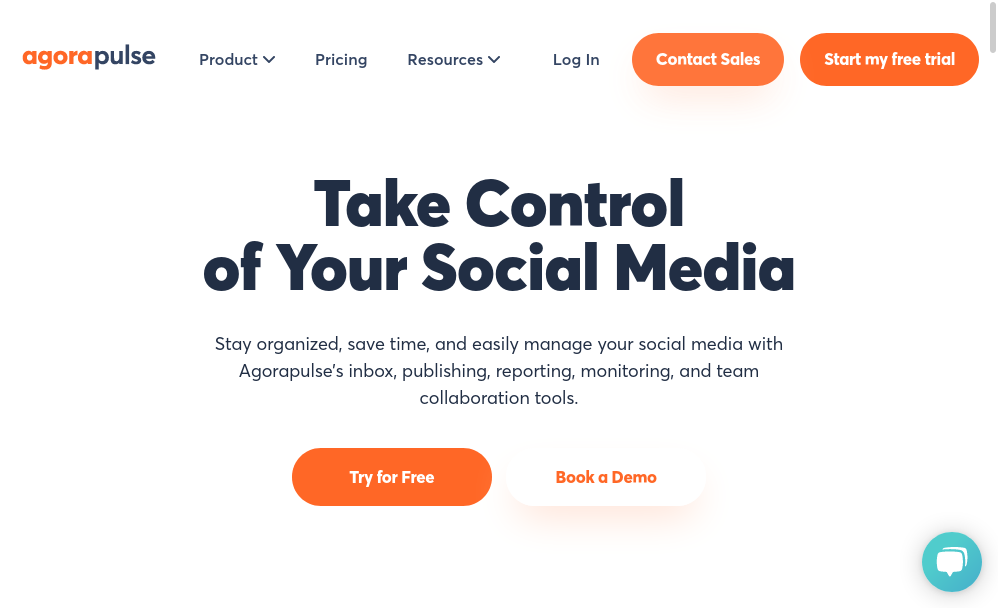 Description: Agora Pulse gives you the entire control of your social media by keeping you organized, helping save time, and helping in easy management of your social media with their inbox, publishing, reporting, monitoring, and team collaboration tools. They make Facebook marketing very easy. It is an easy-to-use solution and is loaded with powerful features, which is everything you need to dominate social media. They have the best support that always gets you fast and friendly support in record time.
Features:
It helps you easily manage all your incoming social media messages, comments, and reviews in one place.
It allows you to plan, collaborate, and schedule content for all your social channels.
It helps discover trends and insights about your brand—and your competitors.
They provide beautiful and actionable reports that reveal what's working—and what isn't.
Pricing: They offer a Free plan. Their Pro plan allows social media management for small teams for USD 79 per month. Their Premium plan provides powerful tools for agencies and growing teams and would cost USD 159 per month. They have an Enterprise plan which provides the ultimate social media control and flexibility for growth and is a custom plan.
---
3. Audiencer.io: Best Facebook Interest Targeting Software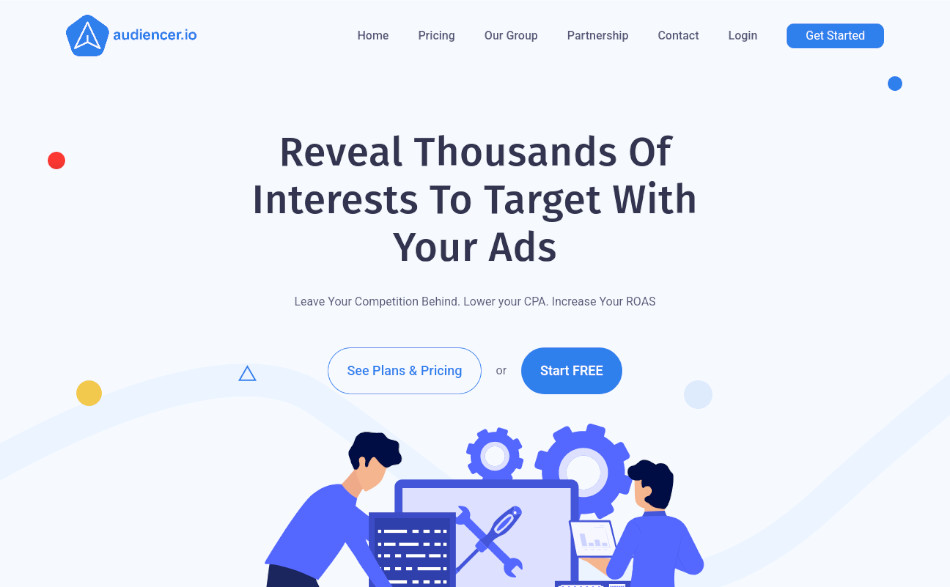 Audiencer shows you thousands of interests to target with your ads. It helps you leave your competition behind, lower your CPA, and increase your ROAs. It is particularly useful for agencies that run ads, freelance markets that run ads for other people, and for ecommerce businesses to help them find new customers. They have a very large database that it crunches to help you find the best interest for your ads to run. It has a unique algorithm that uses everyone's older searches. It is all-in-all a community-driven intelligence.
Features:
You can organize the data and research you did into a project. So, for each client, you can have one project, and inside that, you have audiences. This is an easy way to isolate the work you have.
They offer niche explorer, where you can just put in your niche or ideal avatar, and you can further discover avatars for you or niches, and inside these, you can see options where you can type interests that you can target with your ads.
They offer adaptive suggestions, where you can get Facebook data suggestions for the few interests you select. Then, you get Audiencer's suggestions based on your niche and the options to save your interests.
They offer relevance scores that tell you how relevant the interest is to your niche.
They have an advanced discovery system where you can use each of the interests you find to get suggestions from Facebook.
Pricing: They sell for a one-time fee, so you have no issues with monthly rebills, and there is no commitment. You just have to pay $199 once and use the product for as long as you want.
---
4. Revealbot: Best Facebook Marketing Automation Software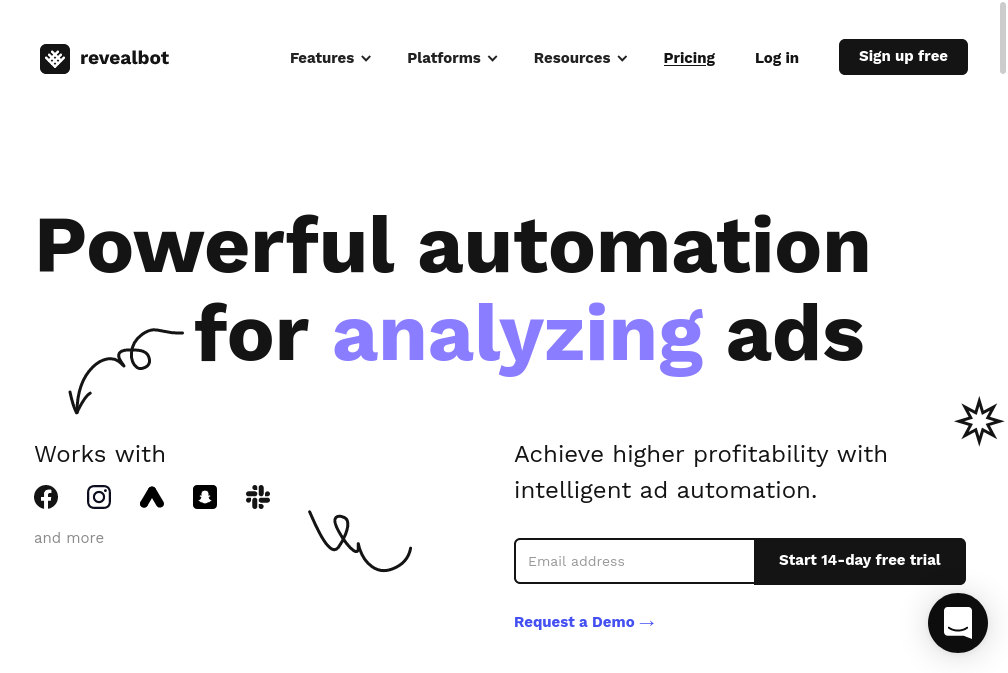 Revealbot brings you powerful automation for launching, analyzing, managing, and scaling ads. They help achieve high profitability with intelligent ad automation. It helps you easily manage more clients without hiring more account managers. With their automation services, you can easily put campaign growth and management on autopilot. It helps save very long hours with their automated ad creation, and they provide actionable insights for your team and beautiful reports for your clients.
Features:
They allow you to deploy pre-built and proven automation with Strategies and build your own automations with a superior automated rule constructor.
It helps automatically create ads from your best organic Facebook and Instagram posts.
It allows you to upload media and copy and create dozens of ad variations.
It helps create reports for your ad campaigns, Google Analytics, Twitter, and more.
They show you your best and worst-performing audiences and creatives.
Pricing: Their pricing plans are completely dependent on what your ad spend is. If your maximum ad spend is USD 10,000 per month, you get Revealbot for USD 99 per month. If your maximum ad spend is USD 25,000 per month, you get the software for USD 199 per month. Similarly, as your ad spend increases, your monthly subscription cost is based on it.
---
5. Buffer: Best Facebook Marketing Software Tool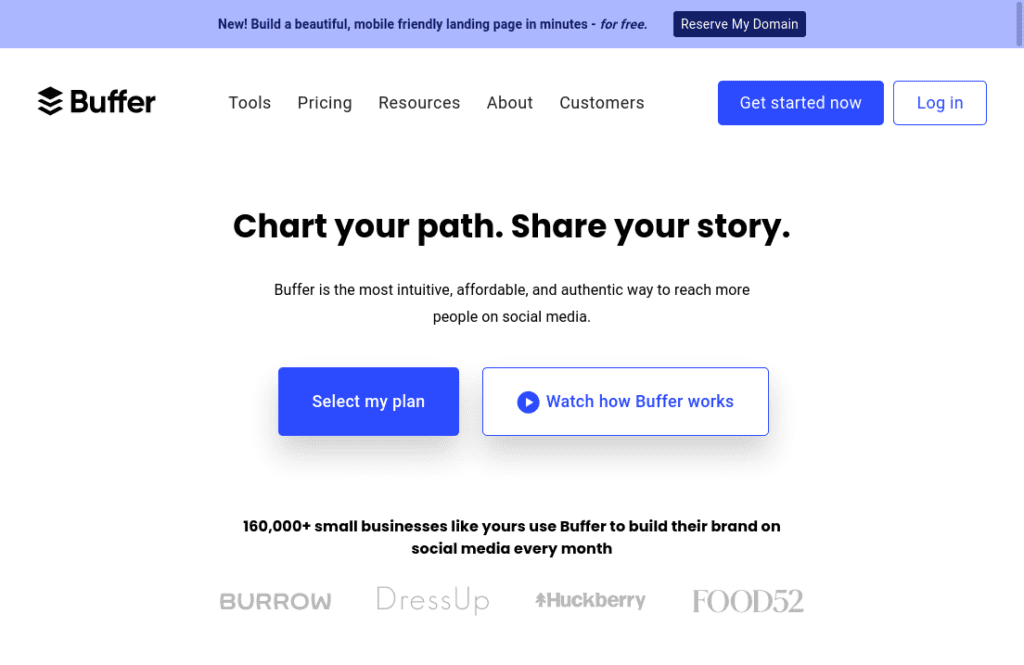 Buffer is the most intuitive, affordable, and authentic way to reach more people on social media. More than 160,000 small businesses use Buffer to build their brand on social media every month. It helps you measure your social media performance in a few clicks. They help with easy planning and publishing, understanding customer engagement, and social media analytics.
Features:
They show what's working and what's not to create better content and messaging.
They help plan your campaigns and schedule your social media posts so that you can focus on other things.
They help respond to comments twice as fast and skip to important comments with labels and hotkeys.
It helps track the growth of your reach, engagement and following.
Pricing: They have a Free plan. They have an Essentials plan that helps with publishing, analytics, and engagement tools for social media geeks and costs USD 6 per social channel per month.
---
6. InstaPage: Best Landing Page Software for Facebook Marketers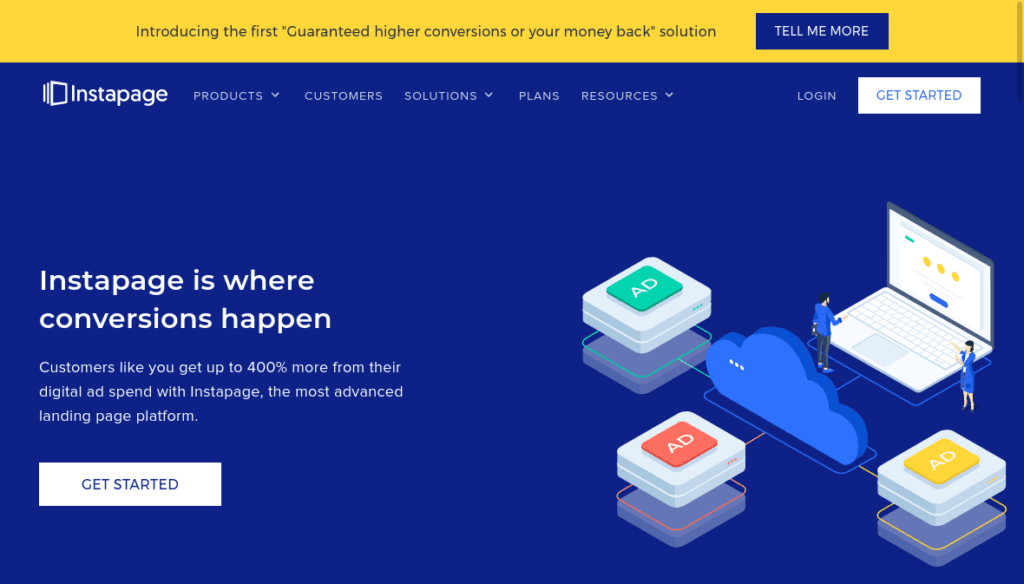 Description: Instapage helps you go beyond likes in your paid social campaigns. They help build message-matched post-click landing pages for your social ad campaigns to increase conversions and your ROI. They help you convert your likes into paying customers by amplifying your business growth with more profitable campaigns. It helps increase conversions with relevant post-click pages for every ad and audience.
Features:
It helps create, iterate, and update post-click pages in minutes and scale your campaigns.
They help run A/B and multivariate tests to improve page performance and refine your message to optimize for conversions.
They help increase conversions and decrease CPA with a relevant landing page for every keyword.
Pricing: They offer a Building plan with everything you need to start building and optimize post-click landing pages for higher conversions for USD 299 every month. Other than that, they offer custom plans.
---
7. Qwaya: Best Facebook Marketing Software Tool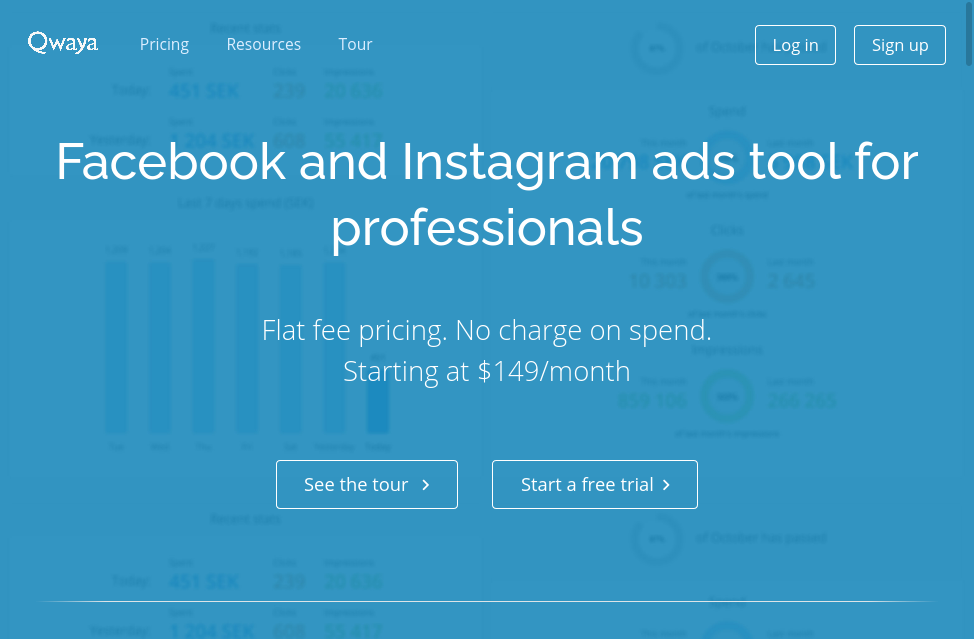 Description: Qwaya provides Facebook and Instagram ads tools for professionals. They are specialists in Facebook marketing and have assembled a world-class team with extensive experience. They offer a sophisticated tool with powerful features that is easy to use, affordable and accessible to a wide range of advertisers and agencies worldwide.
Features:
They allow you to schedule campaigns to run at a certain time of day and/or week.
They allow you to define performance-based rules to pause your campaigns
They offer an auto rotation of ads, which lets you decide what ad variation should run before Facebook does.
They allow you to save your work and make it easy to reuse.
Pricing: They offer a Premium plan which would cost you USD 149 per month. Their Business Plan would cost you USD 249 per month and their Agency plan would cost you USD 349 per month.
---
8. Connectio.io: Best Facebook Interest Explorer Software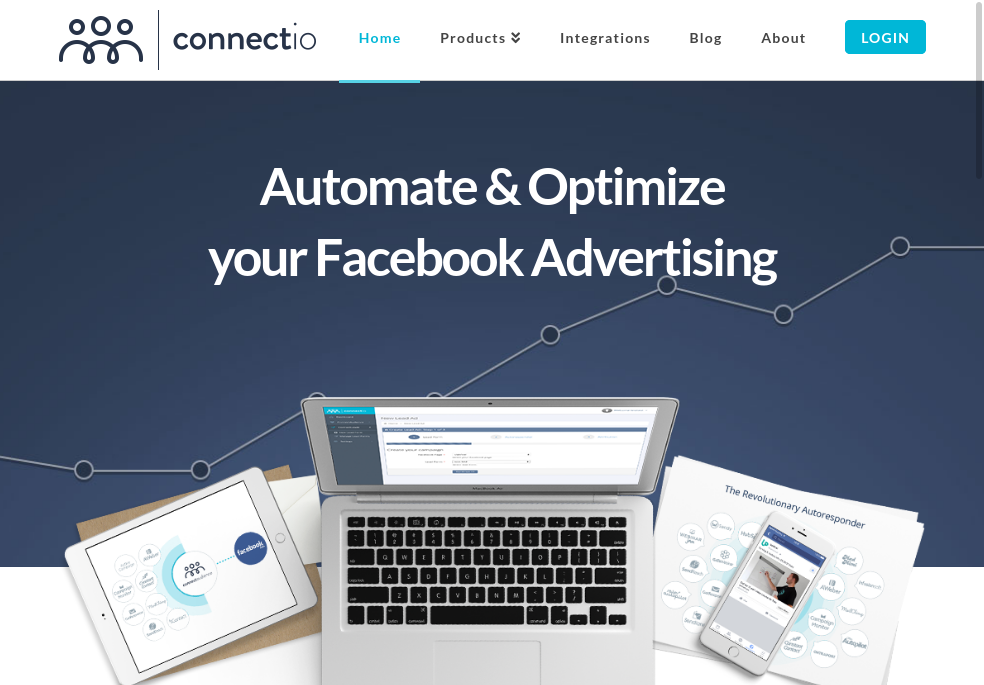 Description: Connect.io helps you automate and optimize your Facebook advertising. They provide all the solutions advanced marketers need in one place. They aim to make your marketing efforts smarter, so that you do not waste your time and money on the wrong audience and you have more money to target interests with real potential customers.
Features:
With ConnectAudience, you can easily synchronize your Autoresponder into Facebook Custom Audiences.
With Connect leads, you can connect your Facebook leads to your CRM/Autoresponder.
With Connectretarget, you can run retargeting campaigns based on how people behave on your website.
With Connectexplore, you can find interests and take the guesswork out of interest targeting.
With Connectautommate, you can turn your best-performing Facebook posts into ads- on autopilot.
Pricing: To know about their pricing plans, you have to connect with them and get a custom quote.
---
9. Socialpilot: Best Facebook Marketing Software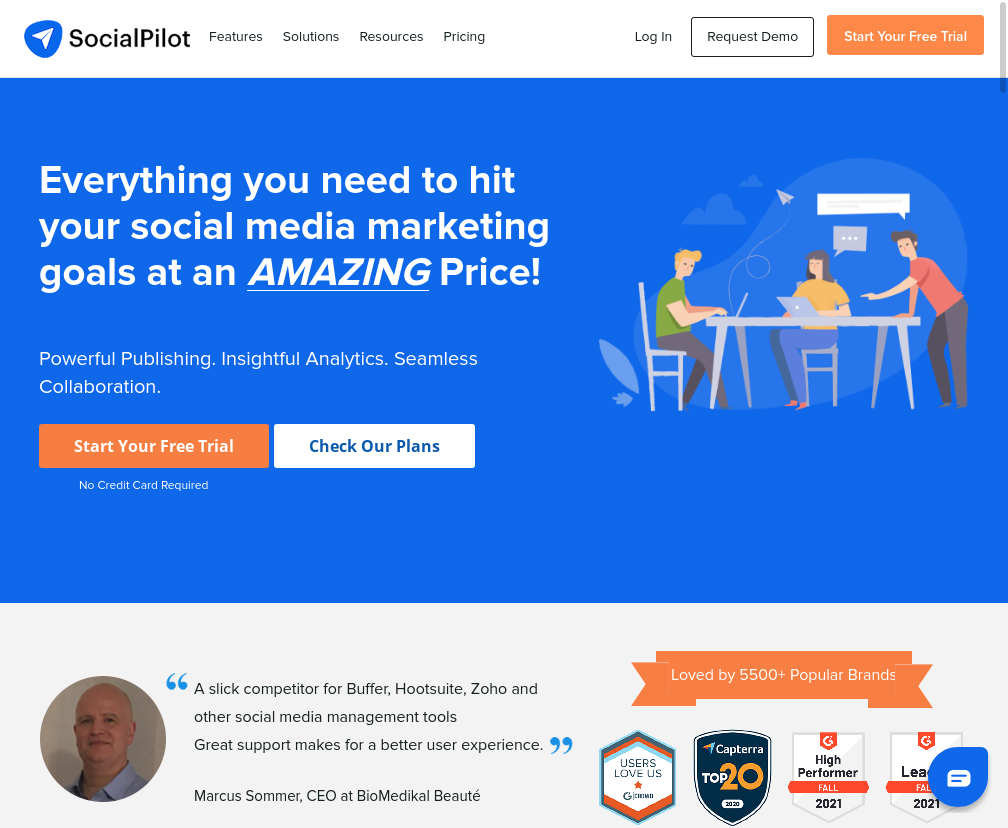 SocialPilot gives you everything you need to hit your social media marketing goals at an amazing price. It provides you with powerful publishing, insightful analytics, and seamless collaboration. They give you the best of both worlds: unlimited growth on social media and lower spendings on tools.
Features:
They offer excellent social media scheduling and publishing to increase your engagement and leads.
They provide powerful social media analytics and white-label PDF reports that help make data-driven decisions to improve engagement and finetune your social media strategy.
They help you engage efficiently with your social inbox, and you can reply to all your comments, messages, and posts on multiple Facebook Pages – in real-time.
They help you collaborate with Teams and manage clients.
They help discover the most popular content and schedule them directly to your account with RSS feeds and content curation, and you use the bulk social media posting tool to upload posts in advance.
Pricing: They cost you USD 50 per month for 25 profiles.
---
10. Shortstack: Best Facebook Giveaway Software Tool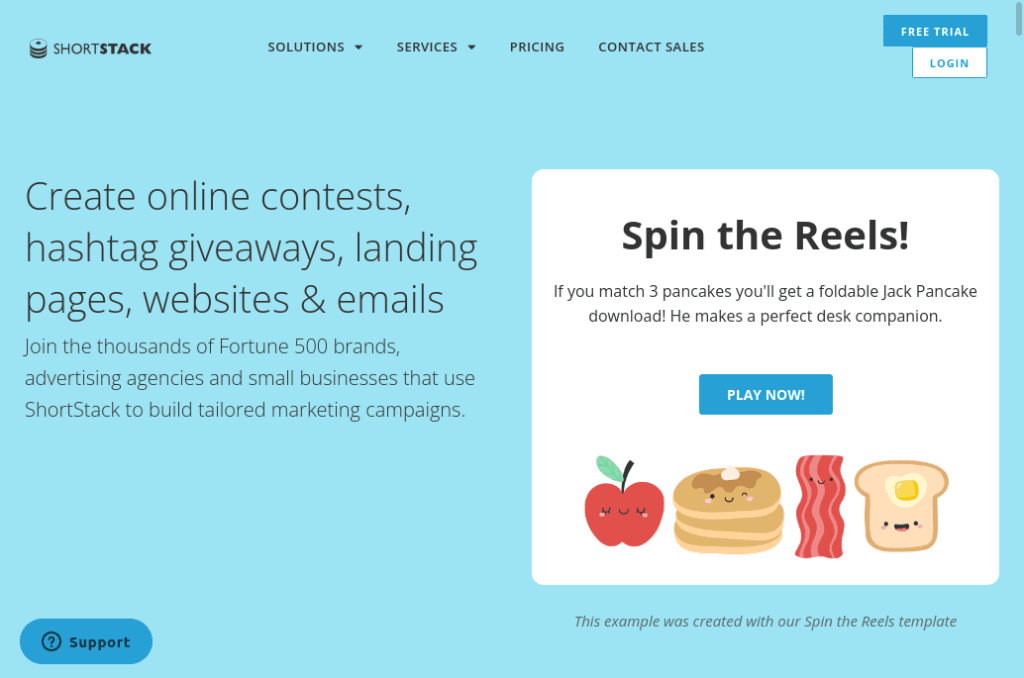 Shortstack helps you create online content, giveaways, landing pages, websites, and emails. They help you build the perfect tailored marketing campaigns. They understand that websites are sales hubs and help add contests, forms, videos, and other content directly to any page on your site or display it in a pop-up.
Features:
They help embed continuous lead collection contests and special offer landing pages to grow your lists.
They help you build no-hassle standalone landing pages and mini websites
They help distribute unique offer codes to your customers
They help collect UGC to increase time on site.
They show how people interact with your landing pages and emails using our real-time analytics.
Pricing: They offer a Business plan for USD 99 per month. Their Agency plan would cost you USD 249 every month. Their Brand plan would cost you USD 499 each month, and you have to connect with them and find out about their Enterprise plan.
---
11. AdEspresso: Best Facebook Advertising Software Tool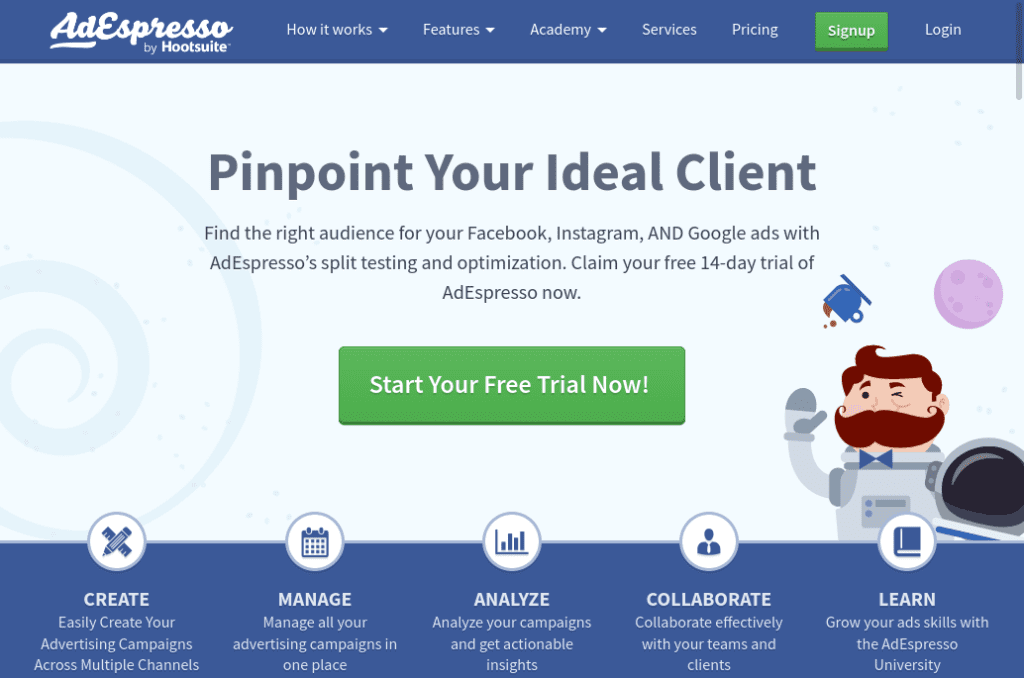 AdEspresso helps you pinpoint your ideal client and find the right audience for your Facebook ads with AdEspresso's split testing and optimization. It is an extremely easy-to-use platform and has already created 10 million ads. They have had people create more than 1,00,000 accounts just last year.
Features:
They support Facebook campaign creation and help create all your campaigns in one place easily.
It is the one solution for all the advertising channels you need – less time spent switching from one Ads Manager to the other, more time making money.
They provide actionable insights whenever you need them for analysis.
They provide easy access to your clients' accounts and have them approve your campaigns before going live.
Pricing: Their Starter plan would cost you USD 49 every month. Their Plus plan would cost you USD 99 each month. Their Enterprise plan would cost you USD 259 each month.
---
12. Boosterberg: Best Facebook Marketing Software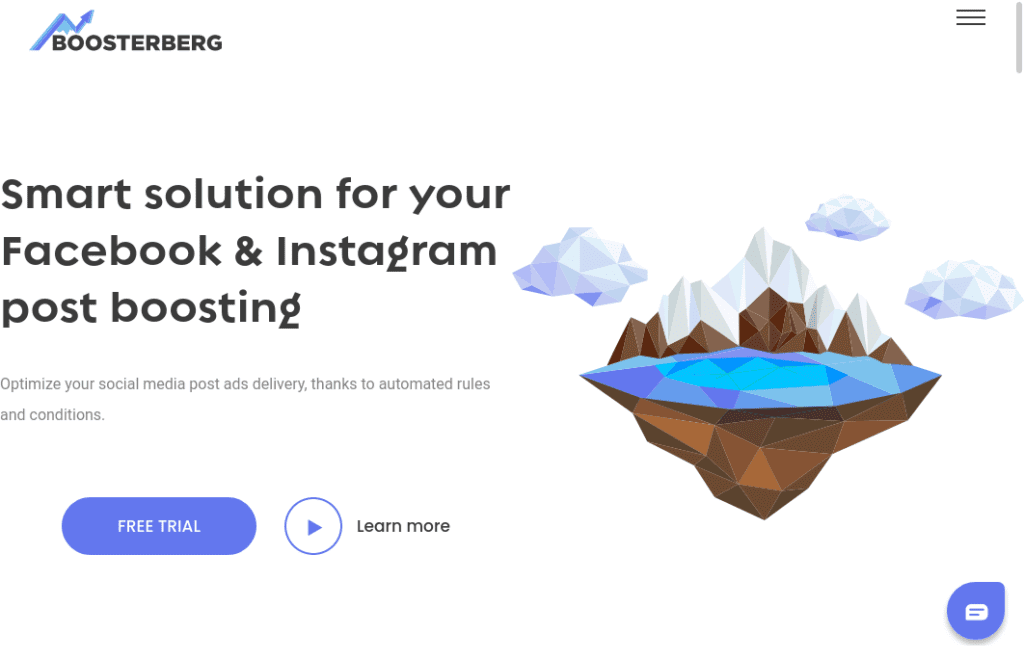 Description: Boosterberg is a smart solution for Facebook post boosting and helps optimize your social media post ads delivery, with automated rules and conditions. They help you automate your post and story and focus on what's truly important – producing great content. They help create great content, set your own rules, and choose your budget, audience, and placement.
Features:
They help boost your results and get better results using any campaign objective.
They lower your cost per result and significantly boost your RoAS.
They save the time you spend managing social media campaign promotion.
Pricing: Their Pricing and plans are determined by the number of sources you use. For one source, you have to pay USD 49 per month. For five sources, you have to pay USD 152 per month. This goes up to 100 sources, which you have to pay USD 1999 per month for.
---
13. SproutSocial: Best Facebook Publishing Software Tool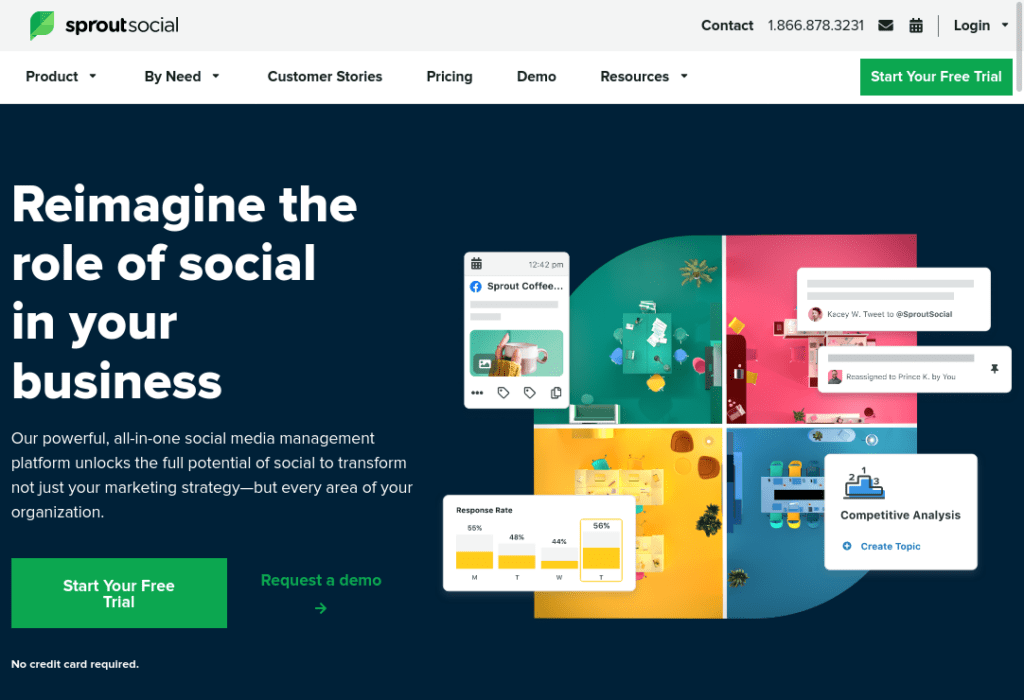 Description: Sprout Social helps reimagine the role of social in your business. This powerful, all-in-one social media management platform, unlocks the full potential of social to transform not just your marketing strategy—but every area of your organization. Sprout Social is a leader in usability, customer support and satisfaction, ROI, and user adoption, as awarded by top-tier software review sites.
Features:
It helps uncover trends and actionable insights from social data to inform brand and business strategy.
They help plan, organize, schedule, and deliver content as a team with cross-network social publishing.
They help streamline social monitoring and improve responsiveness with a unified inbox.
They help drive strategic decision-making across the business with rich social data and dashboards.
Pricing: Their Standard plan would cost you USD 89 per user per month. Their Professional plan will cost you USD 149 per user per month. Their Advanced plan will cost you USD 249 per user per month.
Roundup
Facebook marketing has become a more rising form of digital marketing that is being tried and tested by all kinds of businesses, from small to large, to reach the specific audience type and get the best results. It takes a lot of time and effort for businesses to reach out to the ideal users on Facebook organically, and it becomes difficult to manage your page while you are simultaneously also creating content. Therefore, it is important that you use the best Facebook Marketing Software Tools and Platform to reach out to others and make the best out of your campaigns. It not only help you expand your reach but effectively create good content for your audience, target them, engage them and get through to them properly.