Social media has witnessed a drastic change in recent years. There has been an unprecedented increase in smartphone usage, and hence, in social media too. About 80% of the population of the world has access to social media. Now, social media is not limited to just uploading pictures and videos to connect with friends. These platforms are used for the marketing of products and services. The platform that is widely used for marketing is Instagram.
Instagram has practically erupted with more than a billion active users on it. It has flourished unexpectedly because of the pandemic. It serves the users with a seamless experience and has become a digital storefront for creators and brands. The recently launched Instagram shop has made it easier to find shoppable products for the users and provides the ability to browse shops and check more options.
The pandemic has had adverse effects on small businesses, which has also caused people to look forward to small-scale businesses. Instagram aims to empower small businesses and globally famous brands to provide a seamless shopping experience to their customers. Instagram has a very bright future ahead because it can predict what its users need and prioritize their privacy, trust, and experience. It is an absolute favourite among the users and the businesses. You need to use the best Instagram marketing tools and platforms to expand your business and find more customers.
Benefits of Choosing an Instagram Marketing Tool
Instagram marketing tools help you automate and manage your Facebook presence to be consistent with your efforts and constantly engage with the audience. At the same, a lot of your time is not spent on maintaining your campaign. We have highlighted some of the top benefits of Instagram marketing tools:
Planning: This software helps you to plan your Instagram strategy way earlier. So, if you have an event or a deal soon, you can plan your presence now to make sure that you have proper coverage of the upcoming event in the future. You can write the content and schedule it to post when appropriate.
Targeting: The posts you make on the Instagram pages are available to users beyond your followers. It is particularly significant to make these posts available to everyone, but this requires an extra push toward specific audiences and demographics. With this marketing software, you can choose target audiences that you wish to prioritize your posts to narrow the focus of each post.
Reporting: After each campaign, it is essential to view everything in one place. The software helps you quickly review your campaign data to see what worked, did not, and needs improvement. They show data in easy-to-read and understandable formats for in-depth analysis.
Best Instagram Marketing Tools and Software to Try in 2022
Here is a list of some of the best Instagram marketing software tools that can help you boom your Instagram account.
1. Wishpond: Best Instagram Marketing Software Tool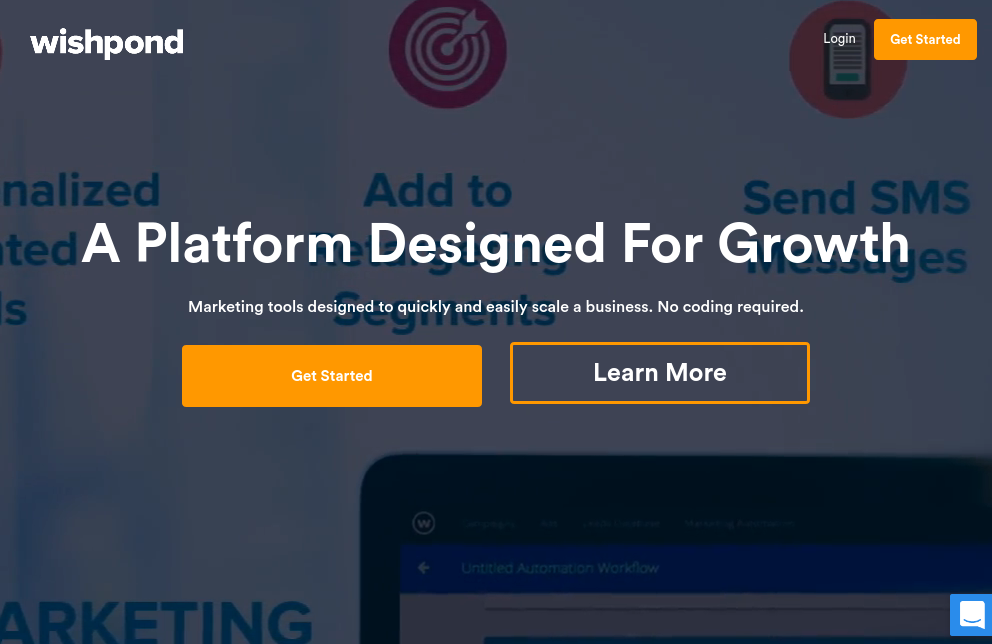 Wishpond makes marketing simple and is the perfect platform designed for growth. They offer marketing tools that have been designed to quickly and easily scale businesses without any coding. They help you create beautiful landing pages without any coding and help generate leads from every site page with easily customizable and powerful popups. Their contest tools make it easy to get the most out of social media, generate social engagement and get more followers. Also, their powerful and easy-to-use marketing automation enables you to nurture leads and retain customers automatically.
---
2. Buffer: Best Instagram Scheduling Software Tool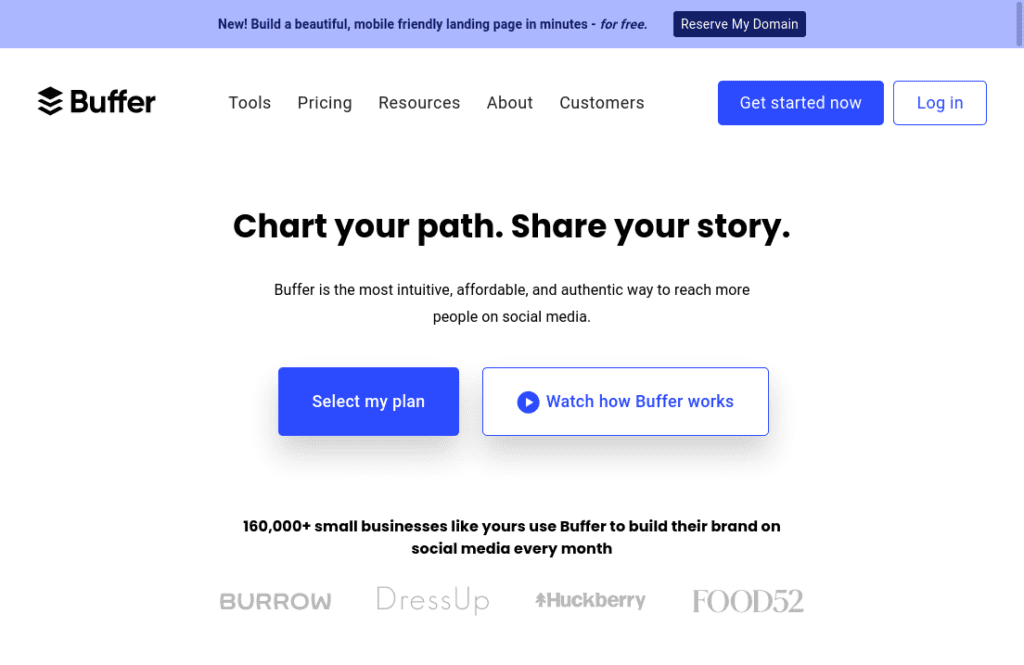 Buffer is the most intuitive, affordable, and authentic way to reach more people on social media. More than 160000 small businesses use Buffer to build their brand on social media every month. They help you measure your social media presence easily and show what is working and does not work to help create better content and result in better engagement. They collaborate with you and help plan your campaigns and schedule your posts. They help you respond to comments twice as fast and simply skin to the critical comments with their labels and hotkeys. They help you track your growth, reach, engagement, and following and help you get better results.
---
3. Social Pilot: Best Instagram Publishing Software Tool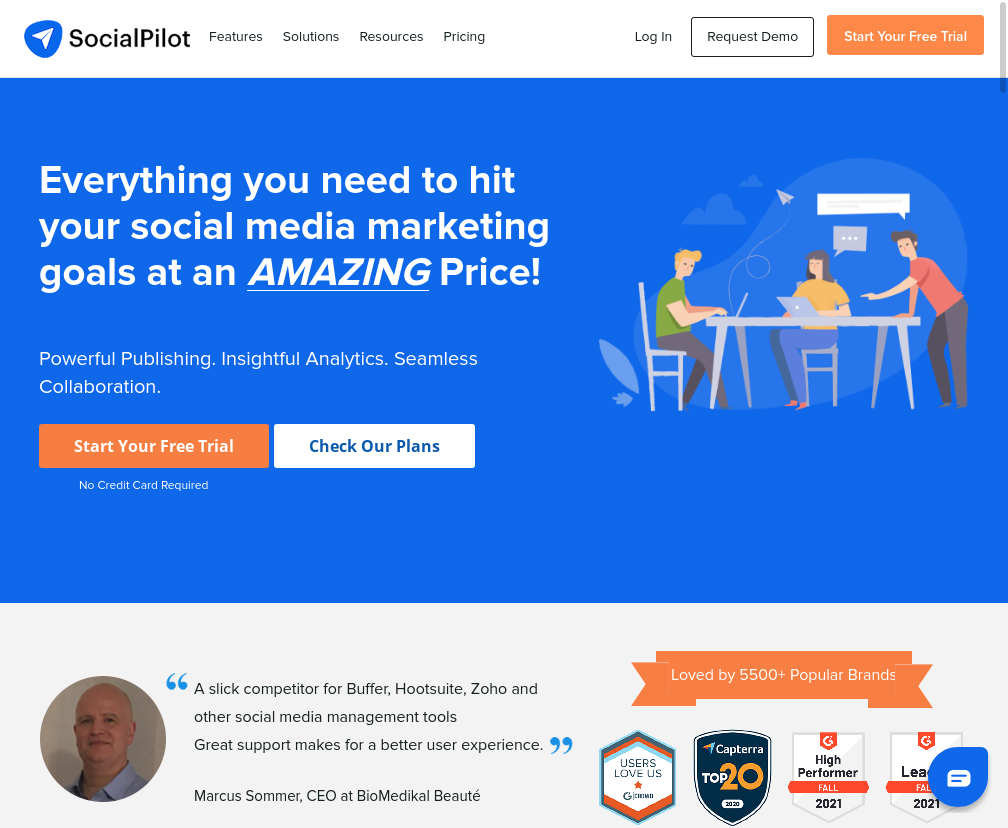 Social Pilot is the best Social media scheduling, marketing and analytics tool. It brings you everything you need to hit your social media goals at a great price. They offer powerful publishing, insightful analytics and seamless collaboration. They provide you with the best of both worlds – unlimited growth on social media and reduced spendings on tools. They help you go beyond the popular social networks to increase engagement and leads with social media scheduling and publishing. They allow you to make data-driven decisions to improve engagement and finetune your Instagram marketing strategy. They help you filter conversations and focus on the ones that matter to not miss on a customer. They allow you to discover and publish popular content, and their bulk social media posting tool helps upload posts in advance.
---
4. Later: The Best Instagram Marketing Software Tool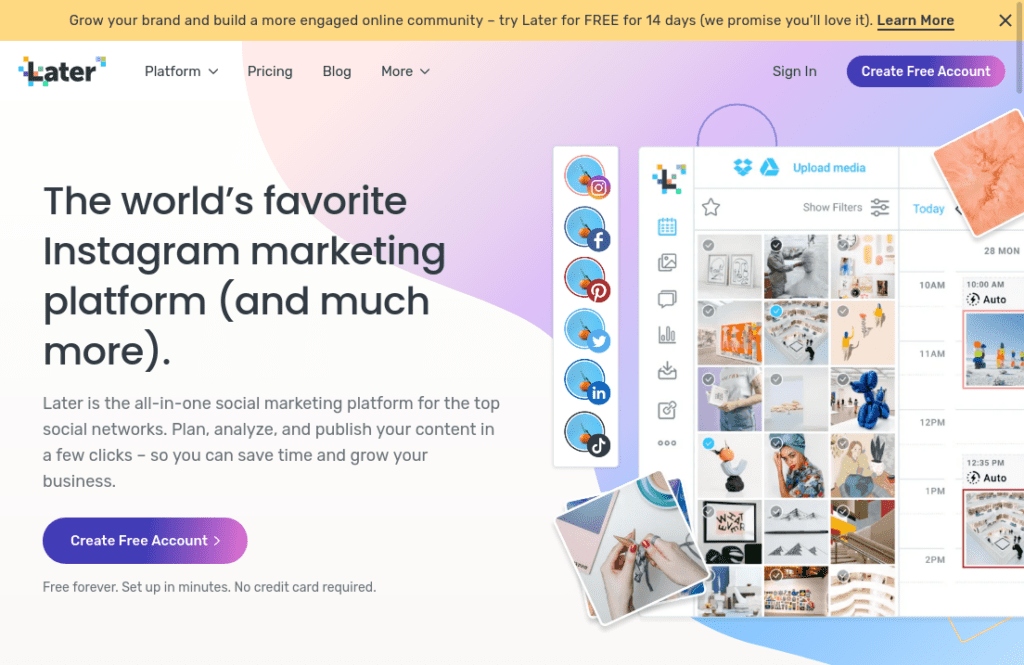 The world's favourite Instagram marketing platform, Later, is the all-in-one social marketing platform for the top social networks. They help you plan, analyze, and publish your content in a few clicks – so you can save time and grow your business. They allow you to go beyond just scheduling. They understand that Instagram is supposed to be visually appealing and is built to help share photos, videos, and stories. They have great tools that help you create a great Instagram feed. They have flexible plans, and it is an easy to use platform. They allow you to find on-brand content, add your personal touch, and share to your Instagram, and it turns your Instagram profile into a mini-website, complete with analytics. It helps you understand what works for your business and gives you unique suggestions to optimize your social strategy.
---
5. AgoraPulse: Best Instagram Collaboration Software Tool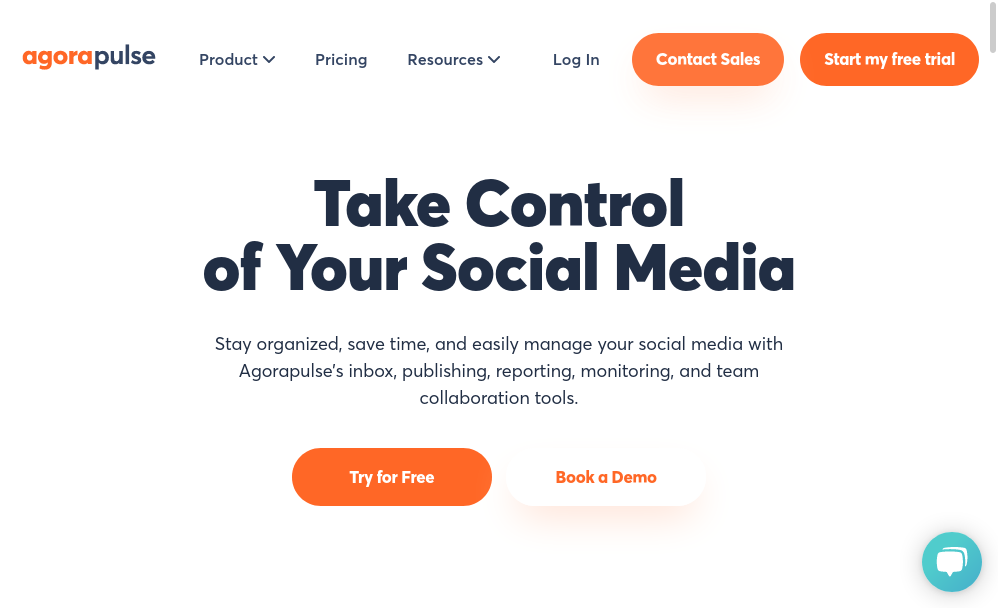 AgoraPulse helps you take control of your social media. With their publishing, reporting, monitoring, and team collaboration tools, you can stay organized, save time, and easily manage your Instagram page. It is an all-in-one, easy-to-use platform loaded with powerful features, which is all you need to dominate Instagram. They offer a unified social inbox that helps easily manage all your incoming social media messages, comments, and reviews in one place. With Intuitive Publishing, you can plan, collaborate, and schedule content for Instagram. They help you find trends and provide insights about your brand and of your competitors. They give very insightful analytics that shows you what is working and what does not.
---
6. Leetags: Best Instagram Hashtags Marketing Software Tool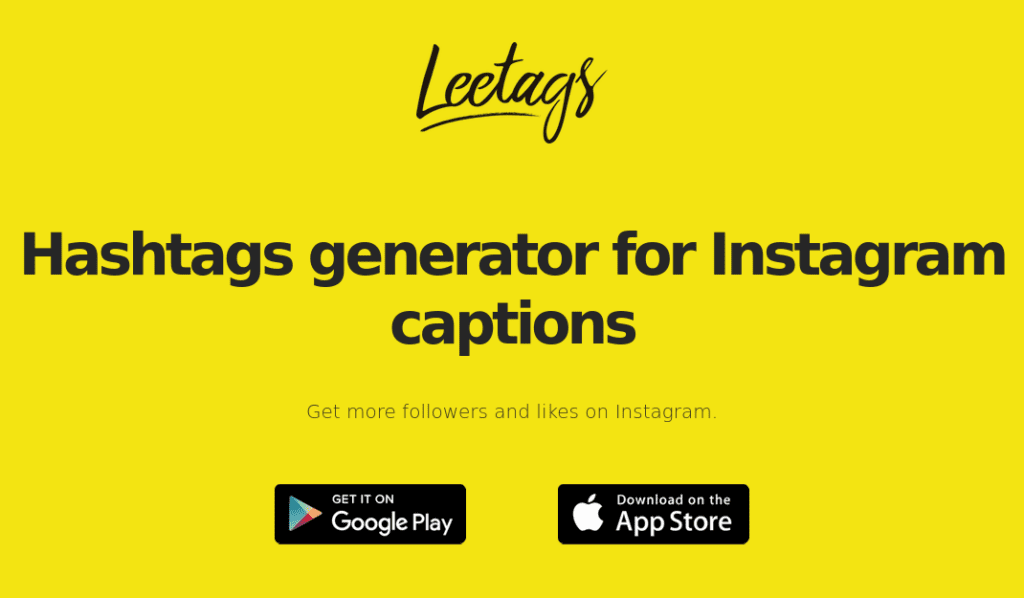 Leetags is a hashtags generator for Instagram captions and helps you get more followers and likes on Instagram. With Leetags, you have prominent hashtags related to your product or service, increasing the relevance of your posts and your profile and, consequently, making your business better known. Using Leetags, you can improve Instagram captions with the hashtags in trend, increasing the number of views and likes and getting more followers.
---
7. Sendible: Best Instagram Management Software Tool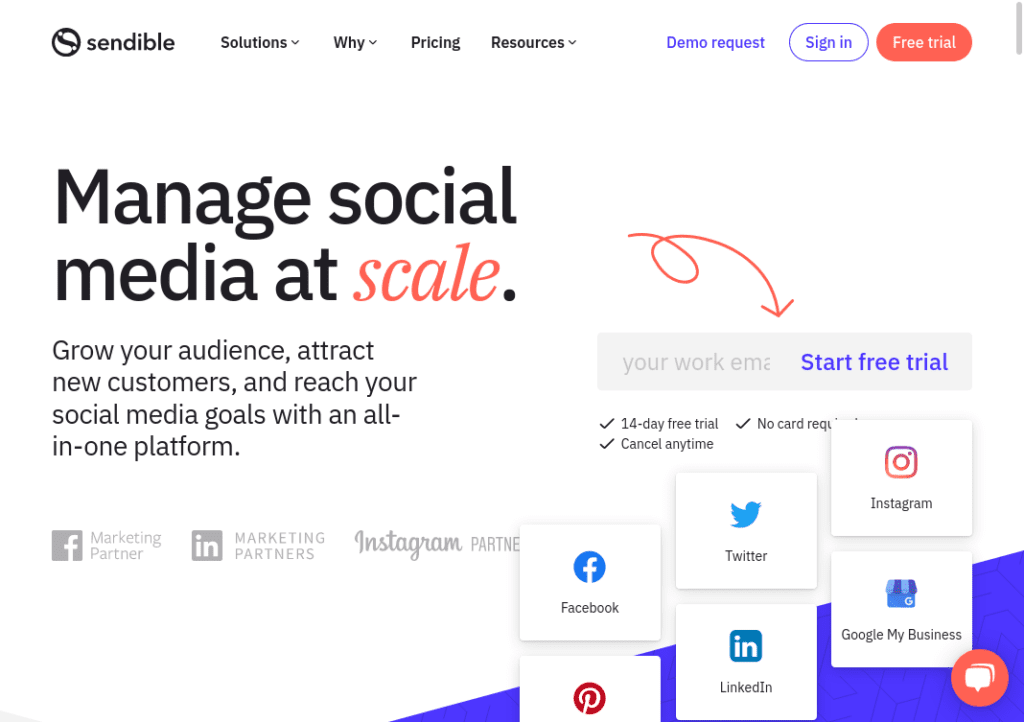 Sendible is an all-in-one social media tool for agencies and provides you with everything you need for automatic post scheduling, approval workflows, community engagement, and reporting. They help you manage all your platforms from one place and support more integrations than any other social media tool. They allow you to automatically publish posts to Instagram Business Profiles, monitor your audience activity, and track your growth. They help schedule photos and videos to Instagram business profiles directly — no push notifications needed. They allow you to maximize your reach with Instagram geotags, attract an audience with apt hashtags and visually plan your posts. They help you extend your reach with clutter-free captions on your posts.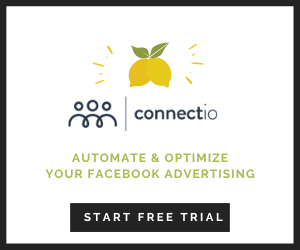 ---
8. Tailwind: Best Instagram Marketing Software Tool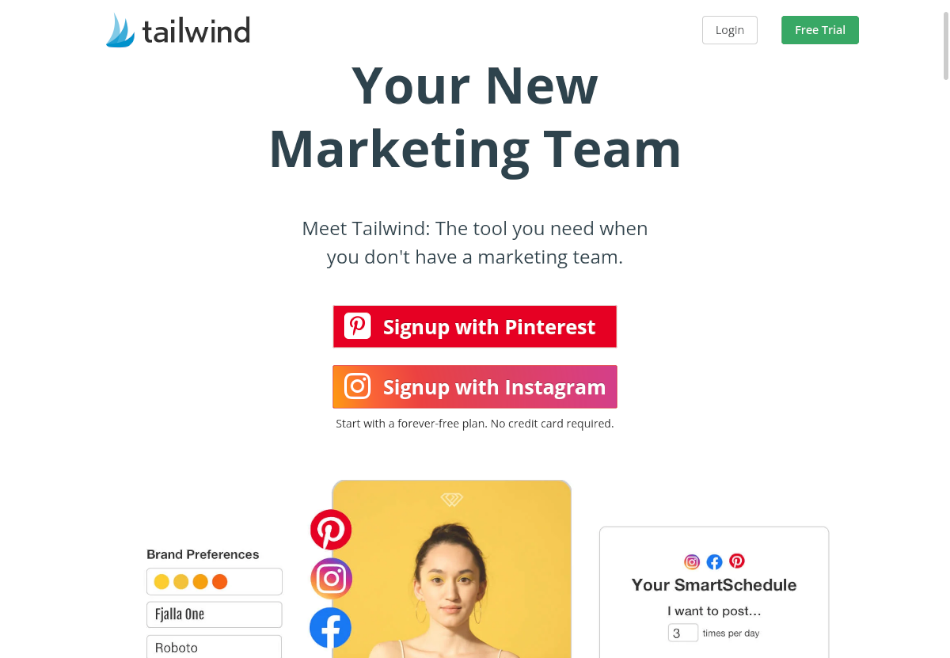 Tailwind is a social media scheduling that gets you accurate results in less time and helps you grow smarter on Instagram. This is your Smart Instagram Assistant, enabling you to eliminate the guesswork and start growing with the smart assistant that helps automate your social media designs, scheduling, and analytics. They get your designs done and transform your photos into hundreds of optimized, personalized designs for Instagram. They help you reach more people with the perfect mix of massively popular and hyper-relevant niche hashtags to discover the right followers. They pick the post times when your audience is already the most engaged to get the most engagement out of every post.
---
9. Ninjaoutreach: Best Instagram Outreach Software Tool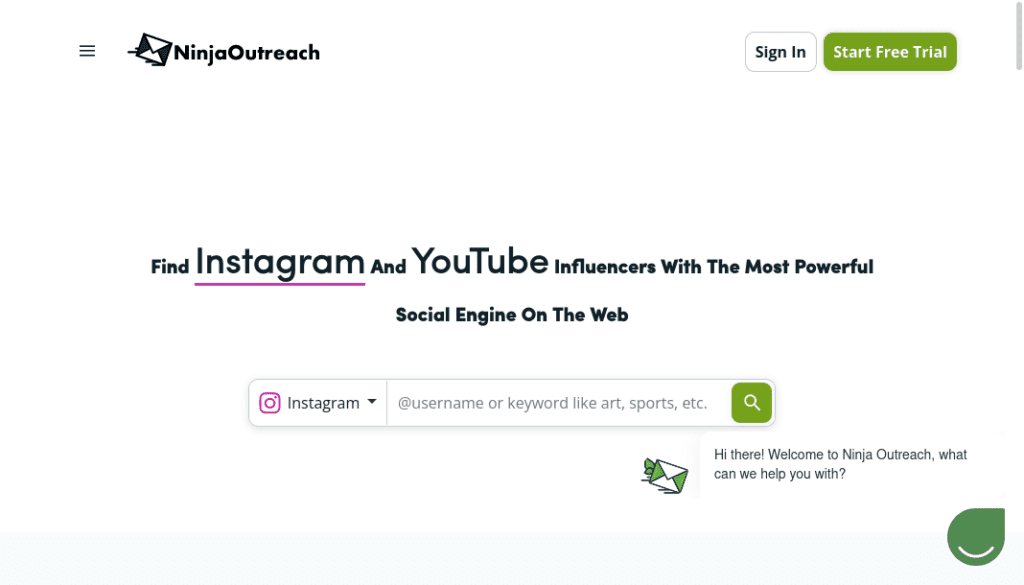 Ninjaoutreach makes outreach marketing fun, accessible, and organized with everything you need to create a successful campaign using just one single tool quickly. They help you do everything from finding leads to outreach, relationship-building to the campaign.
Management. It is the most potent social engine on the Web and helps you find Instagram influencers. They allow you to jumpstart your rankings with their Pro Link Building Software built to ace any campaign.
---
10. Awario: Best Instagram Monitoring Software Tool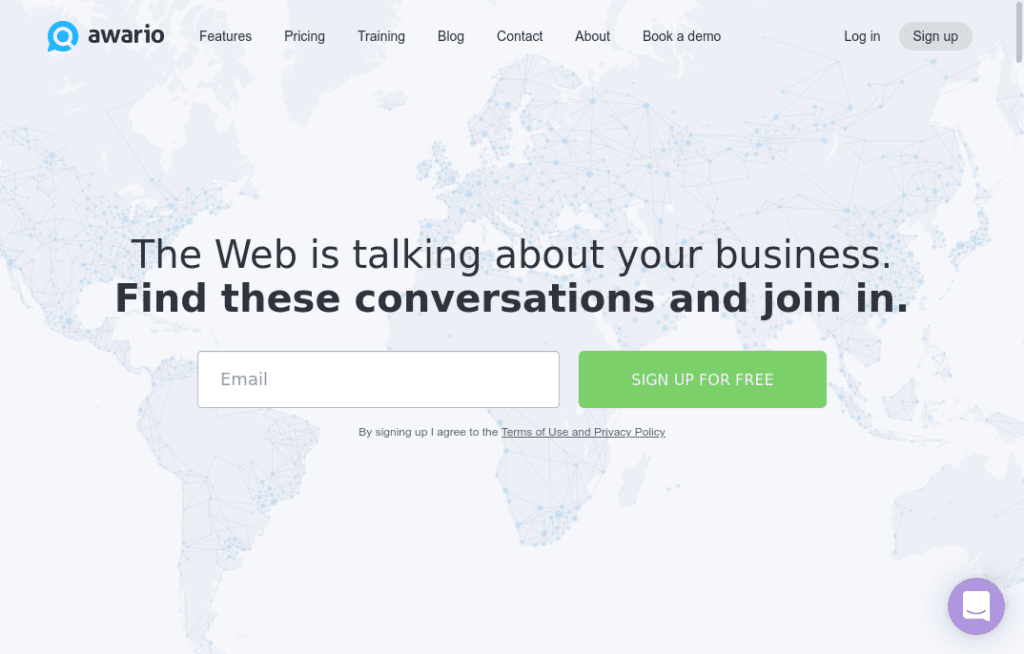 Awario is a brand monitoring tool that helps you discover each brand mentions from all around the Web and social media. They crawl over 13 billion web pages daily, in addition to the APIs, and it is the most immediate way to learn about each new relevant mention. They help spread the word about your product, service, or content across social and the Web to reach new audiences and trigger word-of-mouth marketing. They also show the mention sentiment and the share of mentions to ensure that your brand reputation grows. They help you do competitive brand monitoring, so you track and analyze different client mentions, check the mention sentiment and reach, and create custom reports on the platform. They help answer customers' questions and follow up on comments to build meaningful relationships with your clients.
---
11. Social blade: Best Instagram Analytics Software Tool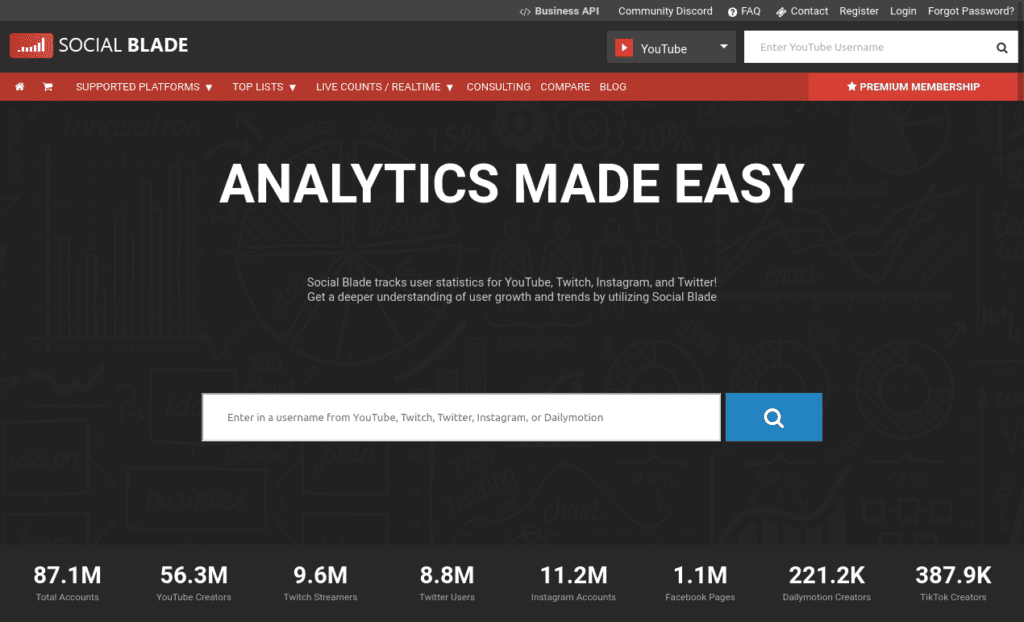 Social Blade makes analytics easy. It tracks user statistics for YouTube, Twitch, Instagram, and Twitter and provides a deeper understanding of user growth and trends. It gives its users access to their public database, which, using advanced technology, can provide you with global analytics for any content creator, live streamer, or brand. They help you find influencers and grow your brand.
---
12. Hootsuite: Best Instagram Publishing Software Tool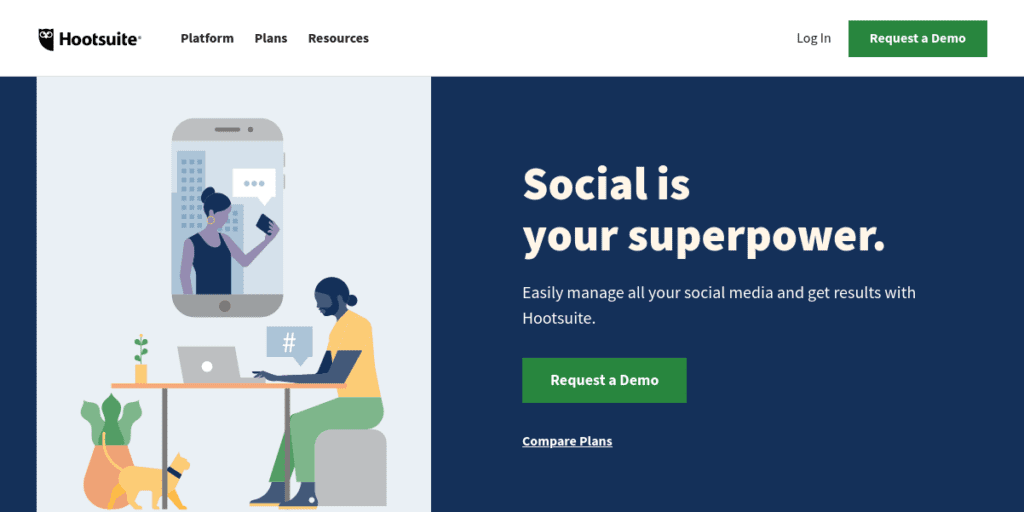 Hootsuite helps you efficiently manage all your social media and get results. They allow you to schedule and publish to Instagram- instantly. They help you do marketing on Instagram very easy and secure by publishing photos, videos, stores, and carousels to Instagram from Hootsuite. They allow you to optimize your photos and automatically adjust video dimensions and bit rate. They help save time by scheduling and publishing images and videos directly from the Hootsuite dashboard and mobile app to your Instagram Account. They provide you complete control over story appearance and strategy and help create engaging Instagram Stories and Carousels using brand-approved images and videos, collaborate to ensure quality, and finetune your content on the go with mobile.
---
13. Snapseed: Best Instagram Photo Editing Software Tool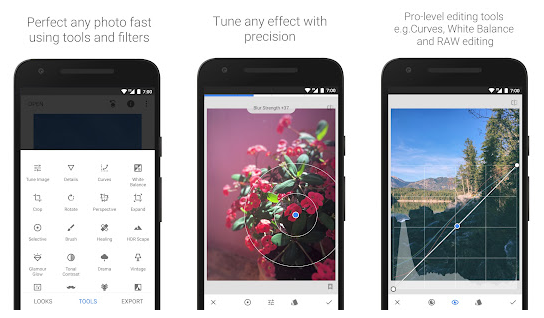 Snapseed is an efficient photo-editing application that is free to use and install. It has everything from basic tools for amateurs to advanced features suitable for pro photographers and photo editors. The interface is sleek and easy to use for anyone, and the controls are also conveniently placed. It packs all the features that any photo enthusiast might need along with a straightforward user interface.
---
14. Iconsquare: Best Instagram Analytics Software Tool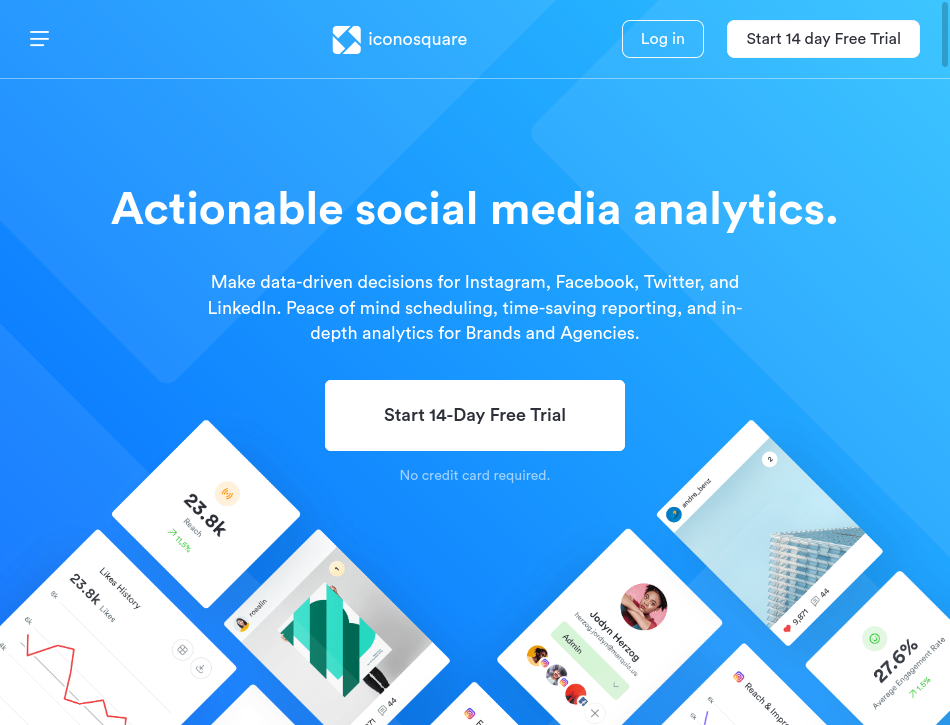 Iconsquare provides actionable social media analytics and peace of mind scheduling, time-saving reporting, and in-depth analytics for Brands and Agencies. They help you make data-driven decisions for Instagram. They help maximize your social media performance by making insightful, data-driven decisions based on intelligible analytics. Their customized dashboard quickly visualizes the metrics most important to you, and scheduled reports help you stay on top of your game. It helps publish your content automatically and makes sure it reaches the right people at the right time. They help keep a close eye on selected competitors and understand how your performance stacks up to the rest of your industry across metrics like follower growth, engagement, reach, and more.
---
15. Sprout Social: Best Instagram Marketing Software Tool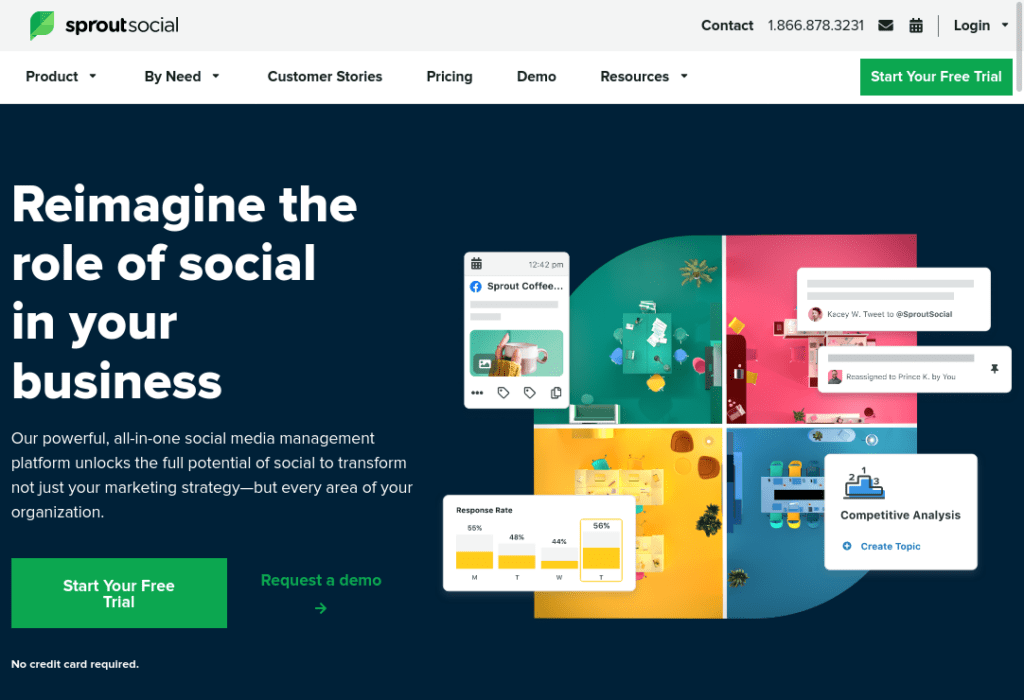 Sprout Social is an all-in-one social media management platform that unlocks the full potential of social to transform not just your marketing strategy but also every area of your organization. Their Instagram management tools help schedule posts, manage comments, monitor hashtags and run reports. Their Instagram integration includes scheduling, publishing, engagement tools and access to rich analytics, so you can easily plan and schedule posts, monitor hashtags and respond to comments with a comprehensive social management solution. It helps manage and publish engaging content, build strong customer relationships, and benchmark your Instagram performance. They efficiently manage, plan, and post by streamlining your posting process, simplifying creative development, and managing content and campaigns.
---
How to Get Started with Instagram Marketing?
Businesses certainly feel the pressure to keep their presence on social media platforms robust with a strong strategy. Given that Instagram is different from other social media sites, it needs a specific marketing strategy.
You must start with setting a purpose and goals for Instagram so that you can justify the time, energy and money to spend on it.
You must determine the kind of users you want to reach out to before you start marketing on Instagram. If you have strategies, focus on those and keep up your efforts.
Do a competitive analysis to find out what marketers in your niche are posting. Start by reviewing their profiles. Do a quick audit of related accounts to see what gets the best engagement, and hashtags, and use such information to grow your account.
Make an editorial calendar that will help you save time and manage your Instagram presence. This is a great place to put in the key events to highlight on your account. It will help look out for real-time opportunities instead of getting tensed at the last minute for posts.
Keep up a consistent brand aesthetic. Determine what your aesthetic will look like by finding out about your brand's personality, brand values, who your customers are, and things like that. Once you define all of that, you can make your content match that.
You must then focus on growing your brand and follower base. This will take a lot of time and energy. However, irrespective of temptations, do not buy followers because it will not drive engagement, and you need your followers to see your posts.
Roundup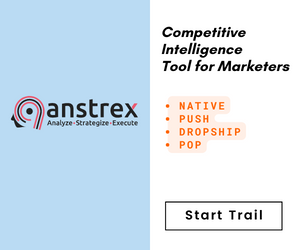 Instagram can witness competition from other social media apps like YouTube, Snapchat, and such. However, since Instagram has more than 25 million business users, billion active users, and a revenue of 14 billion dollars, Instagram marketing is here to stay. It is a favourite of businesses of all sizes, be it an individual or small businesses. Instagram helps people grow their businesses. Businesses must use the best Instagram marketing tools and software to understand how to expand their reach and make their consumer's experience better.
Our 'Handpicked' Tools for Internet Mareters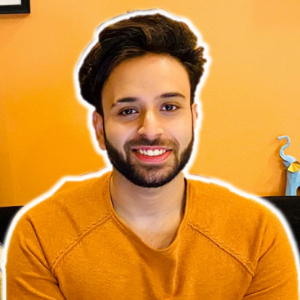 I and my team research various media buying platforms and can help you choose the right network; so you could rake in more greenbacks with an increased ROAS. I am just a mail away, so reach out to me if you need assistance with scalable media buying. mail: [email protected]