The advent and growth of social media have brought about revolutionary changes in businesses today. It has made a myriad of social media channels available to businesses, and they offer limitless opportunities to digital marketers to create an impact on the interest. There has also been an increase in the hype for visual content, and platforms like Instagram have been very promising for business owners. Pinterest is a rather underrated visual content platform. Marketing on Pinterest helps you target a specific audience. The pinboard feature provides the power to reach all of your brand ambitions.
Pinterest has currently become very big, and it is a gamble for businesses to be ignoring its impacts. The statistics are proof enough. Currently, there are 150 million people on Pinterest, and 67% of them believe that the platform inspires them. Pinterest is currently the world's catalogue to show creativity. A business owner needs this kind of influence to guide you towards excellence. Certainly, Pinterest is very important, but to reach your goals, you must use the best Pinterest marketing tools and software.
Benefits of Choosing a Pinterest Marketing Tool
As a digital marketer, your aim would be to increase website traffic, better lead generation, and, most importantly, increase brand recognition. Pinterest offers all of these with efficacy.
It is a free social media tool that allows business owners to share creative content with their users. The virtual bulletin is its best feature and allows you to create a dashboard for your business easily.
Pinterest almost inspires businesses to do something innovative. With the bulletins in your arsenal, you can engage your audience and draw them towards your business. So, Pinterest provides you with tools that help you create an environment on your terms.
The pandemic has made us realise the sheer importance of eCommerce in our lives. Pinterest marketing is at the top of its game and also provides excellent eCommerce benefits. The areas you can explore are limitless and range from an Amazon-style shopping cart to an integration with Shopify.
A survey has shown that 55% of the audience agrees that Pinterest is an excellent platform for shopping. Pinterest marketing has become an integral part of the social media marketing campaign, and it continues to expand. In a situation like this, it becomes absolutely essential to be using the best Pinterest marketing tool to reach the best potential of your marketing efforts.
Best Pinterest Marketing Tools and Software to Try in 2021
1. Hootsuite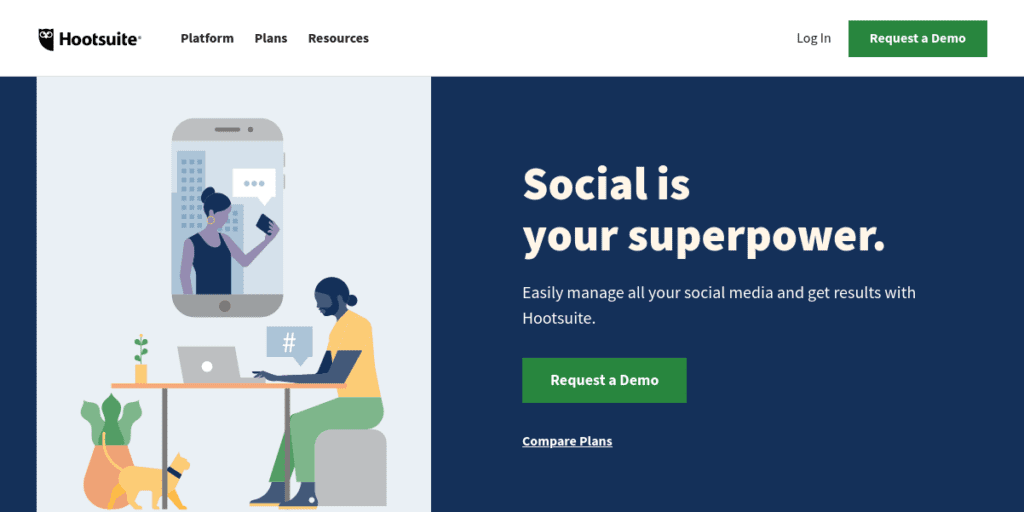 Hootsuite helps you schedule, publish and inspire with Pinterest. They help you keep your boards beautiful and help your customers discover things they love. They help you save time and inspire action by easily scheduling and publishing pins from the Hootsuite dashboard, and you can create new boards on the fly for any Pinterest account. They help you protect your brand by using a single, secure, integrated workflow to collaborate and manage multiple accounts, and you can send pins for approval to ensure all your content is consistent and on-brand. It allows you to easily and quickly schedule, view, edit, and delete pins in the same dashboard you use to manage all your social media campaigns and activity. They show you Pinterest performance alongside metrics from your other social networks.
---
2. Buffer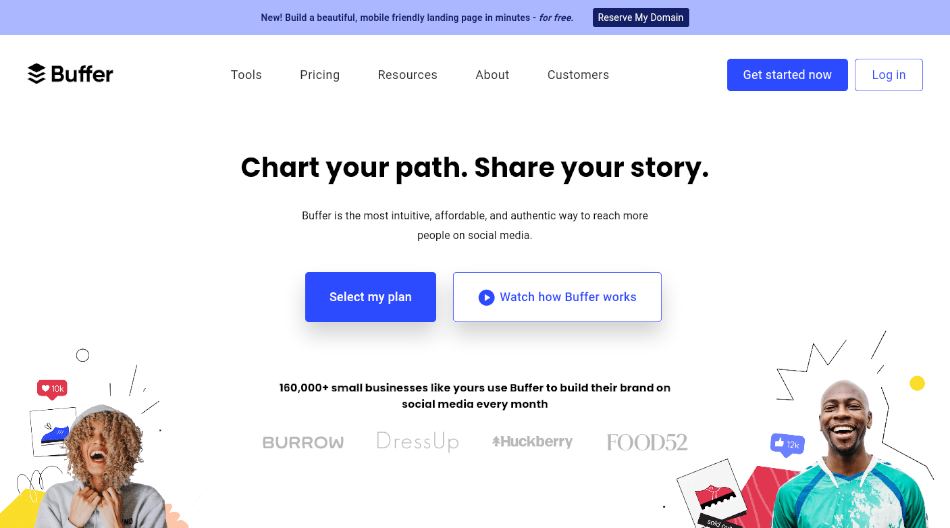 Buffer helps you schedule, manage, and measure pins. They have officially partnered with Pinterest to make it even easier to Pin consistently, measure your progress and set your own course for Pinterest success. They allow you to pin from anywhere on the web or upload your own image and create a variety of unique daily Pinning schedules customised just for you. They help you track and measure repins, likes, and comments. They allow you to customise the specific times and days you Pin to create unique schedules just for you and your Boards or let Buffer choose your times for you. They provide plenty of Pinterest analytics for you to check out.
---
3. Tailwind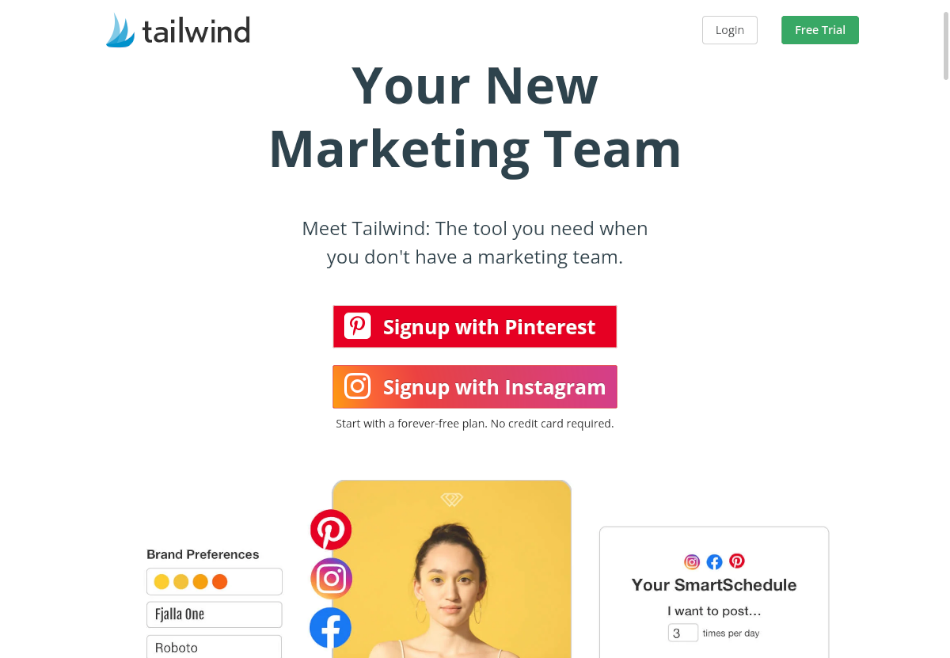 Tailwind is the best Pinterest scheduling tool that gets real results in less time. They help you create beautiful Pins faster than ever and share them at the best times for engagement – all with one tool. It helps you create a scroll stopping Pin in Tailwind Create in less than 2 mins. They allow you to do everything in one place: publish your beautiful Pin designs in seconds with our seamless, time-saving workflow. They help you get better on Pinterest with their Insightful Analytics, so you can see what's working at a glance with the Top Pins Report, Pin Inspector, and Board Insights. You can start with Pins that have automatically been personalised for your brand.
---
4. Social Pilot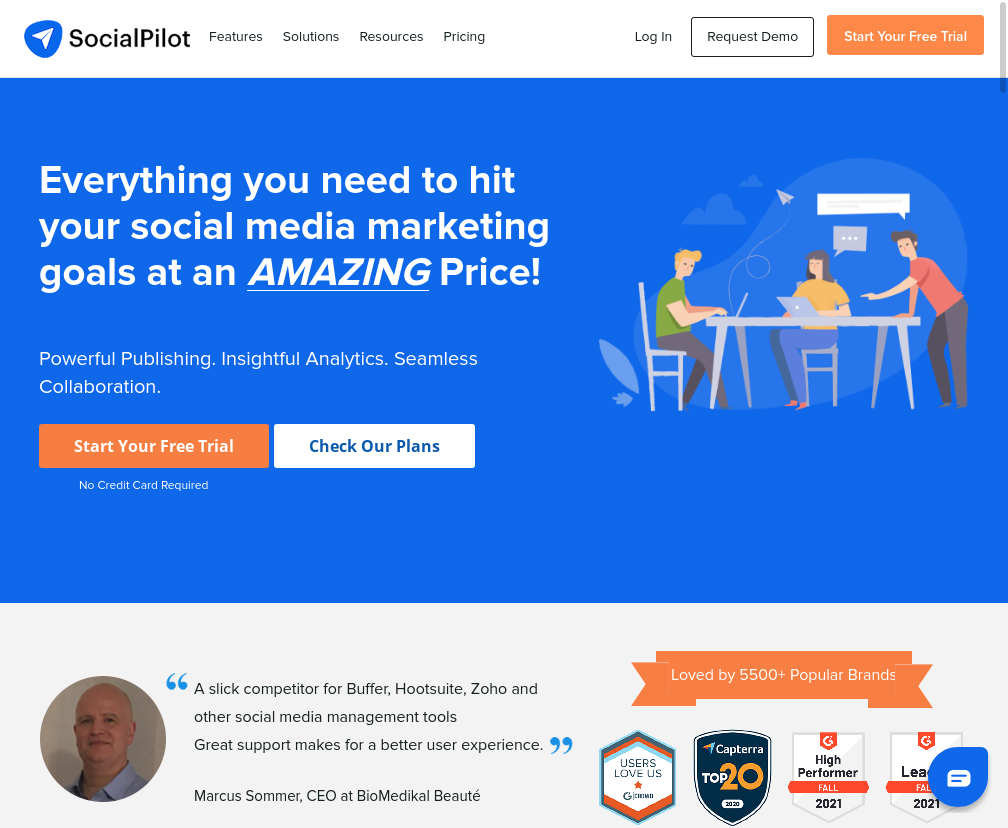 Social Pilot is an excellent Pinterest scheduling and automation tool for businesses. They help you drive traffic, increase engagement, and grow followers by scheduling your pins. With SocialPilot's Pinterest scheduling tool, you can enhance the exposure of your boards and save your pinning time by scheduling pins. With their app, you can create your own images for your boards and once done, and you can share those pins directly from the app itself. Their pin scheduler helps you go the extra mile by scheduling videos and GIF pins to engage your audience. They help you improve your brand's presence by adding logos to your pins and help you get ahead with your pinning schedule with the use of the Content calendar.
---
5. Crello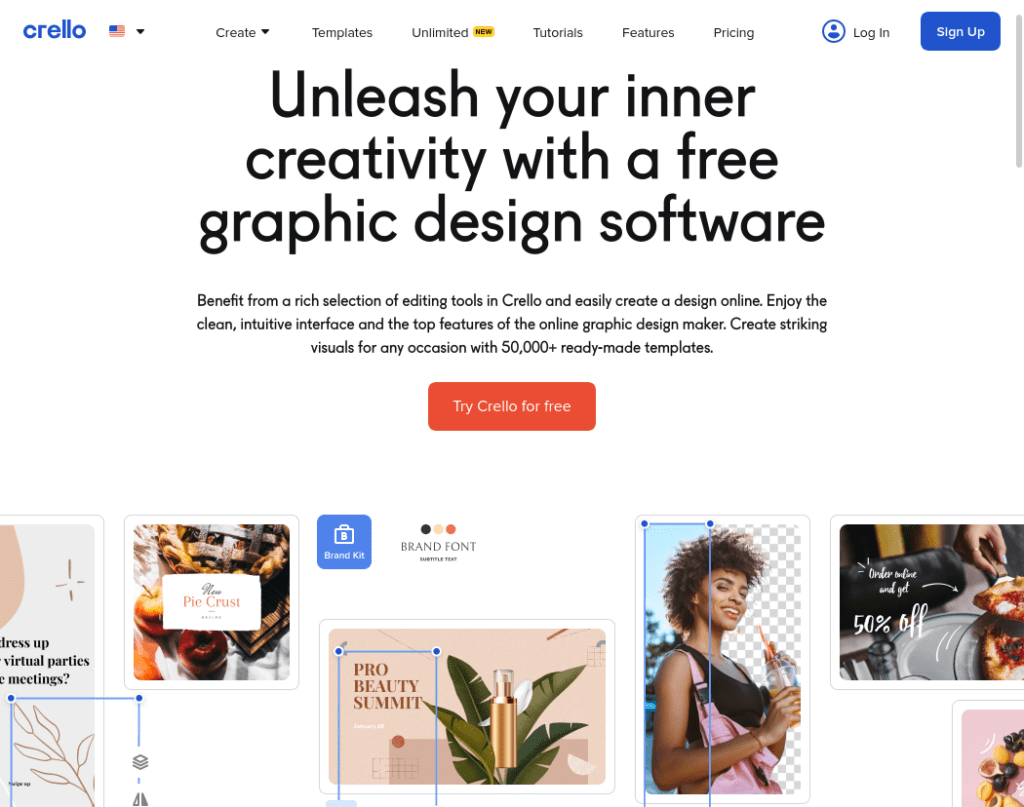 Crello is the free Pinterest pin maker and helps you create an impressive Pinterest account with creative pins that have been designed to capture your audience's attention. They have tailored templates for Pinterest pins that help you make effortless Pinterest graphics with no fuss. Their designers have made a lot of well-designed templates for all kinds of pins, and you just have to find the perfect template and customise it.
---
6. Viral Tag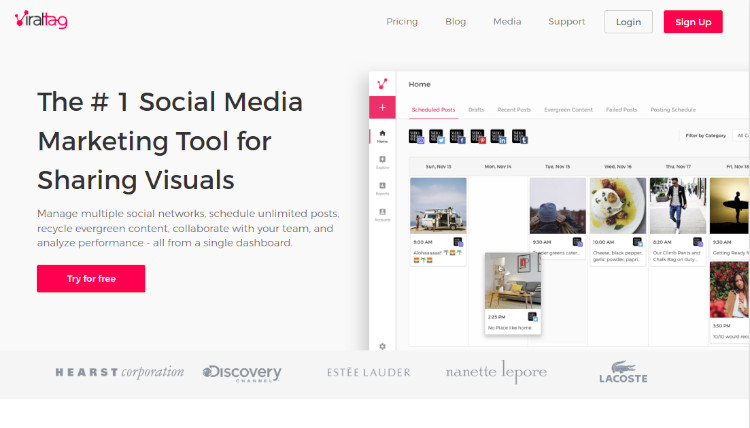 Viral Tag is the best Pinterest scheduling, marketing, and analytics tool. They help you manage multiple social networks, schedule unlimited posts, recycle evergreen content, collaborate with your team, and analyse performance – all from a single dashboard. They allow you to schedule posts, pins at optimal times and keep your audience engaged throughout the day. They help you effortlessly upload and schedule multiple posts at once – plan for an entire week or even an entire month in just a few minutes. Moreover, they help you easily customise your message, image dimensions and posting time for every social network. It automatically recycles your top performing evergreen content to get more out of each post.
---
7. Pablo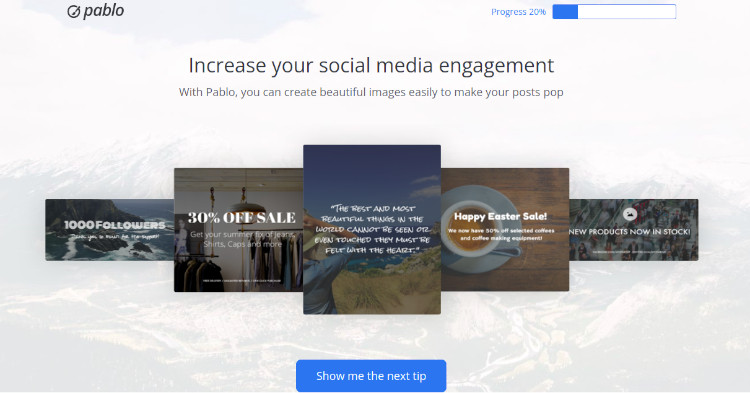 Pablo by Buffer helps you create beautiful images that fit every social network perfectly. With this, you can create the visuals, share them across all platforms and then analyse them with Buffer's analytics to know how well they're performing. The layout in Pablo is perfectly optimised for the ideal size on Pinterest, and you can quickly customise the text, background, and icon/logo on the image to look great and help you quickly make beautiful and engaging Pins. It is the complete Pinterest solution for the entire Pinterest flow: creating pins, scheduling pins, and analysing the results.
---
9. Viralwoot
Viralwoot is the best Pinterest promotion, scheduler, management and analytics tool used and loved by 1,25000 individuals and businesses. They help you schedule everything and increase your reach by scheduling Pins for maximum exposure. They help you boost your social media presence and get discovered by thousands of active Social Media users across all types of niches. You can automate your Social Media presence with ViralWoot's Pin Scheduler, so you can spend more time on high-value activities like engagement. It saves time and extends your reach by posting at the right time for maximum impact.
---
10. Pinterest Analytics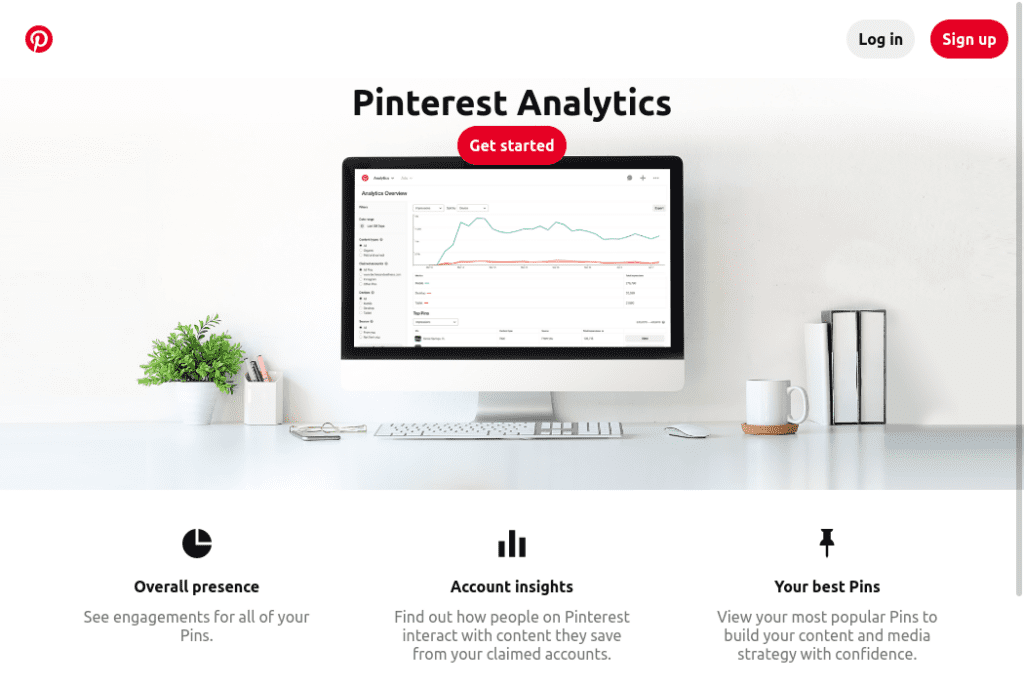 Pinterest Analytics shows you your overall presence and shows engagements for all of your Pins. It shows how people on Pinterest interact with the content they save from your claimed accounts. They show you your most popular Pins to build your content and media strategy with confidence. It shows you what paid and organic published content resonates most on Pinterest. The insights you get from Analytics can help you make better decisions and customise your content. They help review the overall performance of your Pins, boards and ads in real-time. You can use their analytics and measurement tools to optimise your creativity, fine-tune your targeting, and help improve your results. Their conversion reporting tools help you understand which actions people take after seeing Pinterest ads
---
11. Mentionlytics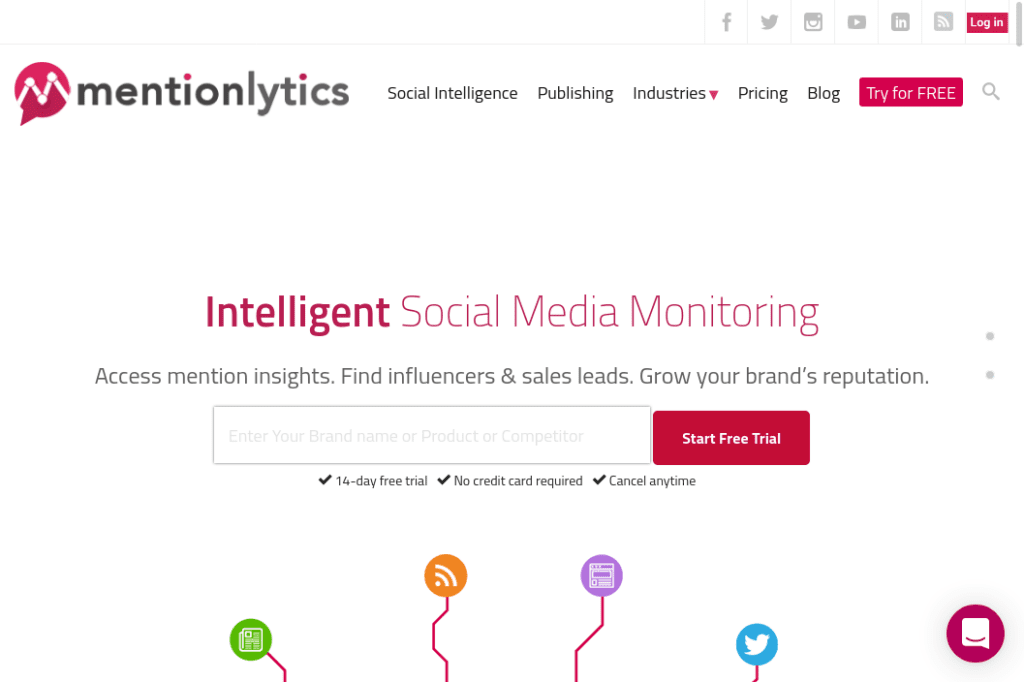 Mentionlytics is a complete Web and Social Media Monitoring solution. It helps discover everything that is being said about your brand, your competitors, or any keyword/hashtag. They help discover positive and negative mentions. Their advanced Sentiment Analysis feature detects the emotion of every mention in any language. They allow you to assign and reply to mentions discovered right from your Hootsuite dashboard and filter results by keyword, source, sentiment, country, language and more. They show you the big picture of what is being said about your brand from all Social and Web sources. It is a powerful yet easy-to-use solution for companies and agencies to monitor everything that is being said about a brand online.
---
How to Get Started with Pinterest Marketing?
Starting with Pinterest marketing is pretty easy. However, you have to start with having a Pinterest strategy that would be relevant to your business.
You need to start with branding your profile. You must create a business Pinterest account to get access to analytics, rich pins, and more. Then, you need to brand your Pinterest profile, which makes it recognisable as a per of your company. You can choose a cover board that shows pins from that board at the top of the profile. You can then select up to five showcase boards, and these appear directly underneath your name and bio. You need to then upload your picture, write your bio and brand your brand covers. After that, you must verify your website.
You must define your content strategy and know what kind of content you would share on Pinterest. You can choose to do Product pins, Blog post graphics, Infographic pins, and Lead magnets.
You must then join or create community or group boards. This is a great marketing strategy that helps get your content out there. Pinterest lets you invite others to contribute to a board, and it is a great way to introduce new audiences to your content.
Pinterest is a visual search engine and has its own algorithm and search engine optimisation rules. You must focus on Pinterest SEO and implement these rules on your profile to make your ranking increase. Make sure to add relevant keywords about your pin in your title and description. Make sure your pinboards have focus keywords in the name.
Constantly share new content on Pinterest. This improves the quality of your profile and furthers the likelihood that Pinterest will share your content in search results.
Roundup
Earlier, Pinterest was the site people visited to find recipes and home decor ideas, but now it has grown to become much more than that. Pinterest has become a visual search engine that has tons of graphics, pictures, links, and inspiration for almost anything you want.
The more we know and become accustomed to the vast features of the various social media platforms, we realise that they are absolute game-changers, especially for Pinterest that is constantly expanding to reach its pinnacle. To succeed in Pinterest marketing, you have to plan social media strategies that will stand out and use the best Pinterest marketing tools and software to help you do the same.