Media agencies have reserved the job of media planning. The duty of media agencies is to zero in on the most apt media for the brand, product, or service of a client. Marketers today have the task of balancing campaign efforts across different media platforms and assets, which might make it difficult to track the tactic's success and overall impact on the business's bottom line. It is important to have a good media planning strategy in place because it helps teams accurately and holistically monitor campaign performance and make informed decisions about the way to optimise performance. The process by which marketers determine where, when, and how they will run an advertising campaign to maximise engagement and ROI. In this article, we will talk about some of the best media planning certification courses that will help you maximise your engagement and ROI.
10 Best Media Planning Certification Courses to Try in 2022
Here is a list of the best media planning certification courses that you can try in 2022 to improve your overall media buying experience.
1. Media Planning Course with Certification by IIDE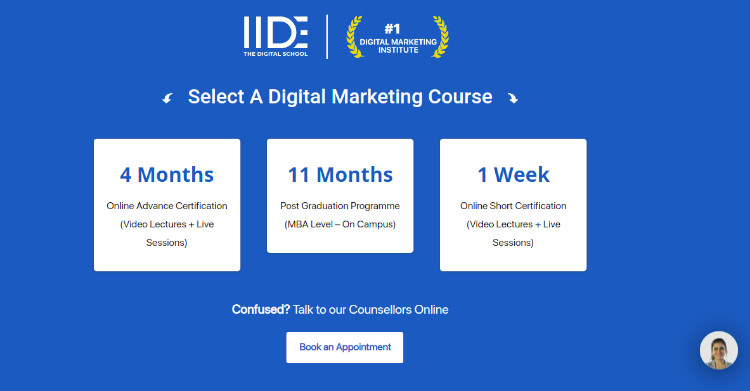 This course by IIDE offers you self-paced video lectures and live online sessions. It helps you learn how to create a plan, select media platforms and set your budget for high-impact advertising campaigns. By the end of this extensive online Media Planning course, you will be able to effectively plan and budget your media spending to generate the maximum possible ROI. With this course, you will be able to understand what media buying constitutes and the terms and the terminologies associated with it. The media planning course further deals with various stakeholders of media planning such as Platforms, Publishers, and Networks.
2. Media Planning Course by Pankaj Kr. The SEO Expert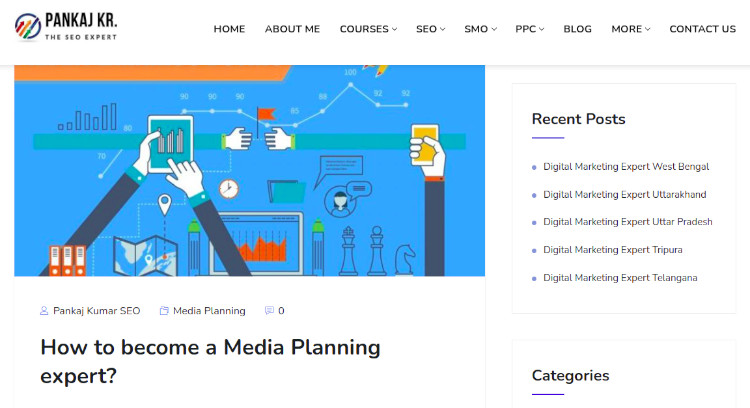 With this course, you will learn the basic concept of media planning in business and how media helps increase the sales of any brand's products and services. You will learn how to use different social media platforms to promote business online and get an understanding of basic knowledge about social media platforms like Youtube, Facebook, Instagram, and Twitter that can be used for advertising.
3. Introduction to Marketing by the University of Pennsylvania on Coursera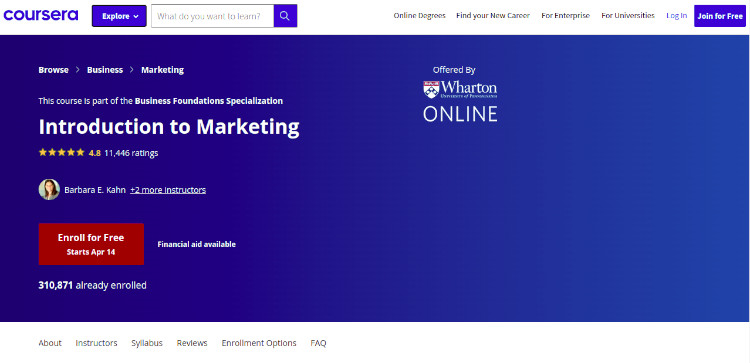 This course is taught by three of Wharton's top faculty in the marketing department, consistently ranked as the #1 marketing department in the world; this course covers three core topics in customer loyalty: branding, customer centricity, and practical, go-to-market strategies. You will be taught the key principles in – Branding: brand equity is one of the key elements of keeping customers in a dynamic world in which new startups are constantly emerging. – Customer centricity: not synonymous with customer service; customer centricity starts with customer focus and need-gathering. – Go-to-market strategies: understand the drivers that influence customers and see how these are implemented prior to making an investment.
4. Fundamentals of Media Planning by Atheneum Collective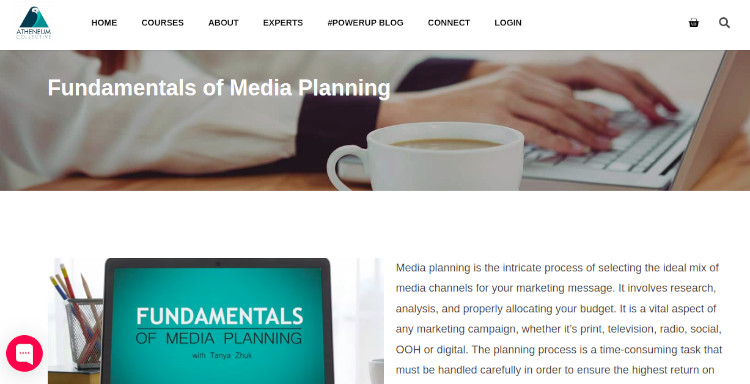 This course showcases the proven methods that can help you determine the best combination of media to meet your business's goals and objectives. This course provides particularly great information for media sales professionals, publishers and brand marketers. The course will teach you how to create the client brief, find the right audience, and how create a strategic approach. It will give you a fair idea about research and competitive analysis and interagency and client process for communications and briefings. The course will discuss channel planning and measurement and how to create and present the final plan.
5. Media Buying and Planning by Facebook Blueprint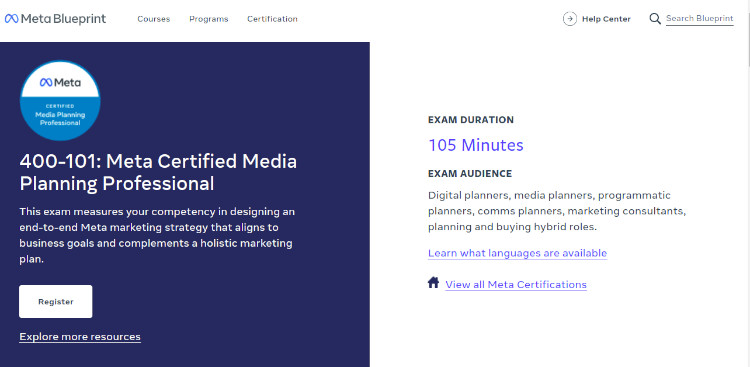 The course will teach you the fundamentals of buying media with Facebook. This course series is designed to teach you how to get the most value out of your budget through analysing past Facebook campaign performance and more. The course focuses on Facebook fundamentals like how to match Facebook campaign objectives to business goals, how to use the Facebook pixel, SDK, and offline conversions, how to define the ideal audience for your ads, and how to measure campaign performance. This one to the two-hour online session will equip you with the skills you need to run successful advertising campaigns on Facebook's platforms.
6. Media Planning and Brand Strategy for Advertising by Kundhan Karunakar on Udemy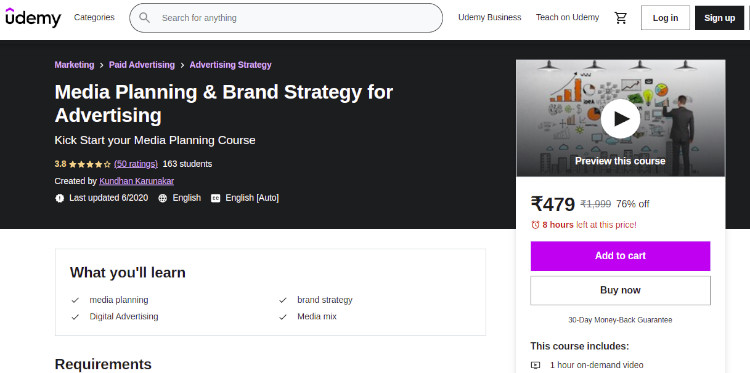 This course will teach you how to select and strategise the best combination of media to maximise the best returns to your advertiser. This will teach you how to conduct the initial media purchase and also about the continued optimisation of performance throughout the entire campaign life cycle. The course will teach you how to create a successful media plan for your advertiser from scratch.
7. Media Planning and Buying in Digital Marketing by Basecamp Digital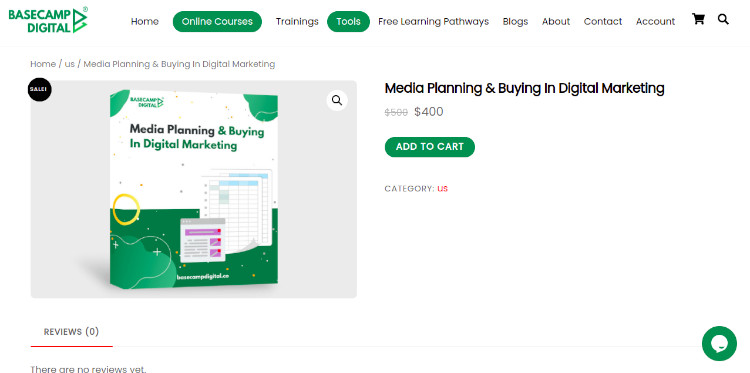 This course will help you learn different strategies, steps and stages of media buying. This course will teach you all things related to it for success. This course helps entrepreneurs, CEOs, and business heads better understand how media planning and buying allows businesses, the key performance indicators, how to partner with agencies, and much more. You will learn about the principles of media planning and its stages. You will also be taught about the process of media buying and the challenges in both media planning and buying.
8. Media Planning for Online and Offline Business by Eric Yeboah on Udemy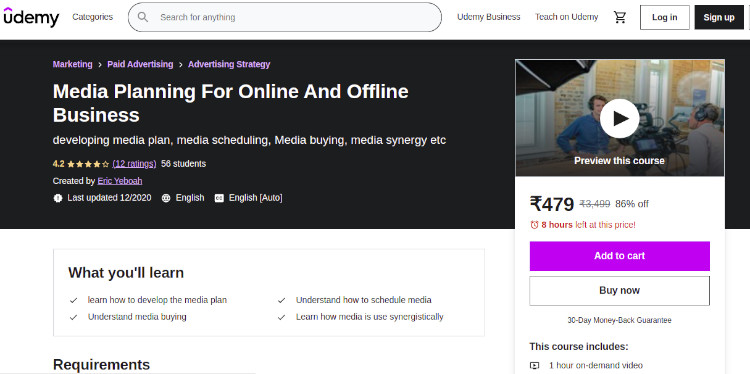 The instructor has explained how poor media planning will lead to poor communication outcomes, which is a total cost and loss to the organisation and that businesses need to develop effective media plans to get the needed results of their adverts. They talk about the importance of properly scheduling your media in an effective way for greater impact and result. The course teaches you about developing media plans, media scheduling, media buying, media synergy and more.
Roundup
The marketing landscape is changing and very competitive now. Marketers have to now serve consumers with the correct message at the right time on the right channel to see engagements. Media planning is where marketers can find out what essentially is 'right'. In today's marketing space, marketers have to leverage multiple forms of media, and a data-driven media plan will provide marketers with centralised information across all platforms. This will help you optimise campaigns and messaging and will streamline the campaign review process too. It makes it very important to be well educated about media planning and is one of the primary reasons you should take one of the best media planning certification courses.