It is known that whatever goals for your business are, growth has to be one of them. In today's day and age, there is no better platform to drive your enterprise's growth as Instagram can.
Whatever your goals on Instagram are, there is no denying that organic growth on Instagram is getting more and more difficult. Growing on Instagram without having to spend as much money on ads is not as common these days because of the platform's constantly changing algorithm. However, one must remember that making money, generating leads, increasing brand awareness, and such can be accomplished by Instagram like no other platform. Just because growth is hard, it does not make it impossible and requires consistency, hard work, and skills.
Here are some of the best Instagram marketing courses that you can take to constantly learn reliable and new ideas that will help you develop more skills and take your enterprise forward.
These are some of the best Instagram marketing courses that will help you make the most of your strategy, get more followers, and learn everything about the platform.
Why Should you Use Instagram for your Business?
200 million users visit at least one Instagram business every day. The platform is no longer just a photo and video sharing app and is used by businesses to build their brand. For a marketer, using Instagram to build an audience must be a priority.
1. Instagram is the best platform for Emotional Marketing: Storytelling is a very huge part of Instagram and the audience makes purchases after being driven by feelings. Using images and videos to perform emotional marketing can be more effective on Instagram.
2. Visual Content performs better on Instagram and these visuals empower people to instantly look at the brand's profile and follow them.
3. Brand Engagement Rate is Higher on Instagram and it is around 4.21%, while the same on Facebook is 0.07% and on Twitter is 0.04%.
However, marketing on Instagram is easier said than done. It is tricky to build followers. Instagram is used to engage, which makes it effective and it has been gaining popularity. There are various more benefits of building an Instagram marketing strategy, but to maximize efforts, you have to learn how to market on Instagram. You must take the best Instagram marketing courses for the same.
10 Best Instagram Marketing Certification Courses: 2022
Here is a list of the 10 best Instagram marketing certification courses that you can check for 2022.
1. Instagram Domination by Foundr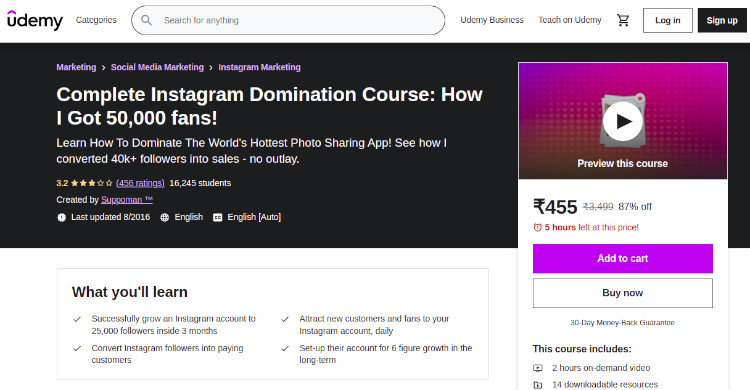 This course taught by Nathan Chan, the CEO of Foundr, will teach you how to grow your Instagram following from zero to 500k followers in 12 months. You will learn Foundr's proven methods to generate a predictable flow of highly engaged followers or customers for your business. You will also learn the strategies that Foundr used to generate over 3m followers. This free Masterclass Webinar will teach you:
The Instagram Domination methods that allowed Foundr to get 500k followers in one year and 1m followers in 2 years
The Bio Formula helps get more than 20,000 clicks on your website in one month
What content to create that attracts your target audience to follow you, like your content, share and buy your products
How to create content that gets engagement
How to create 'money posts' that turn your fans into customers
A case study into how they built a 6 figure business in 6 months, using just Instagram.
After you complete this course, you will learn how to increase your revenue and grow your business.
---
2. Hype Your Brand on Instagram by CreativeLive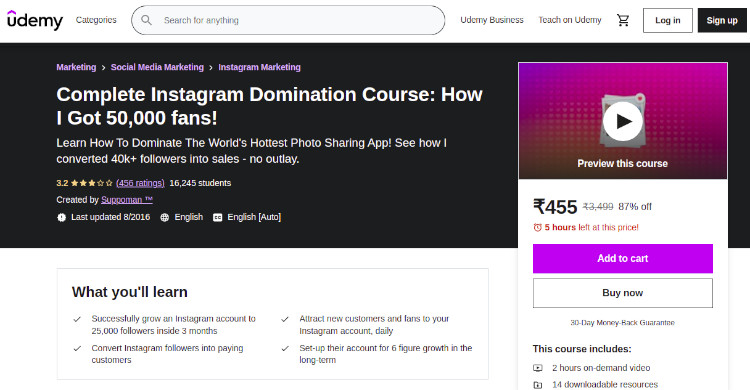 This course is taught by Sue. B. Zimmerman, a popular social media marketing educator and expert who specialises in teaching entrepreneurs and businesses how to use Instagram and grow their business, will teach you everything about how to leverage the power of Instagram. The course covers:
How to work with the Instagram algorithm
How to curate an engaging feed and aesthetic that has a consistent feel
How to do thorough keyword research that puts your content before a new audience.
This course is for you if you wish to get somewhere with your Instagram.
---
3. Instagram Marketing: Complete Guide to Instagram Growth by Udemy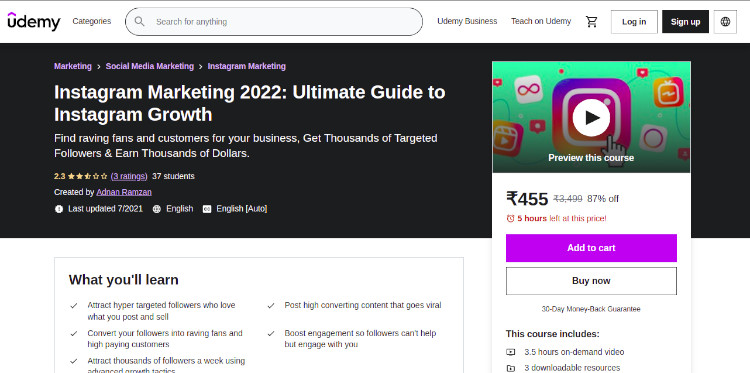 This course is taught by Benjamin Wilson, who is definitely worth looking into. This course contains over 50 lectures which makes up the 4.5-hour long course. The 45 lectures are broken down into:
A Complete Introduction to Instagram Marketing
Setting Up Your Optimized Power Account on Instagram
Creating the Ultimate Instagram Content Game Plan
Creating the Ultimate Instagram Marketing Game Plan
Creating Business & Making Money from Your Instagram Account
The Top 5 Apps, Tricks, and Strategies for increasing your results
Instagram for Business Course Resources (PPT Slides).
With this course, you will learn:
How to set up an Instagram account for your brand.
How to attract 10,000 real followers.
How to convert your followers to paying customers.
This course is absolutely worth taking.
---
4. Instagram Marketing: Hashtags, Live Stories, and Ads by Udemy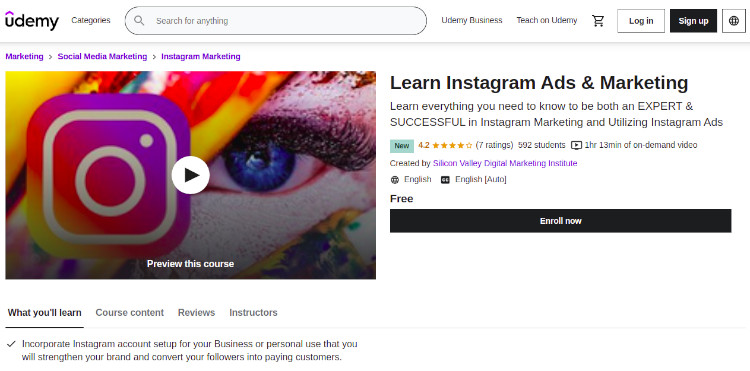 This course by Evan Kimbrell provides an A-Z guide on how to create and curate Instagram content. This is an online course rich with invaluable information that will help you grow your Instagram account strategically. You cannot just post on Instagram and expect people to find you, and you have to get down to the nitty-gritty.
The course will teach everything that goes into Instagram marketing, which includes mind-blowing techniques to create viral content. They will teach you how to use growth tools to automate the process of scheduling posts, how to engage with accounts using comments, use hashtags, how to set up money-making Instagram ads, and more. The course will also teach you how to leverage Instagram Stories, Lives and such to increase the reach of your account and grow followers. This course covers:
How to formulate a catchy account name and prepare a theme for your Instagram.
The algorithms of this platform and get acquainted with what works where and when.
Teaches about the Instagram marketing tools that can help you implement your content plans.
How to observe your competitors' accounts to check what's working for them.
How to get insights into post promotions to improve your reach and engagement.
This is the one course that can teach you how to use Instagram correctly to grow your followers and business.
---
5. The Complete Instagram Marketing Masterclass by Udemy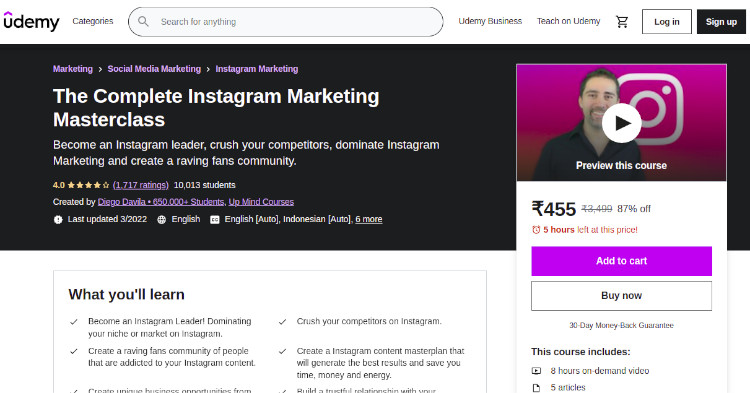 It is not easy to build a community and tribe on Instagram. You have to find the people you want to target and work with. This class is taught by Diego Davila, who helps you figure out a solid strategy for your Instagram marketing efforts. They will teach you how to create and consistently deliver a strong visual presence and aesthetic through the theme-based layout and how to generate ideas for viral posts. They will also teach you the best methods to communicate with your followers to build brand loyalty. The course covers:
How to create Instagram content that represents your brand and also resonates with your target audience.
How to use Instagram stories to appear in the feed of your followers.
How to use Instagram live sessions to build rapport with your audience through appearance.
How to watch over your competitors to see what's bringing the results and what's failing to improve your strategies.
There is no limit to what you can do with your Instagram marketing efforts.
---
6. How to Grow from 0 to 500k+ Followers in 12 Months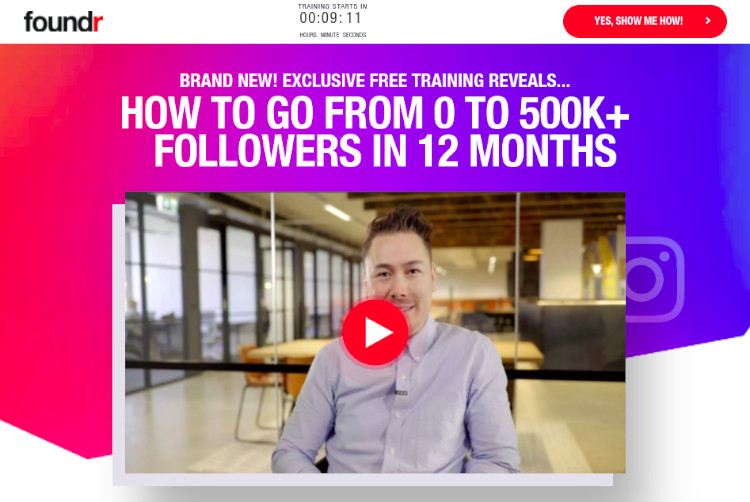 This course is taught by Nathan Chan of Foundr Magazine, who will teach you the new tips and tricks on Instagram marketing and growth, and you will not find such ideas anywhere else. This course covers:
How to generate followers in your Instagram profile and create attractive content
How to choose the right content that attracts your audience to follow your page, like and share your content, and buy your products
How to create 'Money Posts' that turns your fan into your customer without being spammy
Talks about the variety of informative case studies about how to build a 6-figure e-commerce business by using Instagram.
This is one of the most valuable webinars that are popular and packed with information that aspiring Instagram marketers can benefit from.
---
7. Mobile Photography Basics for Instagram Success by SkillShare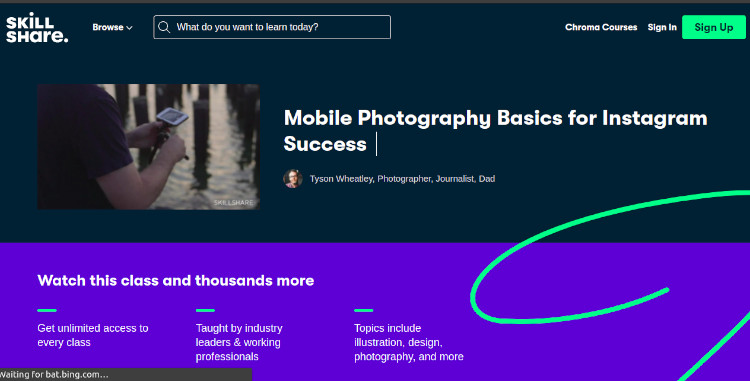 This course by Tyson Wheatley makes the practice of product photography absolutely simple. This course has been designed to teach aspiring photographers and budding artists how to click Insta-worthy pictures using a smartphone. This course teaches:
About the accessories and techniques that can help you click better
How to take street photography, portraits, landscape, etc. through your mobile, followed by the editing process
How to build your Instagram community and share your world vision through photos. Through practical projects, you will showcase your work to fellow participants.
How to tell your perspective with a story of your own and portray your personality online
Learn about various types of phone photography and the respective camera settings
How to edit your images through mobile apps for posting on Instagram
Learn the Instagram filters that can be used to add effects to your photos.
You need to learn how to click good photos because that is what Instagram is primarily about.
---
8. 10 Instagram Marketing Strategies that Makes me 6 Figures by Udemy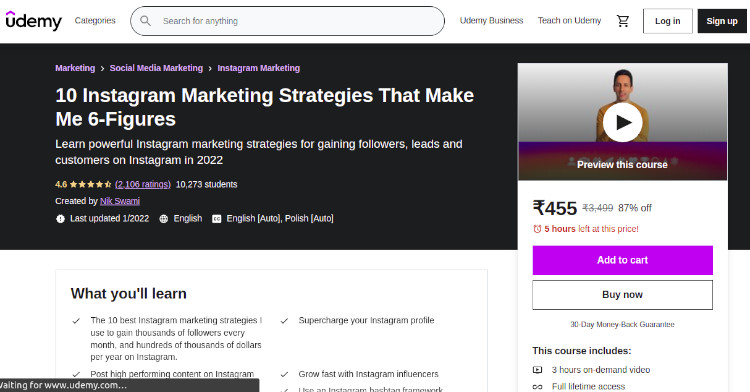 This course by Nik Swami lays down the strategies that he uses to get thousands of followers on his account that channels his six-figure earnings. He will teach you how to apply his strategies to create action plans for your account. He will teach you about post promotions and how to use Instagram features to grow your account. The course covers:
Instagram marketing strategies that bring results
How to filter and optimise your account along with bio
How to leverage the power of hashtags and better your chances of appearing in the explore tab
Get strategies to buy Instagram accounts
How to organise shoutouts and contests to get better reach.
This course will help you get started and get comfortable with Instagram.
---
9. Becoming an Instagram Influencer: Creating Authentic Content and Monetizing your Following by SkillShare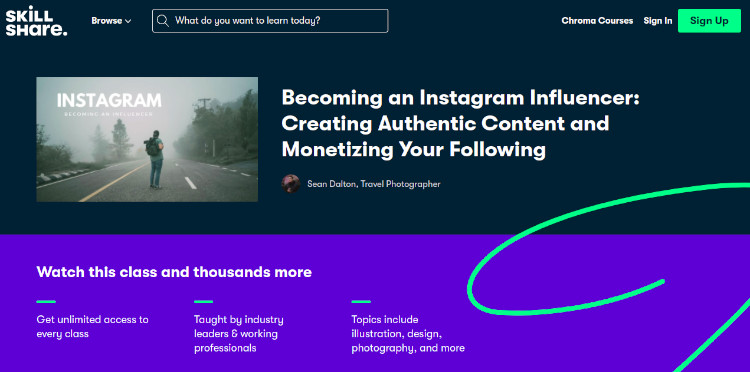 This course will help you get followers and engagement on your Instagram posts. In this course, Sean Dalton has illustrated simple steps to do the same. He is a photographer who has mastered Instagram algorithms and shares tips about the same. He provides insights into how to build a theme for an Instagram account that can allure your audience. He teaches how to get engagement on your Instagram and how to get ideas to create and post content consistently. He will teach you about hashtags and how to use them to further reach and improve your chances of becoming an influencer. The course covers:
How to develop a theme that reflects your personality on Instagram
How to engage with your existing followers to build a community
How to curate hashtags for your posts to improve your impressions
How to get insights through data analytics tools to plan your posts and campaigns
How to approach brands for collaborations to earn from Instagram.
This is the perfect guide on how to increase followers and engagement.
---
10. Instagram Best Practices: Grow Your Community, Work with Brands by SkillShare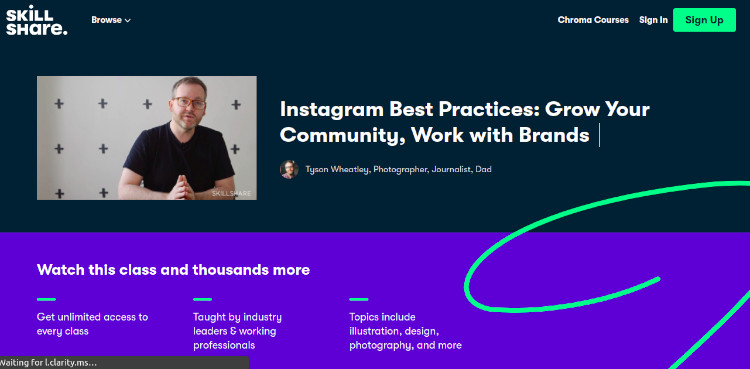 This course is great for anyone who is interested in social media and is taught by Tyson Wheatley, who teaches how to create engaging stories to create a good following on Instagram. He teaches you the strategies associated with growing your online presence and how to build your personal brand through authentic interactions. Other than that, you also get insights into tools to build your Instagram with apps to improve posts. This will teach you how to work with clients and manage their social media presence. This course covers:
How to create an Instagram posting strategy to develop a solid profile
Get tips to enhance your online presence through community interactions
How to tell your story through Instagram images
How to perform cross-platform branding to grow outside Instagram
How to approach brands for work collaboration.
This is a great starter course you can take on Instagram marketing.
Roundup
Like several other top brands, you can too share photos and engage with your audience daily on Instagram. Instagram is an excellent tool to connect with your audience and create a following. This helps the customers and fans get an insight into your life and helps you engage with them like no other. Most brands are using Instagram to get new customers and grow the base. You must know too. Learn how to leverage Instagram Marketing to grow your brand and business with the best Instagram marketing courses.