Facebook ads have pretty much become a norm for all businesses now. The sheer amount of reach that Facebook provides one with is unprecedented. It has become an excellent way to put your ads out there and expand your reach.
If you have Facebook campaigns with a lot of ad sets and ads, managing it becomes a time-consuming process. So, bringing automation to your Facebook ads will help you save a significant amount of time by eliminating the need to monitor performance daily while still ensuring that you get a good ROI. This is an easier way to save both money and time and still scale your campaigns. Ad automation works all the time and constantly makes data-driven decisions as soon as there is a scaling opportunity. This helps automate bid and budget management, duplication, creation and more. This helps you significantly increase your ad performance and scale your Facebook ad campaigns, all while you spend less time doing the manual work. Here we have the list of the best Facebook Ads Automation Tools to Boost ROI and Conversions. 
Benefits of Facebook Ads Automation Tools
Facebook's algorithm was recently updated. This caused users to spend less time on the news feed. Now, over five million Facebook advertisers have to fight more competently for the user's attention. For some advertisers, this has resulted in higher CPMs and makes achieving the desired cost per action more difficult.
It is now that advertisers have to be more efficient with how the budget is allocated. For that, you have to often launch new ad sets, pause the underperforming ad sets, adjust budgets and bids, and duplicate ad sets and ads. This is certainly a lot of work. However, the good thing is that some of these tasks can be automated and can be done easily without putting in any manual work.
Facebook Ads Automation Tools helps advertisers come out of this infinite loop of a launch-pause-relaunch routine so that you can efficiently and effectively scale your campaigns.
Everyone has known how machines are more efficient compared to humans in terms of mechanical tasks. It is given that Automation tools will outperform any marketer in terms of the day-to-day workings of Facebook ads. This is because once you set an automated task, they will take action just as soon as your conditions are met. With Automation Tools, you can automatically scale your best-performing ads, and bringing automation to your Facebook campaign will go beyond simple maintenance and help you significantly scale your campaigns.
Best Facebook Ads Automation Tools to Boost ROI and Conversions: 2021
Here is a comprehensive list of some of the best Facebook ad automation software tools that can help you with boosting conversions and ROI.
1. Audiencer.io: Facebook Ads Automation Tools to Boost ROI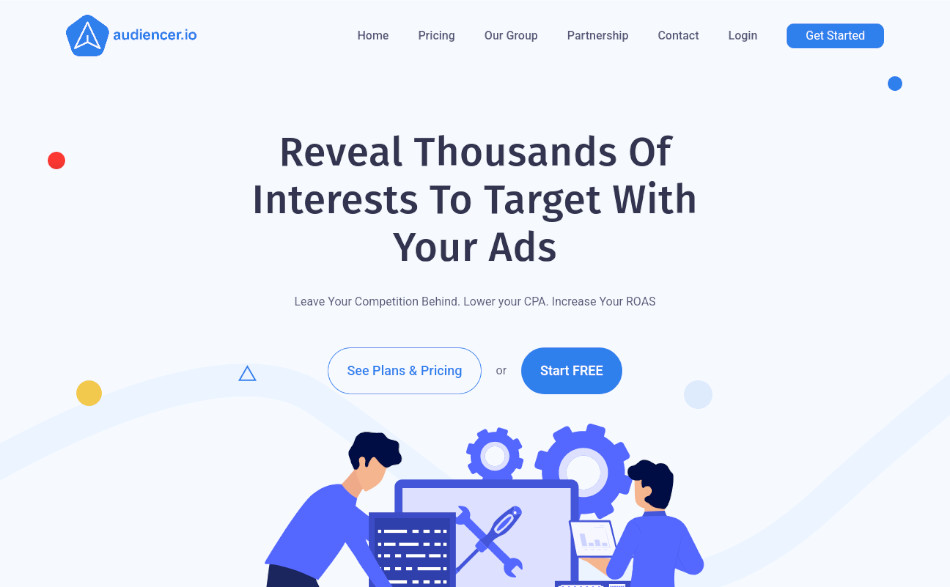 Audiencer helps leave your competition behind, lower your CPA, and increase your ROAs. They use the Marketing API to bring you the full list of interests that would come as a result of your searches. They help you easily speed up your research and save time on the way. They have made interests research very easy. They also help you easily analyse each interest that you want to target. They also give you niche recommendations, which is a great time saver.
Features:
They help you find your interests much faster.
They help analyse your audience and decide if interest is good or bad before actually spending money on it.
They uncover hidden interests and help use the full power the Marketing API gives you.
It is a self-learning system that combines human power with advanced algorithms to give you interests related to your niche.
They help discover new interests to target.
Pricing: You can get Audiencer for just a one-time payment of USD 199.
---
2. AdEspresso: Facebook Ads Automation Tools to Boost Sales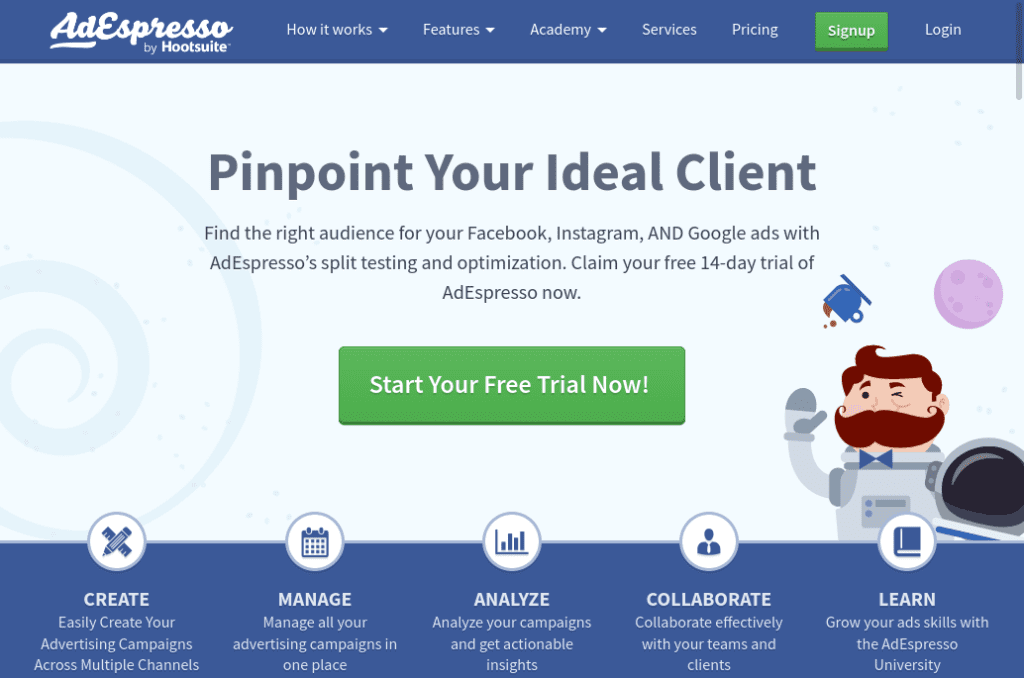 Description: AdEspresso, digital advertising is easy, fast, and effective. They help automatically create targeted ads for individual users with Dynamic Ads. With their Automatic Page Post Promotion, you'll never have to hit boost again. It helps you easily create Facebook and Instagram campaigns that automatically promote your organic posts based on the parameters you set.
Features:
They give you full control over what's promoted and for how long.
It allows you to filter posts based on post type, keywords in the URL or text, length of post promotion, and engagement.
They help target new audiences, custom audiences, or even your page fans.
They provide intuitive analytics that helps you analyse each post in your dashboard to see which ones perform best.
Pricing: eir Starter plan would cost you USD 49 every month. Their Plus plan would cost you USD 99 each month. Their Enterprise plan would cost you USD 259 each month.
---
3. Revealbot: Facebook Ads Automation Tools to Boost Conversions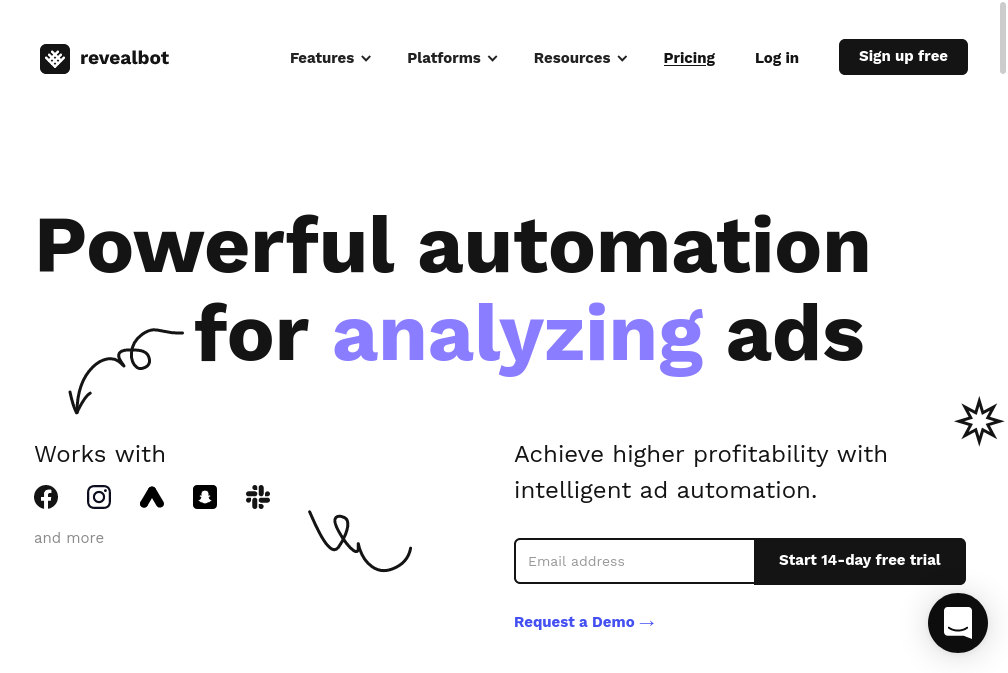 They offer powerful automation to launch, analyse, manage, and scale ads. They help achieve high profitability with intelligent ad automation. It helps you easily manage more clients without hiring more account managers. With their automation services, you can easily put campaign growth and management on autopilot. It helps save very long hours with their automated ad creation, and they provide actionable insights for your team and beautiful reports for your clients.
Features:
They allow you to deploy pre-built and proven automation with Strategies and build your own automation with a superior automated rule constructor.
It helps automatically create ads from your best organic Facebook and Instagram posts.
It allows you to upload media and copy and create dozens of ad variations.
It also shows the best and worst-performing media, so you can make an informed decision.
Pricing: Their pricing plans are completely dependent on what your ad spend is. If your maximum ad spend is USD 10,000 per month, you get Revealbot for USD 99 per month. If your maximum ad spend is USD 25,000 per month, you get the software for USD 199 per month. Naturally, as your ad spend increases, the pricing for the plan increases too.
---
4. AdRoll: Best Facebook Ads Automation Tools to Boost Campaign Performance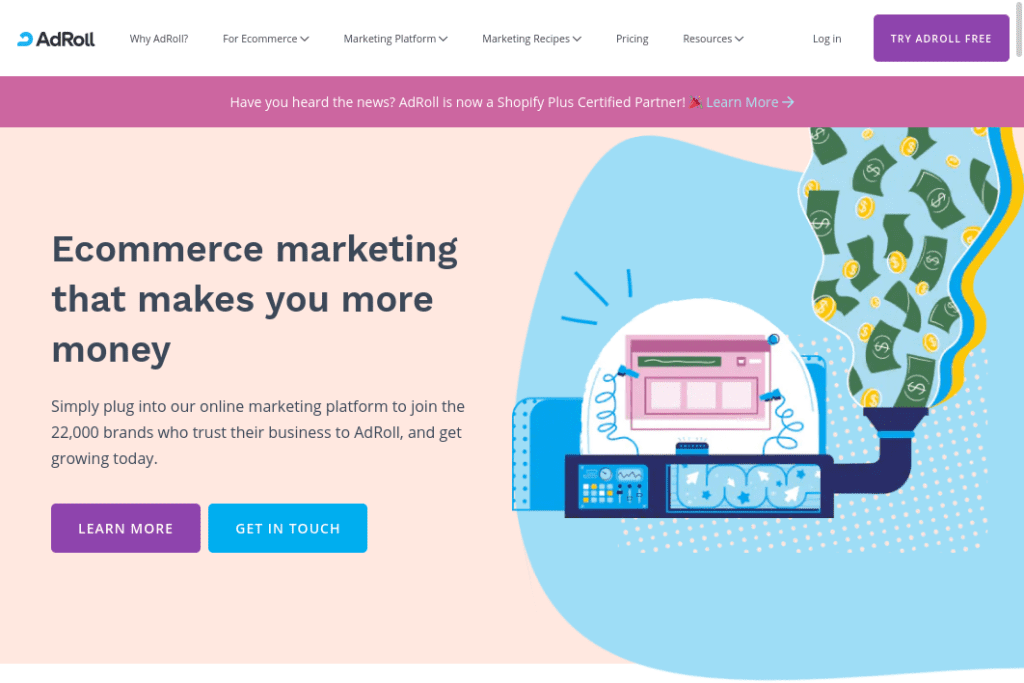 AdRoll helps you conduct an ecommerce marketing campaign that will help you make more money. This platform is powered by 10+ years of data from hundreds of thousands of brands and billions of shoppers, and you can use it to run all your campaigns and use their expertise. So, even by doing less, you will be able to get more and grow faster. They help you tailor your strategy with email marketing, AI-driven product recommendations, and cross-channel measurement.
Features:
They easily connect with your store, collect data, define your conversion segment, upload your product feed daily, and create a few key audiences to help you get started.
They offer highly relevant recommendations to your customer using dynamic product recommendations, ads, and email backed by a smart predictive engine.
They show what turns visitors into customers with cross-channel attribution.
They help find more customers like your best customers with their advanced audience targeting—including contextual, demographic, interest, and lookalike targeting.
Pricing: They offer a Starter plan for free. Their Growth plan will help you outpace the competition, and they charge only USD 19 per month for it.
---
5. Connectio: Best Facebook Ads Automation Tools to Boost ROI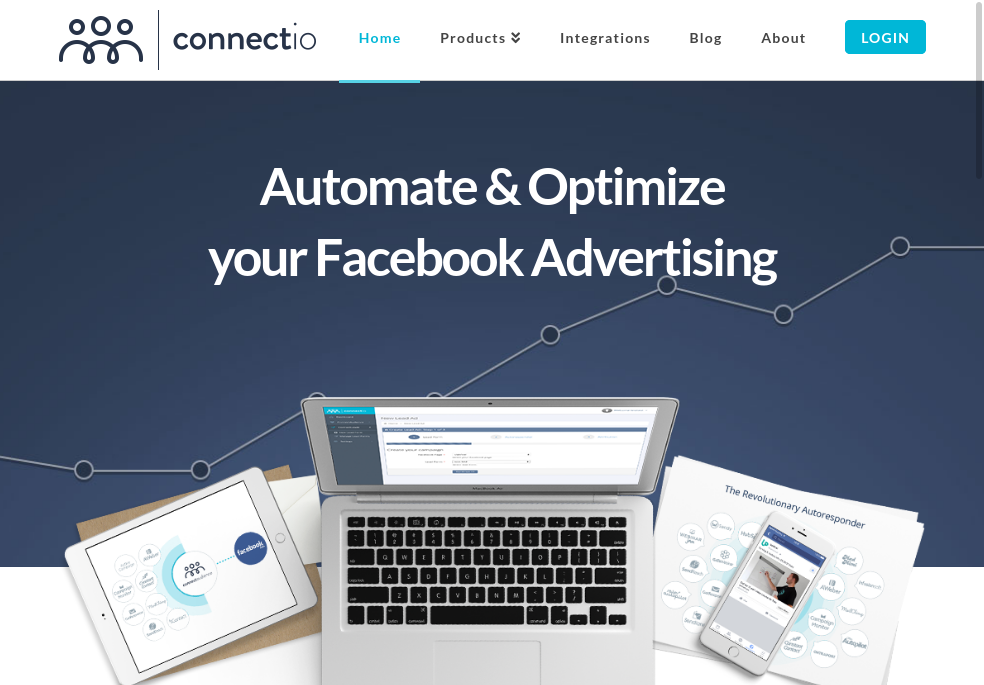 Connectio helps with the automation and optimisation of your Facebook advertising. They provide all the solutions advanced marketers need in one place. They help you scale your campaigns without spending a lot of time and effort on it. They aim to make your marketing efforts smarter so that you do not waste your time and money on the wrong audience and you have more money to target interests with real potential customers.
Features:
Connect Automate is a simple to use the tool.
They use the power of Facebook's infrastructure to turn your best performing posts into ads- on autopilot.
They allow you to set up granular targeting for each rule to make sure your ads only go to those who most want to see them.
Pricing: To know about their pricing plans, you have to connect with them and get a custom quote.
6. Hootsuite: Best Facebook Automation Tools to Boost Engagement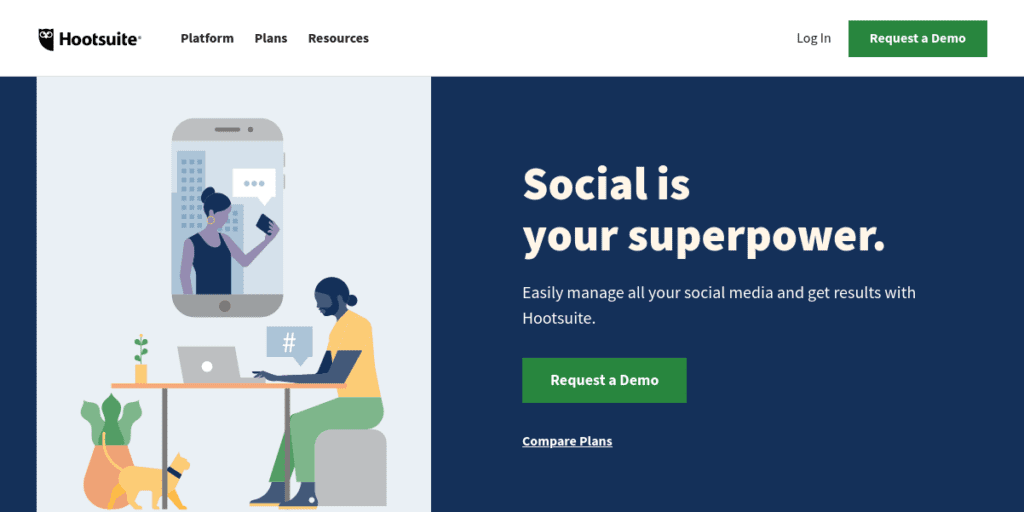 Hootsuite helps you manage multiple social networks, connect with customers, and grow your brand on social media. It is known to be the best way to manage social media and is trusted by more than 18 million users worldwide. It is a 360 solution that helps the management of your profiles across the board from the global marketing teams.
Features:
It helps you quickly respond to messages, brand mentions, and comments across your social networks through a single dashboard.
It helps you track performance and grow your audience with their analytics reports that show you what's working and what isn't and learn about your audience and improve your campaigns.
Pricing: They offer a Professional plan which would cost you USD 49 each month. Their Team plan would cost you USD 129 each month. You have to contact them for the pricing of the Enterprise plan because that offers custom solutions.
7. Datasine: Best Facebook Ads Automation Tools to Boost ROI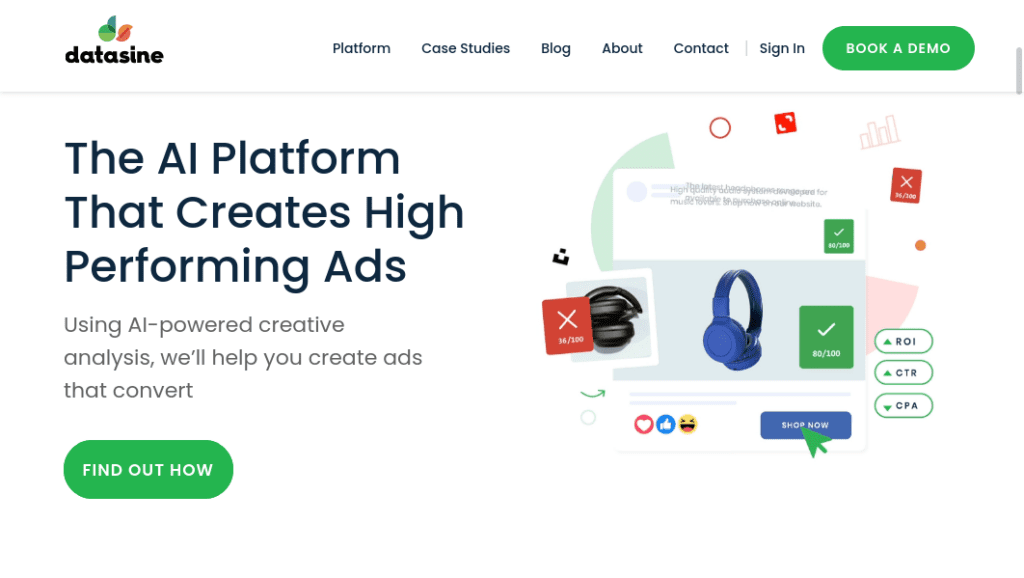 The AI platform, Datasine helps create high-performance ads. With AI-powered creative analysis, they help you create ads that convert. They save you money by telling you which ads not to run. Their AI analyses the creative elements of ads better than humans. Their creative data helps improve ROI and the performance of your ads.
Features:
Their AI can predict the future performance of your ad campaign and enables you to accurately optimise your ads without putting hours of your time into A/B testing.
They use tried and tested artificial intelligence to analyse your past digital advertising assets and optimise their performance for a lower CPC and higher ROI.
Their AI is constantly learning how your customers react, which allows you to adapt your campaigns to the changing preferences of your target audience.
Pricing: You have to connect with them and get a quote for your needs.
8. Exod.ai: Best Facebook Ads Automation Tools to Boost Sales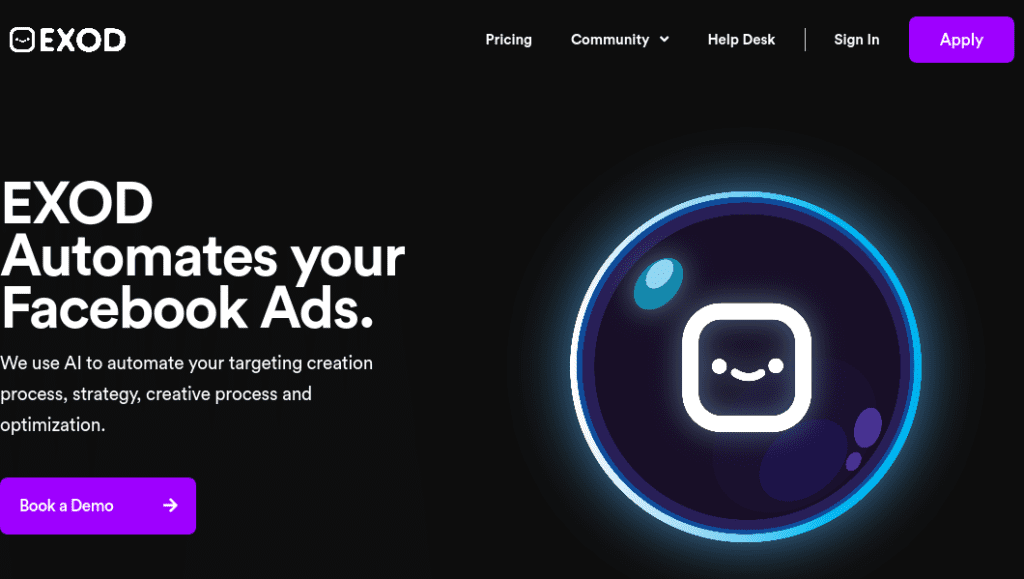 Exod used AI to automate your targeting creation process, strategy, creative process and optimisation. They help you launch your ads in seconds and help save so much time that you spend creating campaigns. They help launch campaigns in seconds by selecting one of the thousands of pre-determined and custom niches for your business.
Features:
They help save time on creating campaigns with their automatic recommendations to the audience and creatives.
They help launch campaigns in seconds by selecting your pre-determined industry base and lookalike audiences.
They automatically optimise your campaigns based on your goals. They offer budget optimisations, ad sets optimisation and more.
They will dynamically test multiple images and videos in your campaign directly from the Shutterstock Database to determine which one gives you the greatest ROI.
Pricing: They pick out businesses who can use their platform based on your size, industry, and ad spend. You have to book a demo with them to see if your business qualifies or not.
9. Adstage: Best Facebook Ads Automation Tools for Campaign Effectiveness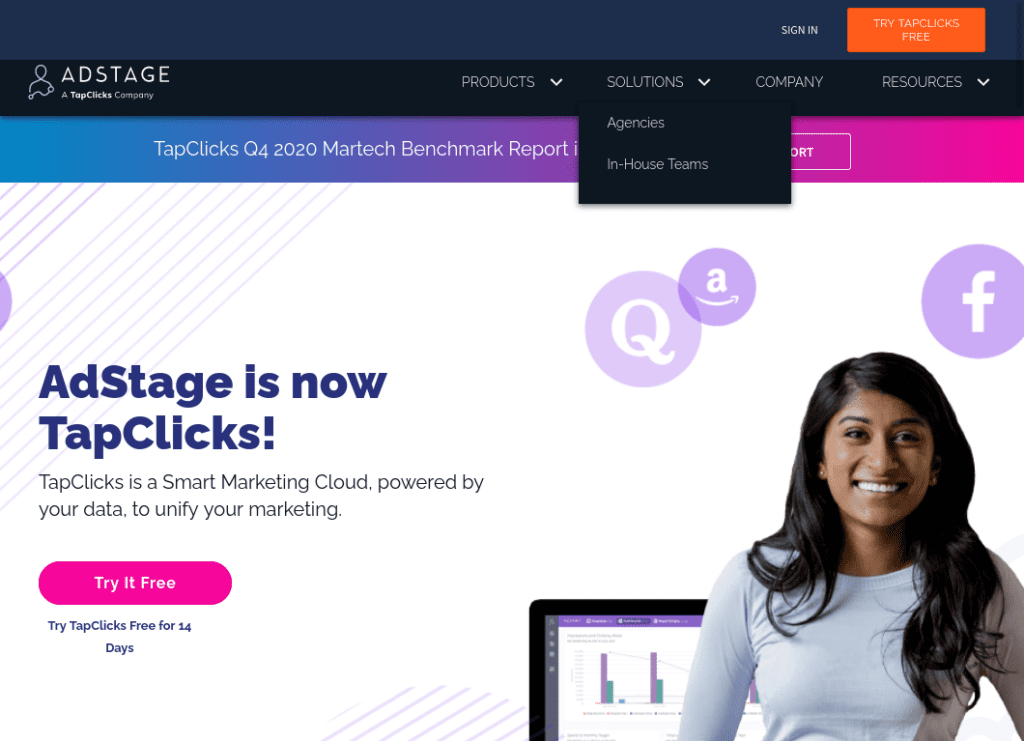 An all-in-one advertising platform, Adstage helps manage your ad campaigns in one place. They help create effective online ad campaigns to grow your business and reach new customers. AdStage helps you amplify your reach across multiple networks from a single application. AdStage integrates all of your campaign types into a single management platform.
Features:
They track how each of your campaigns contributes to your conversion goals and bring all the data together, so you can easily see which ads generate more sales, leads, and downloads.
They put all your campaign types into one management platform, so you can compare their performance against each other and make informed decisions.
Pricing: They offer a Starter Plan that you have to pay USD 199 per month for. Their Standard plan will cost you USD 299 each month. Their Professional plan will cost you USD 499 each month.
10. Adext.ai: Best Facebook Ads Automation Software Tools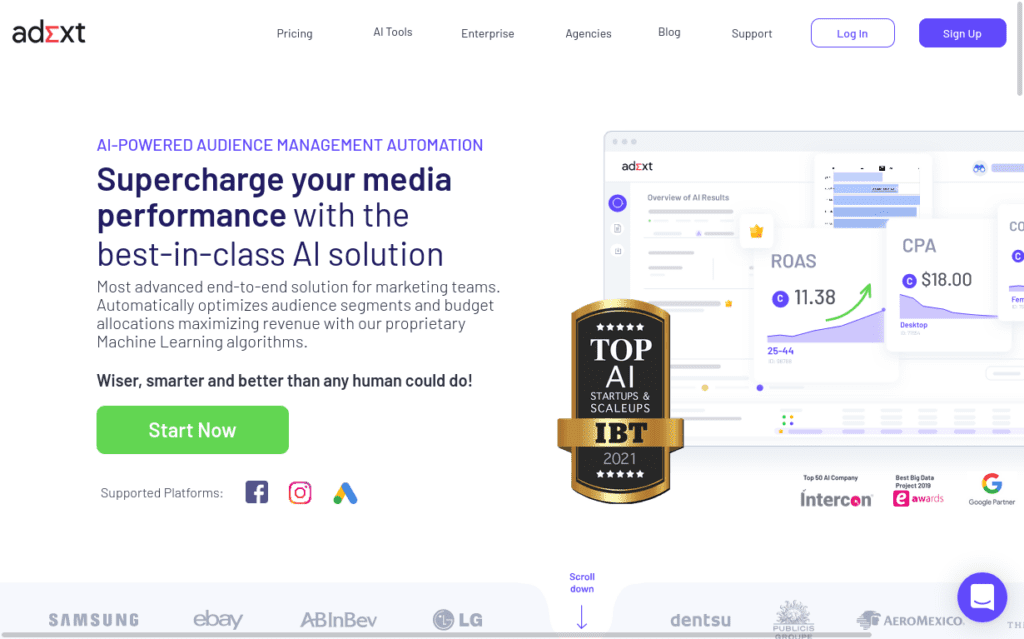 Adext helps you supercharge your media performance with their best-in-class AI solution. They offer the most advanced end-to-end solution for marketing teams. They help in the automatic optimisation of audience segments and budget allocations, maximizing revenue with their proprietary Machine Learning algorithms. Their machine learning model algorithms, plus the expertise of their marketing specialists' team, will give you results like no other.
Features:
It extracts, analyses, and predicts based on your advertising data by cloning your ad groups.
They allow you to define a budget and an optimization period.
After the launch of your campaign, they focus on finding Dynamic Audiences.
They help find and boost the top-performing audiences quickly and get conversions faster.
Pricing: Their Starter plan will cost you USD 29 every month. Their Venture plan will cost you USD 99 every month. Their Core plan will cost you USD 299 each month. Their Enterprise plan offers a flexible price, and you have to contact them for it.
Roundup
Automation of Facebook Ads certainly makes advertising on social media easier. These ads get automatically updated as they learn what is working best, and make suggestions and adjustments as they go on. Automated Ads are used to achieve a lot of company goals like increasing website traffic, generation of more prospects, and more. Once you have chosen what your aim is, Automated Ads can be helpful in a variety of ways. It is suggested that you choose one of the best Facebook ads automation tools to boost ROI and conversions because, in the long run, it definitely helps scale campaigns efficiently and effectively.