There are more than 4 billion active Pinterest users, and it has now become a leading platform for business owners, content creators, merchants, and marketers. One of the best ways to know more about Pinterest algorithms and tactics is to take the best Pinterest Marketing certification courses. This is the best way to learn from someone who is experimenting with different strategies. It is important to keep an eye on what is coming next on Pinterest. This is also an excellent way to keep yourself motivated for Pinterest so that you do not get discouraged when there are seasonal drips in traffic. Take the best Pinterest marketing certification courses and learn more.
If you wish to drive Pinterest traffic, it is important to follow the best practices on Pinterest. Pinterest SEO is of extreme importance. You must remember that Pinterest is not just a social networking site but a search engine. So, it is important to optimise your Pinterest profile for Pinterest users. If you have to formulate a strategy on Pinterest, you have to keep learning and experimenting and testing what works and what does not. It is also very important to be consistent on Pinterest. Take a look at the best Pinterest marketing courses and use this to help you through your marketing journey.
10 Best Pinterest Marketing Certification Courses: 2021
Here is a list of the 10 best Pinterest marketing certification courses that you can try in 2021 to improve your overall marketing skillset. 
1. Pinterest Marketing: Using Pinterest for Business Growth by Udemy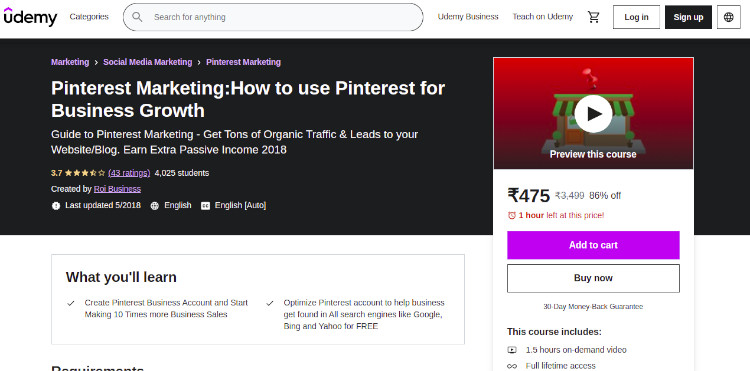 This is the best course for you if you wish to learn how to get started with Pinterest, what to pin on the platform and how to get people to follow you. This course provides a step-by-step guide on how to use Pinterest as your business marketing platform and how to drive more customers to your business. The course has been created by JC Marzett and will help you learn how to optimise your Pinterest account to help your business get recognition in the big search engines like Google, Bing, and Yahoo, and how to figure out what your customers want from your account. The course will teach you how to incorporate the top 'absolute must-have' boards that every business owner needs and the way to perform creative collaboration with peers, current customers, and new customers. They will teach you how to set up your professional-looking Pinterest for business site and how to optimise it in a professional manner. They will also provide access to exclusive templates that can help you stay accountable in the actual implementation of what you have learnt in the program. They will also teach you about the tools that can be accessed with Pinterest so that you can continue to build and grow your business.
---
2. Pinterest Perfection Masterclass by Elna Cain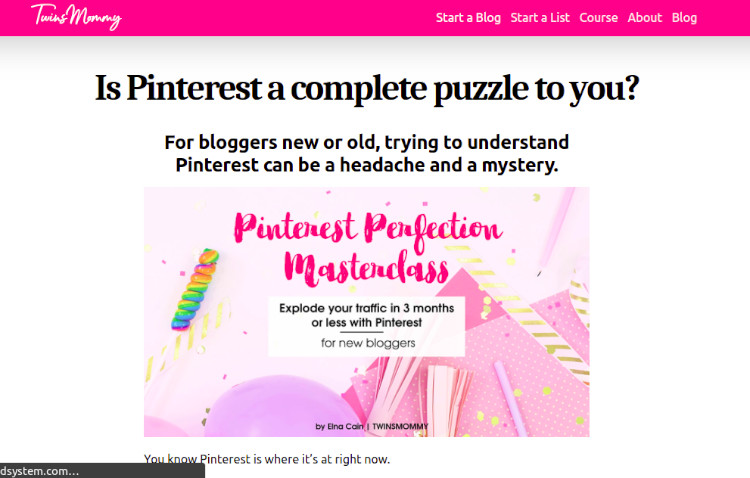 This is one of the best Pinterest marketing certification courses ever. In this course, Elna Cain teaches all of her strategies in one masterclass. They also talk about all the steps they had taken to grow their blog on Pinterest. If you take this course, you will learn how to create a successful Pinterest strategy. You can also find out what would make a great pin that would increase your click-through rate. They also provide simple tips on growing Pinterest followers. They also provide a bonus lesson on turning Pinterest users into subscribers. You can check out the Pinterest Perfection Masterclass for just $19.
---
3. Video Pin Course by Nadalie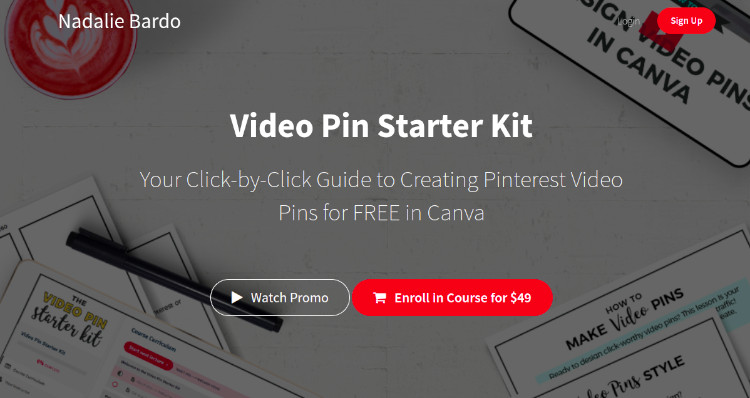 Video Pins are going to be the next big thing on Pinterest. With video marketing spreading everywhere, Pinterest is definitely not behind in this race, and your video pins have an excellent chance of ranking on Pinterest. This course is particularly helpful for the subject of video pins. You will get a step by step lesson on how to design video pins, and you will get some great tools and resources to do video pins. They also provide ten video pin templates that are ready to use.
---
4. Master Marketing by Pinterest Academy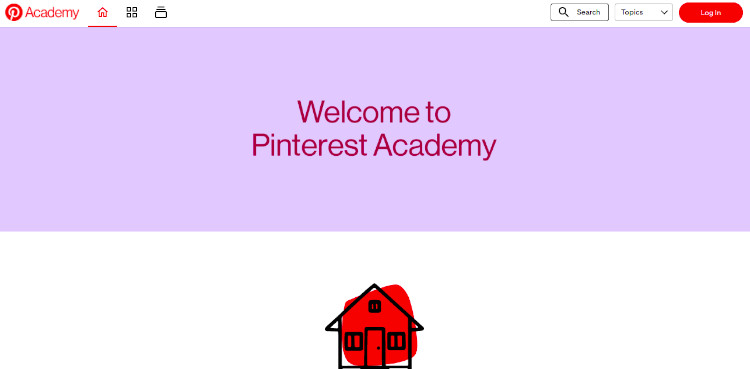 The professional e-learning platform Pinterest Academy was specially designed to help people learn how to market on Pinterest with effective marketing strategies. They have more than five different courses to offer on the platform, and each of those is free to enrol for and has no hidden charges, so everyone can benefit from it. If you enrol in their program, you will get extensive knowledge on how to use Pinterest to advertise your business. The courses have been created by Pinterest professionals who have been working on the platform since the beginning. The instructors also help you if you face any difficulties. They cover various topics like creative strategy, campaign optimisation, creative inspiration, targeting, buying, etc. You also get access to the pro tips and are given hands-on examples that will help you grow your business. They will also teach you how to set up a Pinterest account, build and launch your own campaign, manage and measure a campaign, plan and strategise a campaign, and more.
---
5. Pinterest Marketing Course by Ell
Irrespective of whether you are planning on using Pinterest or are promoting content on Pinterest, this is the best Pinterest marketing course for content creators. Ell is just like other bloggers who are curious to find out the best Pinterest marketing techniques and shares all of their strategies on how to grow traffic on Pinterest and make sales. This is one of the most recommended courses. The course is very affordable and offers lessons on almost every topic. It is absolutely perfect for beginners and even people who have experience. The strategies they talk about are effective, and they also update their course with the latest upgrades. You can enrol for just $39.
---
6. Pinterest Marketing from A-Z for Beginners by Udemy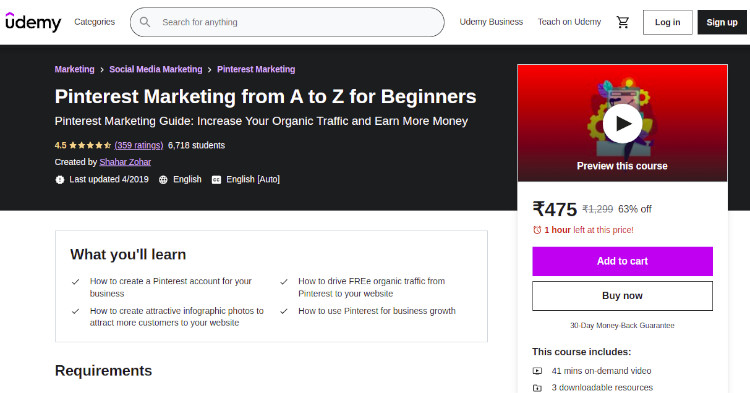 This course has been designed by a professional instructor, Shahar Zohar, and this course will be a step-by-step guide to provide in-depth knowledge of how to use Pinterest for business marketing. This course will teach you how to get organic traffic to your website via Pinterest and how to increase your sales with Pinterest marketing. The course is taught by an eCommerce expert, so rest assured, you get to learn the other aspects of business marketing too during this course. After you have finished the course, you will know all the major and minor concepts of how to use Pinterest for your business. This course will teach you everything you need to know about Pinterest and how to earn money with this platform. The course will also teach you how to make a Pinterest account for your business, the way to create compelling infographics photos that will help attract more customers to your website, and how to drive free organic traffic from Pinterest to your website. The course will provide you with insight into how to gain organic traffic on your business site with effective Pinterest marketing strategies and tactics.
---
7. Proof with Pinterest- Case Study by Udemy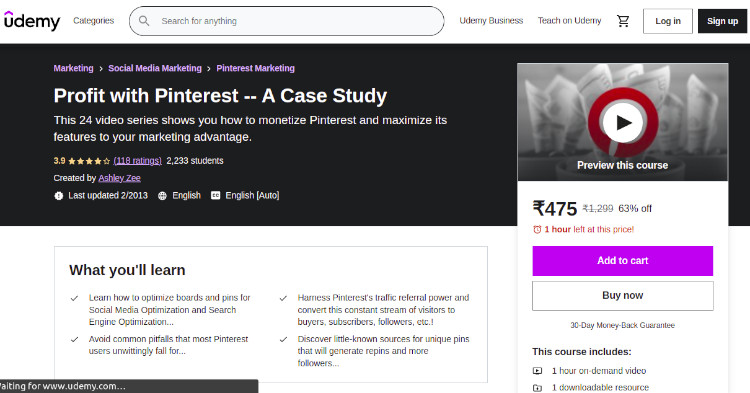 This course is a 24-hour video series that has been designed to help you learn how to monetise Pinterest and how to maximise its features to your marketing advantages. This course will help you learn how to set yourself apart from others on Pinterest in an effective way. The course is curated by Ashely Zee, who is an excellent social media and internet marketing professional, and they will help you throughout the course to understand the most simple concepts of using Pinterest. After you have completed the course, you will know all the concepts and techniques of using Pinterest. The course has text materials, lectures, and videos that will teach you how to execute critical strategies for marketing on Pinterest. You will learn how to optimise your boards and pins for social media optimization and search engine optimisation to get the maximum user traffic. You will also learn how to avoid common pitfalls that most Pinterest users fall for when they are discovering the little-known sources for unique pins that can generate re-pins and more followers. They will also teach you how to use Pinterest's traffic referral power and convert this constant stream of visitors to buyers, subscribers, followers, and more.
---
8. Pinterest Courses by LinkedIn Learning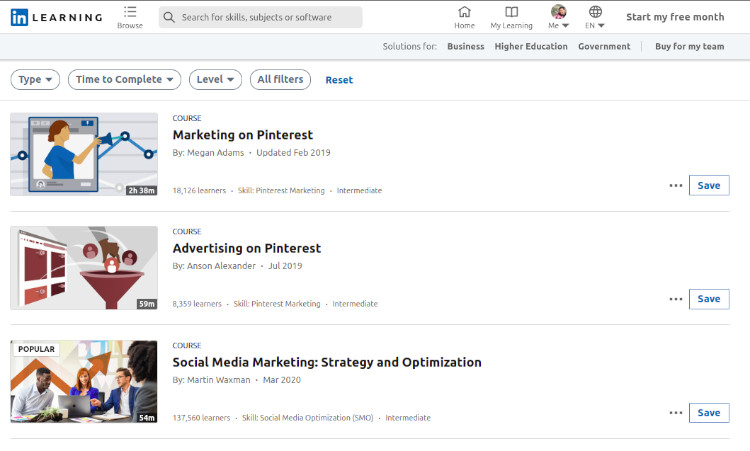 They offer more than fifty courses, of which some of the most popular and trending courses are Marketing in Pinterest, Advertising on Pinterest, Tips for Creating Engaging Pins, Tools for Marketing on Pinterest, and more. These courses have been created by professional instructors who know all the aspects of Pinterest marketing. The instructors communicate with you via email or discussion forums to help you understand things in the best way. These courses will help you learn the core concepts and strategies of using Pinterest to market your business and gain maximum customers. They teach you how to create an audience, build engagement into your strategy, tips on creating engaging pins, and how to advertise your content on Pinterest.
Roundup
Each of these courses has different teaching methods and has a unique approach and strategy for Pinterest marketing. If you are a beginner, Pinterest Marketing A-Z for Beginners by Udemy is highly recommended. To support these courses, you will also refer to books. It is also recommended that you take a look at all of the other resources. Every resource will have a different approach and a different way to crack the Pinterest code to success. All of these strategies come from people who have been using Pinterest for years. Take one of the best Pinterest Marketing Certification Courses to know more about Pinterest marketing and how to monetise on the platform.