Ad serving is the process of selecting ad slots on a publisher's webpage or mobile app for various advertisements and then delivering those. The computer or group of computer networks involved in the process is called an ad server. Ad Serving process happens in the following ways:
Initially the most profitable ad for the publisher and the advertiser is chosen, meeting both their criteria.
How many ads and on what pages or screens are recorded.
Then comes recording performance data of the ad.
Feeding the performance data back into the matching process.
Capturing and managing user data which is the user's basic information or engagement pattern.
An ad server can be a publisher's ad server, where the publisher decides who gets the impression or an advertiser's ad server where the advertiser decides which ad format will go in the slot. There can also be an intermediary ad server which tries to maximize the benefit of both sides. Some ad servers are small, in-house decisioning systems, and others are major ad servers used by many clients such as AppNexus or Google's various ad serving products. Major publishers, networks, and advertisers have their own ad servers. Advertisers face a set of challenges that are based on creative and campaign performance measurements. They have to rely on ad servers for efficiency in the deployment and reporting of each impression also for attribution and performance tracking.
How to Choose the Right Ad Server?
As discussed above, ad serving is an integral part of the marketing campaign hence the appropriate ad serving platform should be chosen for your brand by keeping in mind the following points:
Many ad tech vendors offer full-stack solutions for advertisers and publishers which are well-integrated for programmatic needs. SSPs and DSPs go along well with integrated ad servers.
Mobile ad servers offer targeting based on device, software, operating system, connection type, screen size, etc. Mobile advertising does not support cookies and requires more advanced tracking. Mobile ad servers could be a part of mobile real-time bidding framework: mobile DSPs/SSPs and mobile ad exchanges.
Open-source advertising servers are also available as a part of inexpensive solutions. Open-source ad servers support basic functionality and are highly customizable.
Advertising servers are essential components of the real-time bidding ecosystem and bear major responsibility for storing and serving creative content onto various digital platforms, such as websites, social media outlets and mobile apps.
Many platforms provide their users with comprehensive reports on campaign analytics and tools to track ad performance for effective targeting.
Benefits of Choosing an Ad Server for Advertisers
Ad server platforms are always beneficial for advertisers due to:

More flexibility to serve and manage ads.
Reduction in the effects of ad chaining, hence better performance.
Ability to run highly targeted campaigns.
Better access to statistics.
Ad Viewability Audit & Transparency – With an ad server, there will be transparent reporting and viewability options.
Hassle-free operations – Users are allowed to add new advertisements or remove the ads in simple clicks in an ad server.
Analytical reporting – Advertiser can take control of the ad campaign without depending on the publisher. They can even analyze the count of clicks and impressions made on the advertisements through statistical reports.
Performance reporting – The ad server generates real-time statistics for each user in the ad network. This report can be reviewed hourly or weekly basis for each ad zone with breakdowns.
Ad rotation – An ad server enables the user to rotate more advertisements in single ad placement through the ads from internal advertisers or ad networks.
Ad testing – The user can test an ad with different ad specifications in the ad server before publishing it in online.
Dynamic Creative Optimization – It is a method of serving dynamic ads which are linked together according to the users' engagement pattern.
Display In-House Ads – You can cross-sell and up-sell other related products or promote your own advertising opportunities in the same spot. An ad server is a very flexible tool to manage and display ads.
Reach your targeted audience: The targeting features present in the ad server will deliver the ads to a specified audience only. The targeting options include geo, browser, user, time, and domain targeting.
Pricing models – The ad server has pricing models like CPM, CPA, and CPC; the advertiser can choose the suitable model for the campaign and change it when required.
House ads – If the publisher inventory is left unsold or if there is no matching advertisement to serve in the ad space, the house ads are published. House ads are internal ads of publisher used for a commercial purpose; it is not monitored for impression or click rate.
High revenue – The publisher can get increased ad request and the advertiser can enhance the business by distributing attractive ads.
Relevant ad distribution – Before the ad delivery, the ad server matches the advertisement with customer browsing behavior, targeting methods and campaign performance. This provides increased CTR or conversions to the advertiser also benefiting the publisher by earning more income.
Top 10 Best Ad Servers for Advertisers 2021
Here is a list of top 10 best ad servers for advertisers which can be taken a look.
1. Appnexus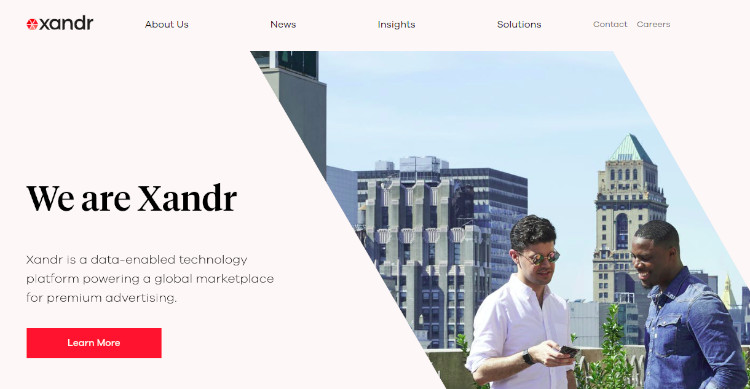 AppNexus is a cloud-based software platform that enables and optimizes programmatic online advertising. It offers digital ad management and yield optimization on a unified and independent platform.
Key Features:
Solve issues like campaign performance, inventory optimization and more with the help of Appnexus wiki.
Yieldex's unique capability to report metrics by section and DMA.
Programmable Bidding
Bid Stream
Impression Logs
Segment Activation Services
Viewable Performance Tools
API Integration
PriceCheck – a header bidding solution for banner, video, and interstitial advertising units
Ad Formats:
The ads are served in different formats such as
Video Ads
Mobile Ads
Native Ads
Multi-format banner ads
Expandable ads
Pop Up Ads
Pricing: Does not provide pricing information.
---
2. Adzerk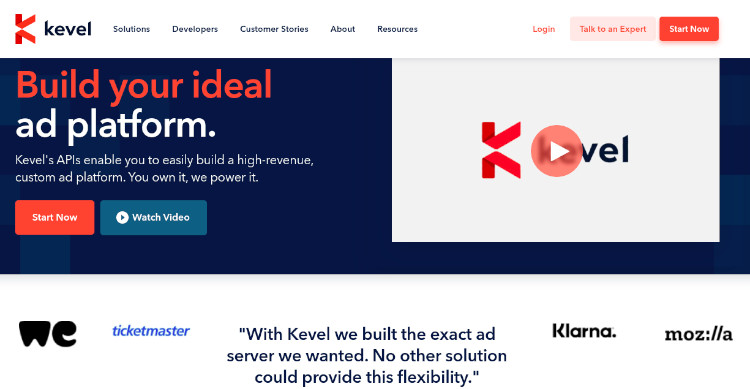 It is an effective ad server platform which develops fully-customized ad servers that promote native ads as well as internal content with the help of an innovative API. With AdZerk's suite of APIs, users can quickly build customized online ad serving platforms that cater to their specific needs. Adzerk is best suited for large publishers like Reddit, ticketmaster, Imgur, etc
Key Features:
Fastest Native ad server
Sponsored listings for move visibility helpful for eCommerce brands and marketplaces
SSP to promote ads or own content on a website, mobile app, podcast, AMP article, emails.
RTB integrations
first-party data management platform
ad decision engine
custom ad creation
Ad Formats:
Native ads
Video ads
Email ads
Rich media ads
Mobile ads
Banner ads
Pricing: There is a free trial subscription. The starting price is $3000 per month.
---
3. Zedo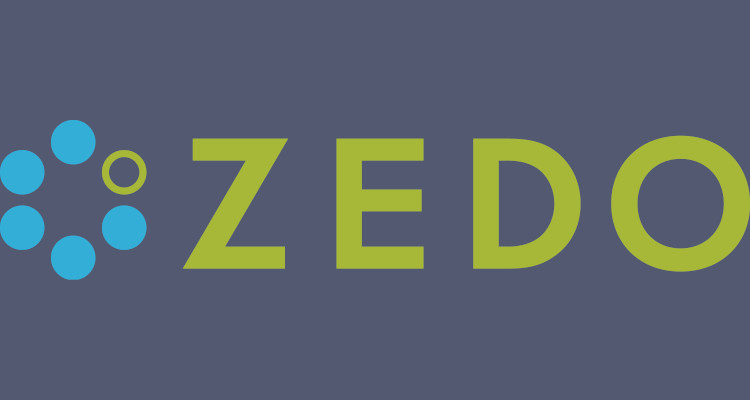 Zedo is an ad serving platform that works for both publishers and advertisers to increase their ROI on advertising campaigns.
Key Features:
Post-campaign reporting
Consistent quality ad products
Unified management platform
Ad Formats:
Banner ads
Native ads
Video ads
Mobile ads
Pricing: No pricing plan is available.
---
4. Openx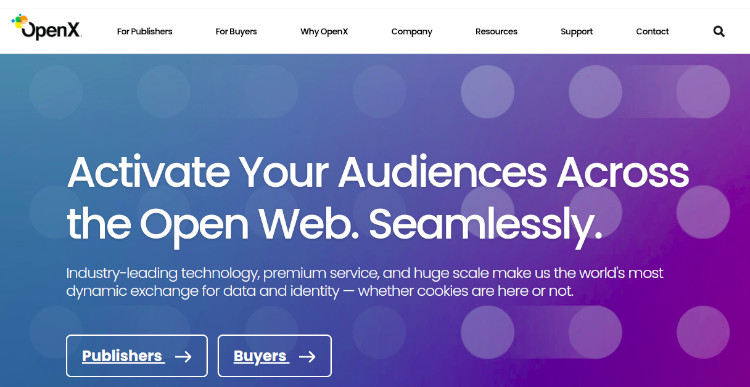 They create programmatic marketplaces where premium publishers and app developers can monetize their content by connecting with leading advertisers.
Key Features:
The Highest Yielding Bidder Solution
A Fully Mobile Optimized Ad Exchange
Real-Time Guaranteed (RTG) enables direct, guaranteed deals to be executed programmatically.
OpenX programmatic Direct Private Marketplaces
micro-target audiences
customization of campaign reporting
Ad capping
Insertion order management
Ad unit bundling
Ad Formats:
The system is empowered with the tools to sell, manage and deliver their inventory across multiple formats and screen sizes.
Web page ads
Mobile ads
Email banner ads
Linear video ads – Ads playing before or during video content in a video player.
Non-linear video – Ads that are displayed within a video player.
Video companion – Ads linked to both linear or non-linear ads which are displayed outside the video player.
Native ads – Using OpenRTB dynamic native ads API
Pricing: It does not disclose prices publicly.
---
5. AdButler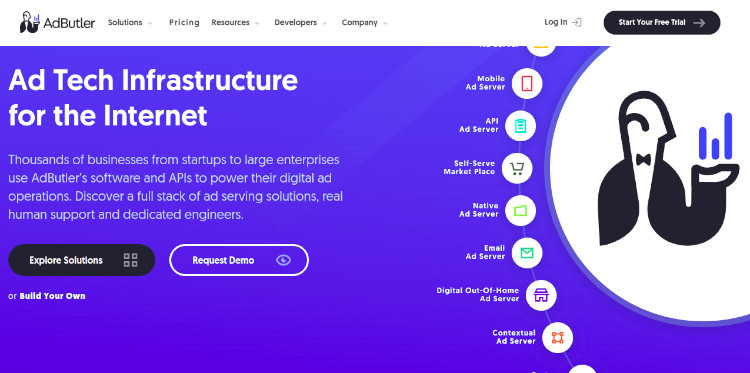 It is a powerful ad serving platforms for publishers to customize their needs and maximize revenue. AdButler allows publishers of all sizes to combine direct sales and programmatic ad selling to maximize their revenue.
Key Features:
Highly scalable
White label interface
Header bidding
Custom ad serving platform
Ad Formats:
Banner ads
Interstitial ads
Video ads
Pop up ads
Text ads
Mobile ads
Native ads
Pricing: The pricing plan goes like $9.95 per month which is $0.25 per thousand ads.
---
6. Epom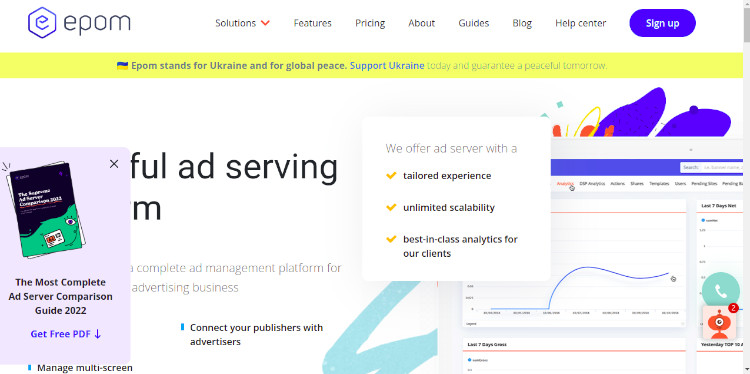 It is a premium ad serving solution for advertisers, publishers and ad networks used to launch and manage ad campaigns in a unified platform. Epom includes 50 built-in cross-channel ad formats to build creatives in platform
Key Features:
White Label Solution – The feature allows to insert information,logo of a company to customize requirements.
Scalable campaign structure.
Automated optimization.
Precise audience targeting.
mass uploading
campaign export/import
extensive targeting
Ad Formats:
Rich Media ads
Native ads
Display ads
Mobile ads
In-app ads
Pricing: The starting price is $150 per month with six months prepay.
---
7. Oath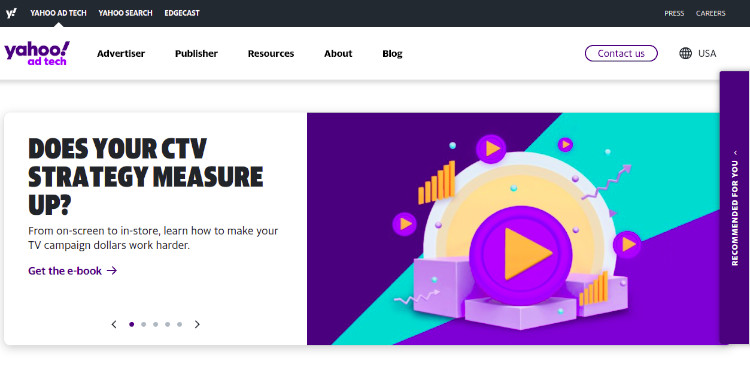 It is a unified ad suite of Verizon which provides access to advertisers for programmatic management and monitoring of their premium ad inventory and publishers gets the pool of advertisers powered by data.
Key Features:
Oath Ad Platforms offers a solution for publishers with an omnichannel focus including video, broadcasting and app publishers.
Publishers get revenue and video management solutions within Oath.
With diversified monetization, customization and controls publishers can build entertaining experiences for users.
Advertisers get access to tools and data they require to connect with customers. Also uses machine learning for precise targeting.
Helping brands focus on the driving factors like customer acquisition and brand building.
Ad Formats:
Banner ads
Native ads
Video ads
Pricing: Price is not available.
---
8. Google Ad Manager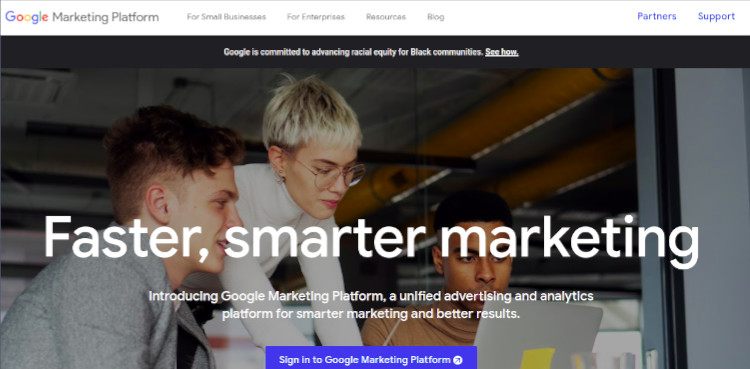 It is an integrated ad-technology platform that enables agencies and advertisers to more effectively create, manage and grow high-impact digital ad campaigns across multiple channels.
Key Features:
Easy to setup & start
Completely Free with very few restrictions
Robust reporting & Optimization Tools
Contextual targeting over a vast network
Lots of customization options & great payouts
Ad Formats:
Native ads
Video interstitials
Banner ads
Mobile in app ads
Pricing: It is free of cost.
---
9. Smarty Ads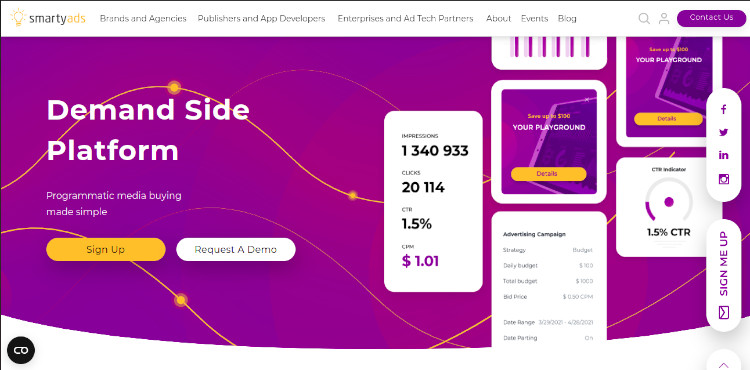 SmartyAds is an omnichannel media buying programmatic advertising platform meeting the demands of SSPs, DSPs, data management platforms, ad networks, and agency trading desks.
Key Features:
SmartyAds DSP connects advertisers, brands, agencies to thousands of ad networks, publishers, and ad exchanges with Open RTB protocol.
The SSP provides an all-in-one solution for publishers to monetize the content by accessing trusted brands, friendly 24/7 support and high fill rates.
White Label Solution provides 100% customizable digital advertising solutions with a complete programmatic ecosystem surrounding them.
Real-Time Bidding Ad Exchange allow advertisers and publishers interact with each other directly without intermediaries utilizing the automation of RTB.
The Blockchain ad stack is a unique solution for media-buyers with an enhanced level of transaction security and operational transparency enabled by decentralized Blockchain ledger.
In-house Toolbox is a full suite of tools designed for marketers and developed on the brand level individually in order to meet the unique marketing needs and purposes of the enterprise.
Quantum analytics is a predictive programmatic analytics platform which is able to process the data in seconds and obtain actionable ad campaign insights in real-time. The platform also works with DMPs, DSP, SSPs, Ad Networks, Ad Servers, and Billing Systems.
CPI Platform is their solution that helps to leverage all the advantages of the cost per install advertising model through machine learning and AI algorithms.
Ad Formats:
Rich Media Ads
Video ads
Native ads
Banner ads
Mobile ads
Web ads
In game/ In app ads
Pricing: Vendors do not reveal the pricing plan.
---
10. Adtech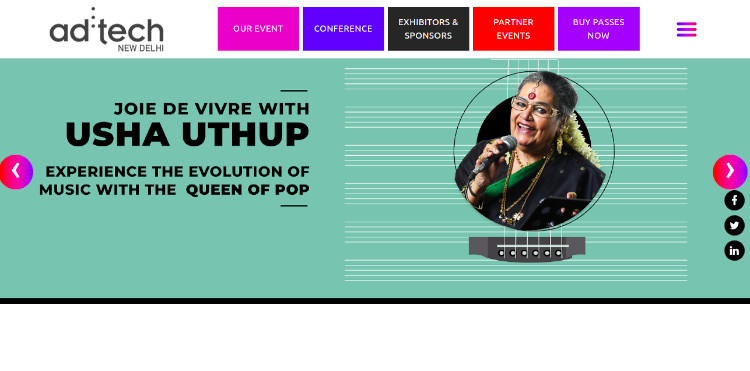 It is one of the worlds' leading cross platform ad server tools which delivers digital marketing solutions to major ad agencies.
Key Features:
Self-learning algorithm – IQ ad serving suite
Consolidated workflow
Simple and easy interface
Integrated SSP
Ad Viewability Tracking
Cookie Targeting
Live Monitoring Dashboards
Retargeting
Inventory Forecasting
Mobile SDK
Post-Click Tracking
Ad Formats:
Video ads
Mobile ads
Rich media ads
Pricing: Payment is according to the requirement.
---
Roundup
Choosing the right ad serving platform should begin with understanding the requirements of your business. The tools provided by the ad server proves essential for business owners who need to display and manage several advertisements across multiple websites simultaneously. There are limitations in relying completely on the publishers' ad servers, hence to keep a balance for leveraging more control on the ad campaigns ad server for advertisers are the best solution.