In the world of media buying and media selling, the hard truth is- the existence of invalid traffic everywhere which hardly gets noticed. It eats up your ad budgets, makes you succumb to account bans and more without you even realizing it. Invalid traffic creates fraudulent ad impressions, steals advertising budgets, causes anomalies in performance indicators, and brings harm to partner relationships.
Ad fraud is a manufactured business that is hard to trace and stop. It involves malicious creation of an impression, click, outcome, or other measurable events. No matter your position in the ecosystem, ad fraud is either costing you money or putting your revenue at risk and can definitely damage your relationships. The only solution that comes in handy here is to choose the right invalid traffic blocking and click fraud monitoring tool to relieve you from these concerns. Escalated can detect and block ad fraud in real-time in order to keep you protected and give you peace of mind. It is one of the tools that is capable of protecting the publishers and the advertisers simultaneously. So, let's go ahead and take a look at the features in this Escaled.io review.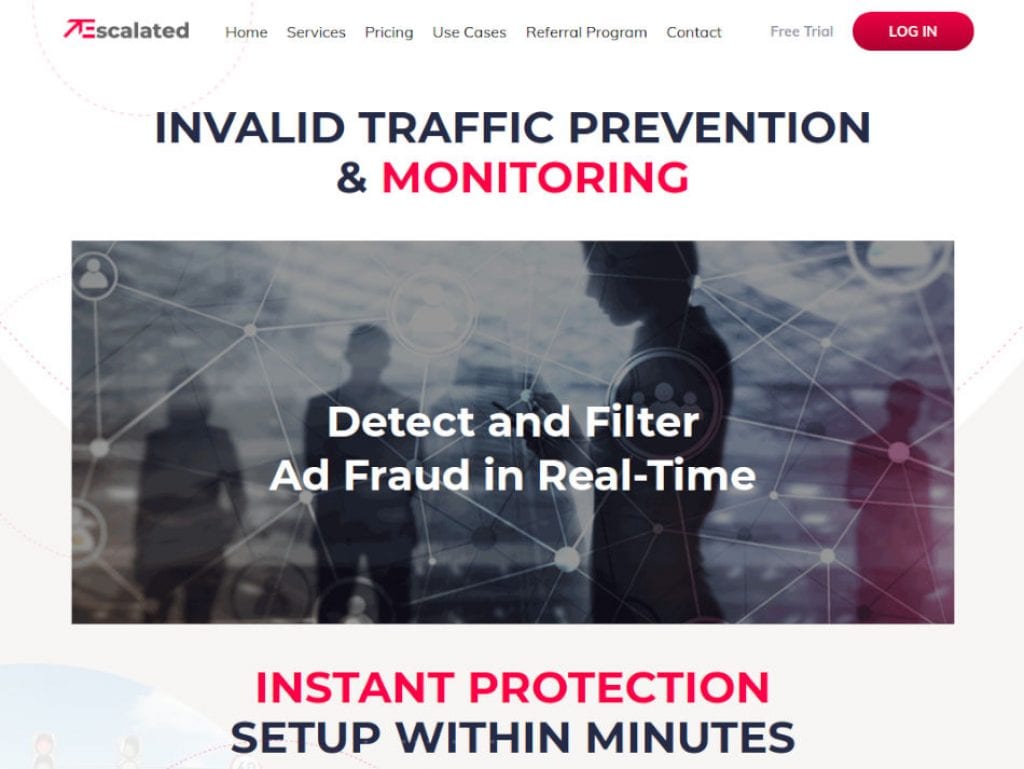 Escalated.io Review: Features for Publishers and Marketers
Tag Manager: Easily stop invalid traffic from accessing your most valuable assets. Whether it's ad code, header scripts, videos, creatives, or any other content. Lock it behind our tag manager to keep malicious activity away.
Monitoring Pixel: Deploy our monitoring pixel to measure traffic quality and gain valuable insights into activity such as invalid traffic received by domain, referrer, or partner source. Enable active blocking to eradicate bad traffic.
Event Scoring API: Eliminate invalid traffic on the fly! Connect to our API to get user scores in real-time enabling an extra layer of decisioning within your bidding or serving environment, or simply evaluate certain events as they occur.
How Escalated.io can Help Publishers and Website Owners from Invalid Traffic Activity?
It is imperative to validate all of your audience, reduce clawback exposure, and keep your property off of blacklists. Use Escalated.io's tools to block the bad stuff and make only your clean traffic available for purchase. Your buyers will thank you later.
Bots are capable of scraping your content and duplicate your best-performing pages. Even they can scan your site for vulnerabilities. In addition, they can disguise themselves as humans to go undetected.
Protect your AdSense account from getting banned. If your AdSense account is banned due to invalid traffic activity, then 99.9% changes are that your account will not be reinstated even after multiple appeals. The only way to keep your AdSense account safe is to ensure that you filter out the invalid traffic and provide a clear and genuine stream of audience to your AdSense advertisers.
Do you have direct advertisers or sponsors running on your website? They pay you premium rates to ensure they are interacting with premium traffic. Don't let bots ruin a good thing. Keep alert of traffic sources that might be driving fraudulent activity to your site. Take action and ban bad sources at your server or platform level, or use active blocking mode or the API to deflect bad traffic away.
Monitor your traffic sources and referrers. Know when you're receiving fraudulent traffic and where it's coming from.
---
How Escalated.io can Help Advertisers and Marketers from Click Fraud?
Escalated.io's scoring API allows you to scan traffic before making bids thereby allowing you to make smarter decisions and prevent you from buying fraudulent traffic. Only to have to chase down refunds after the fact, all while risking clients canceling a contract on you.
Take preventive measures from bots that can steal your assets, click on your ads, or follow links through to your client's landing pages. It is always advised to hide your creatives, URLs, and other assets from bots.
Escalated.io tools are capable of detecting invalid traffic by domain, partner, source, geo etc.. You can even send in costing data in order to track IVT by overall cost. Use this data to create whitelists or blacklists and ensure your campaigns are running as efficiently as possible.
Escalated.io Review: Pricing Plans for Publishers and Advertisers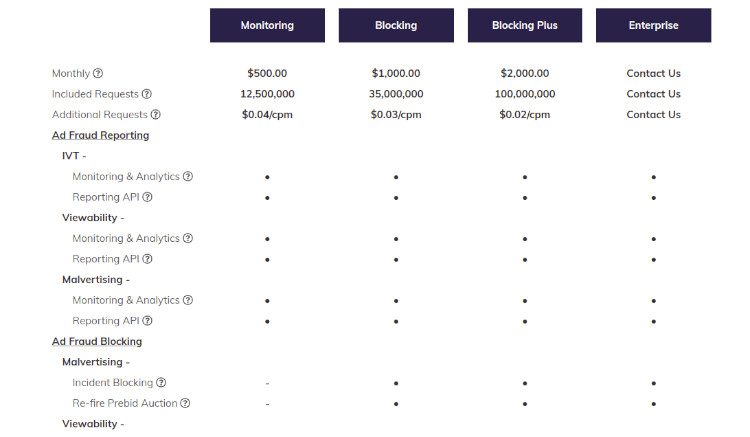 Escalated.io offers a 7 days free trial and a 20% off on all annual plans. In addition, all plans are suited for small and mid sized advertisers and publishers since they run on a pay-as-you-use model.
USD 27 monthly plan allows you to monitor 500,000 requests with an additional overcharge of USD 0.065 per 1000 additional requests.
USD 49 monthly plan allows you to monitor 1,000,000 requests with an additional overcharge of USD 0.06 per 1000 additional requests.
USD 135 monthly plan allows you to monitor 3,000,000 requests with an additional overcharge of USD 0.055 per 1000 additional requests.
USD 375 monthly plan allows you to monitor 10,000,000 requests with an additional overcharge of USD 0.045 per 1000 additional requests.
Why Should You Choose Escalated.io as a Preferred IVT and Click Fraud Monitoring Platform?
There are many IVT and click fraud monitoring platforms but there aren't many that provide both the features under one tool. Escalated.io is created keeping this in mind since most of the publishers today are also advertisers and vice versa.
If you look at any other IVT service or click fraud monitoring tool, they would force contracts on you and at times the onboarding can be quite cumbersome. With Escalated.io, you don't have any obligation and can run on a pay per month basis based on your usage.
Escalated.io is meant for small and medium businesses who don't necessarily feel it justified to spend 1000s of ad dollars on ad verification and IVT monitoring tools. The pricing plan is just suited for all publishers and advertisers like you.
Additionally, they offer a no questions asked 7 days free trial to test their service which is always an excellent thing.
---
So, you can go ahead and choose your preferred plan and protect your inventory and campaign budgets from getting wasted. You can use this link to sign up with Escalated.io. Additionally, I would highly recommend them to publishers who are doing push notification arbitrage since push traffic has a high percentage of IVT or publishers who are also doing Adsense arbitrage since you should keep your AdSense traffic protected.