If you're looking for a digital marketing reporting tool with JUST the features you need, and no complicated "extra" stuff, DashThis is for you! They integrate with over 30+ data sources, and for everything else, there's a nifty CSV File Manager that helps you add any other data you might want to have in your dashboards. And above all, they are known for our mind-blowing customer support. A dedicated member of the team, makes sure you're up and running in no time, and is always available to answer questions whenever you need.
DashThis helps digital marketers and agencies everywhere by providing an awesome, easy-to-use and attractive dashboard tool so that marketers can stop wasting time gathering data, and instead do what they do best: make decisions based on that data.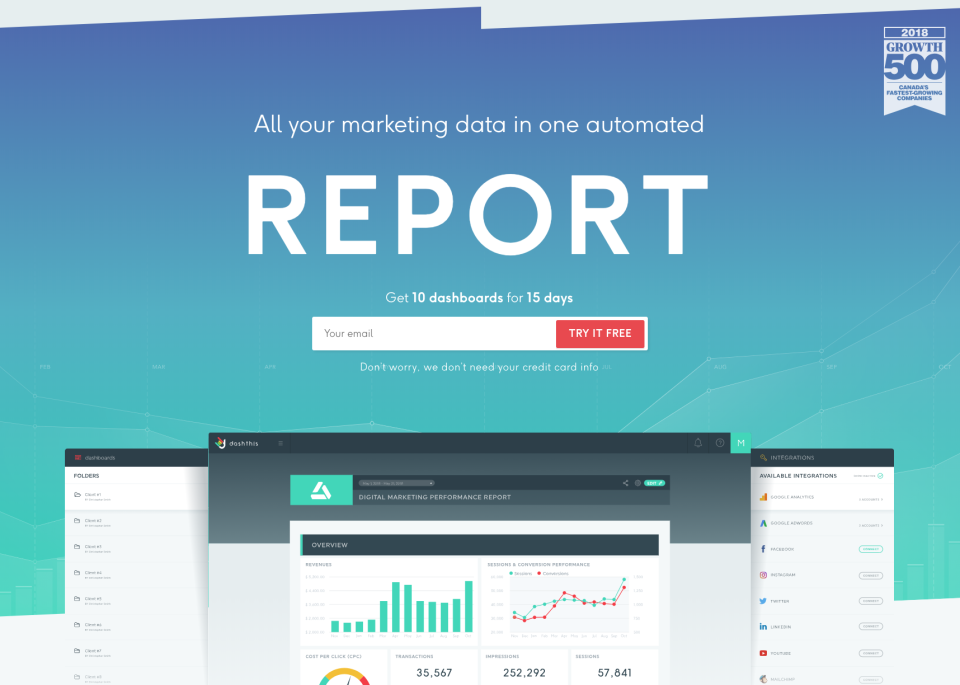 DashThis is a cloud-based digital marketing reporting & dashboard solution created for sales and marketing agencies and professionals, helping them consolidate and organize marketing data of their PPC, SEM, and SEO campaigns. It enables users to consolidate their marketing data from various tools and build interactive dashboards that display information they need and generate powerful, detailed reports with just a few clicks.
The software supports and meshes well with popular analytics and reporting platforms, including Google Analytics, Campaign Monitor, Bing Ads, ClickMeter, and Ginzametricx among others. Used by more than 5,900 marketers and agencies from all over the world, DashThis makes it easy for users to get all their data, create reports, and share them with their colleagues, clients, and more.
Dashthis Review: Benefits
A variety of preset dashboard templates are included, with users able to customize the widgets included, add their own logo, move and edit the dashboard section separators and headings, add notes, and more.
Preset widgets are built-in for popular KPIs, which can be added to dashboards with a single click, and users can also create custom widgets through the widget editor to control which metrics, dimensions, segments, and filters are displayed.
Data sources can be integrated in any combination for each dashboard created, and all data is updated automatically.
Custom data can be added through the CSV file import system, which automatically updates, removing the need for users to manually add new data each month.
Reports can be delivered automatically via email, with the ability to attach PDF copies of reports to the email in addition to including the dashboard URL.
Dashthis Review: Detailed Utility
DashThis simplifies and accelerates the way you create reports from your marketing data. Thanks to its intuitive and clean design, you can create reporting dashboards without any difficulty. You are presented with a selection of preset templates to get started and then customize your dashboard with your own elements, making it look the way you want it to, down to the last detail.
Because DashThis incorporates all your marketing data from various sources into a single, beautiful dashboard, you never have to shift from one application to another, saving you and your team precious time and effort. On top of that, data collection and organization are automated, so you will never have to manually look into data at all.
Sharing information is essential in any work environment, especially if you and your team do tons of collaboration and communication. With DashThis, you can easily share your dashboards with your colleagues, giving them access to the data they need whenever they need it any given time. The best part is that you can share them with an unlimited number of users, so it doesn't matter if you're working with a small team or a big group of digital marketers.
Massive integrations with the leading and most popular business applications such as Google Analytics, Bing Ads, Facebook, Twitter, LinkedIn, and more ensures that you have access to the data you need without you doing the heavy lifting. Just connect DashThis to any application and let the software get all the information you need for your work.
Dashthis Review: Features Overview
Key features of DashThis are:
Customizable dashboards
Dashboard group sharing
Dashboard cloning
CSV file upload & support
Multi-widget merging
Cost-widget mark-up inclusion
Movable & editable section headers
Ad hoc reports
Editable dashboard header & logo
Custom dashboard templates
Daily data import
Automatic dashboard dispatch via email
Multiple currency & language support
Preset dashboard & widget templates
Multi-integration dashboards
Downloadable dashboard PDFs
Drag-and-drop widget interface
Interactive dashboard viewer for clients
Scheduled / automated reports
Drag & drop dashboard group creation
IP address filtering
Access log
Dashboard password protection
Advanced widget editing
Recurrent dashboard dispatch management
Comment addition
---
Dashthis Review: Detailed Features
Marketing Platform
No matter what type of digital marketing report you need to create, they are connected to over 34 of the most commonly used digital marketing tools.
34+ native integrations: Get your data automatically from more than 34 of the most popular marketing platforms, like Facebook, Google Ads, Google Analytics, Twitter, Ahrefs, Moz, Google My Business, Youtube, Instagram, and much more.
All-in-one dashboard: In case you were thinking you'd need a different KPI report for every integration… think again! Every dashboard you create can include data from any combination of integrations you want. Plus, your dashboards update themselves automatically with fresh data!
Custom data sources: Got your own proprietary data? With our CSV file import system, you can easily add all the data you want! No need to repeat the process every month either, just like your other built-in integrations, once you've set up your CSV file import, it'll update itself automatically!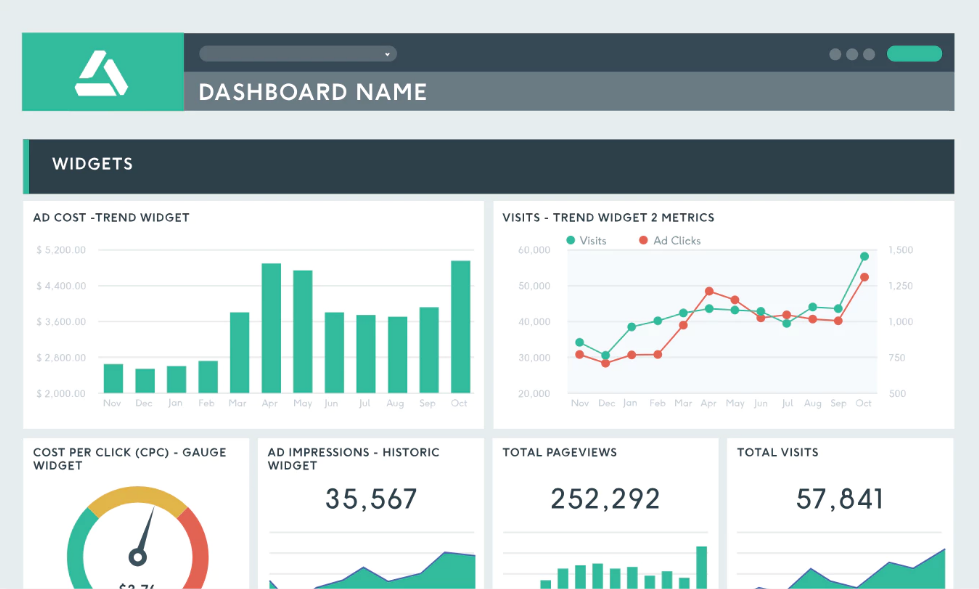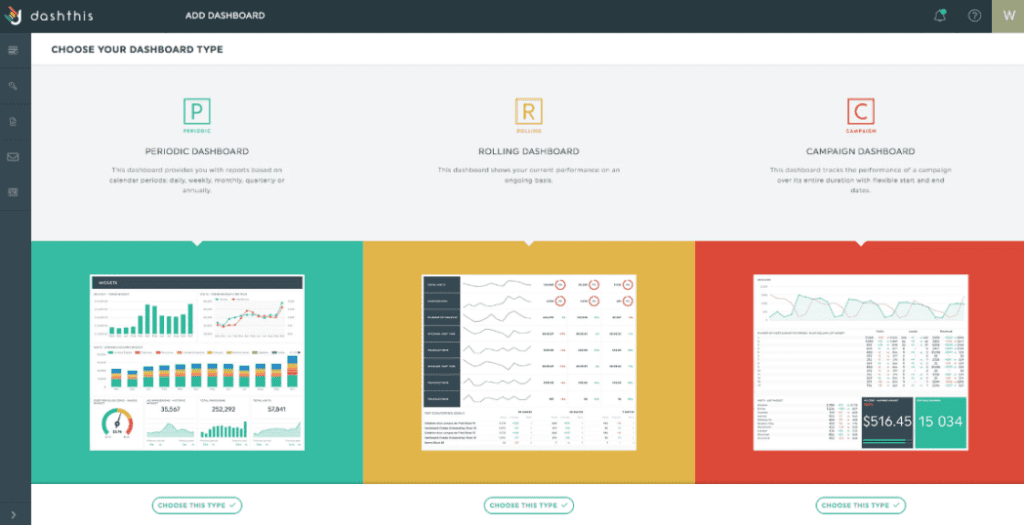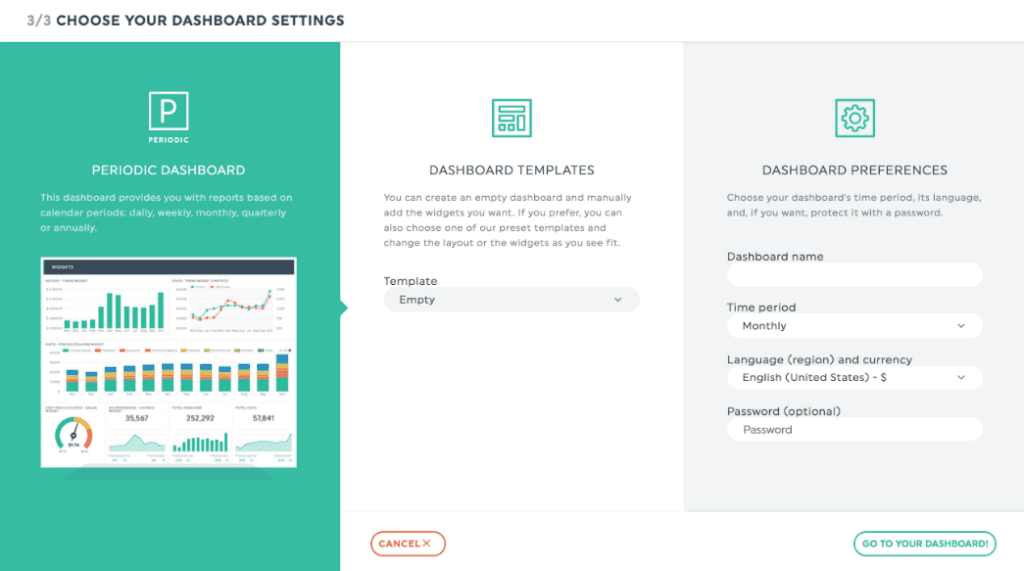 Unrestricted & Unlimited Access to All Features
No matter the plan you decide to choose, you get it all! Your own Product Specialist, unlimited data sources, access to all our native integrations, unlimited users, all our time-saving features, everything!
Unlimited client accounts: You can add as many client accounts as needed. And if your agency grows exponentially, we'll grow with you! You can get as many dashboards as you need, and the more you get, the less you pay per dashboard.
Unlimited data sources: Want to create a dashboard including 3 different Facebook pages, and 10 Google Analytics accounts? Sure! You can add as many data sources, pages, accounts and integrations in each of your dashboards as you may need.
Unlimited users: You want your entire team to be able to access your dashboards, modify them, send them, and manage them? Sure! It's all included! You can add as many users in your account as you need.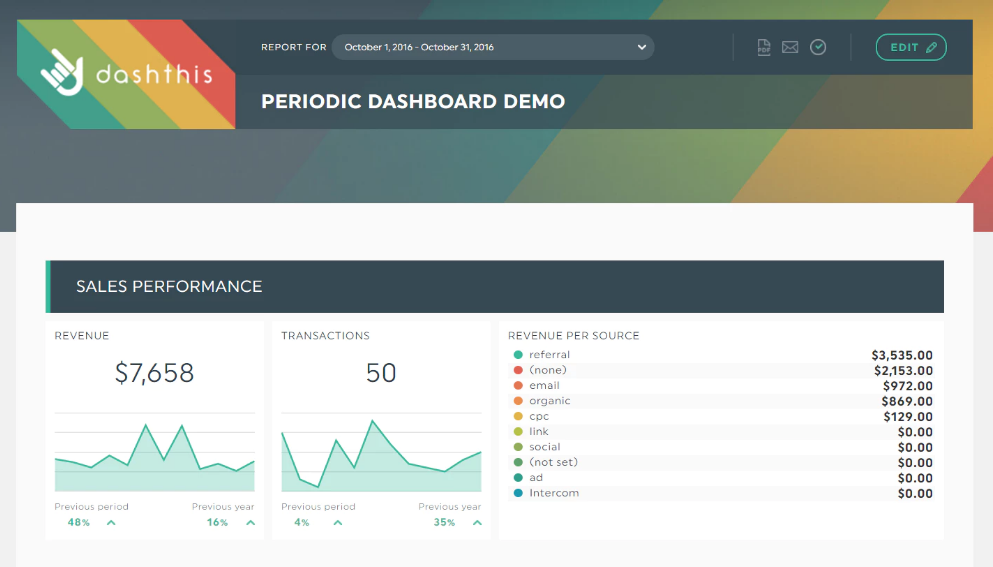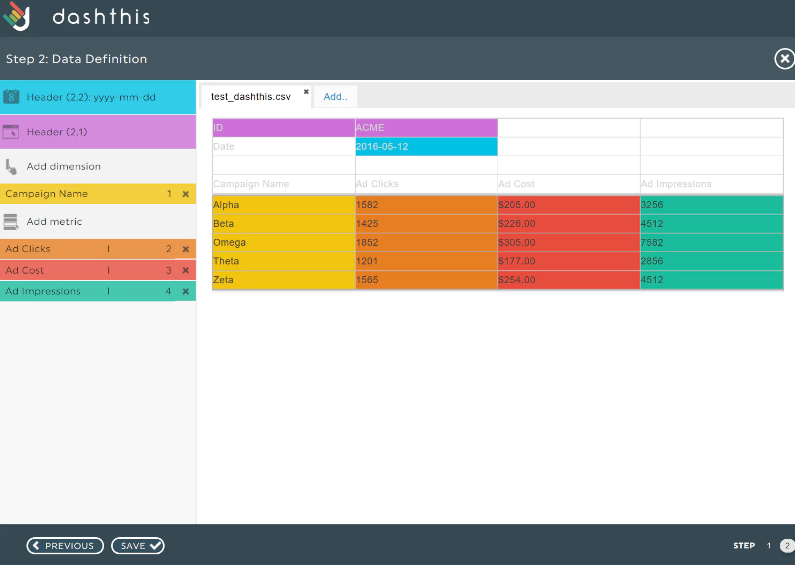 Templates & Cloning Options
You'll never have to create your reports from scratch ever again! Choose from the wide selection of preset report templates, custom templates, preset widgets, cloning options, and way more! Your Product Specialist can even help you create your reports if you need a hand. And yes, it's included with every plan!
Create your own report template: Save your good-looking, complete report as a template, and use it for all your new clients! The best part? You can save as many as you'd like!
Use preset report templates: You need a report already filled with some KPIs to start? Use one of our preset report templates, they already include all the most commonly used KPIs for each industry/marketing strategy!
Clone reports: You've created the perfect dashboard, and you would like to replicate it for another client or situation? Just clone it! It's easy as 1-2-3, and you can clone any reports, any number of times you'd like!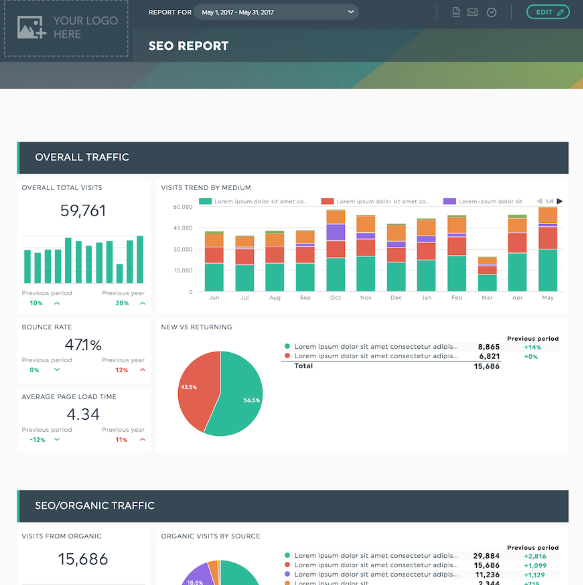 Share Your Results
DashThis makes it easy to share your work with either your team or your clients, no matter where they are!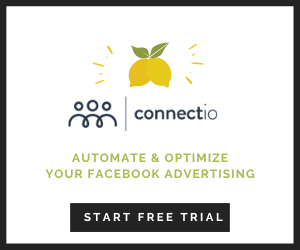 By email: Make sure your clients never miss their reports by scheduling automatic report email; they'll receive a link to access their reports whenever they want, and you can even include a PDF copy of the report right in the email!
With a URL: Make sure your team and your clients can access your dashboards on any device, no matter where they are. As long as they have an internet connection, they can see their report at all times!
With a PDF: Whether to print, or just to keep on file, exporting your dashboard as a PDF is as easy as clicking a button. Your report can also be automatically attached to your dispatched emails, so you don't even have to think about it!
Advanced Customization
Custom widgets, your own logo, notes, dashboard section separators… your dashboards are your way of explaining your data to the world, so make sure it's in your own voice.
Custom widgets: custom widget editor allows you to display data the way you want: your metrics, dimensions, filters, segments, graph-type as you want to.
Brand's logo: Make sure your audience knows you created their dashboard just for them by adding either your own brand's logo, or your client's logo.
Headers & sections: make sure your audience understands your data perfectly by dividing your dashboards into separate sections with headers, and by adding comments and notes to your widgets.
White Label
Bring your report customization to a whole new level.
Custom URL: Replace the default DashThis URL by one that's branded to your company, like reports.yourcompany.com.
Custom design: Let designers work their magic to reflect your brand's colours, fonts, and overall vibe.
White label bundle: Get a discount on your white label dashboard by choosing both the custom report URL and design.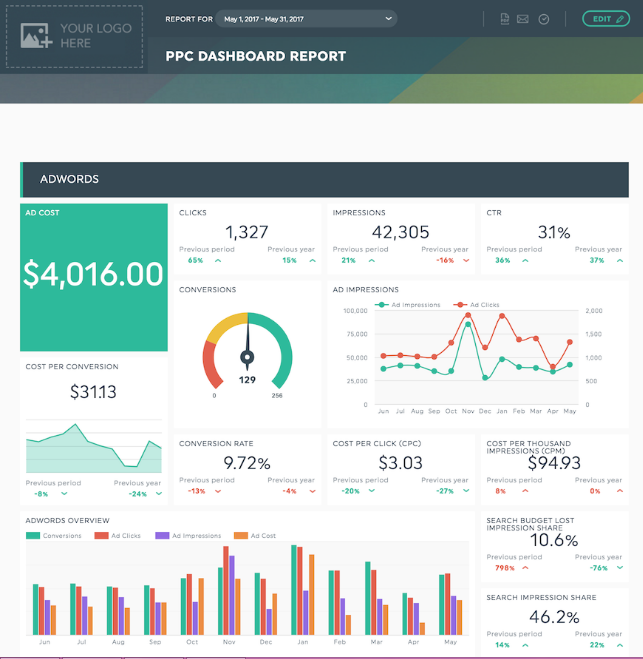 Dashthis Review: Other Features
AUTOMATION
34+ easy-to-connect integrations
3 dashboard types
50+ preset dashboard templates
1000+ preset widget templates
Multi-integration dashboards
Daily data importation
Dashboard cloning
Unlimited CSV file upload & support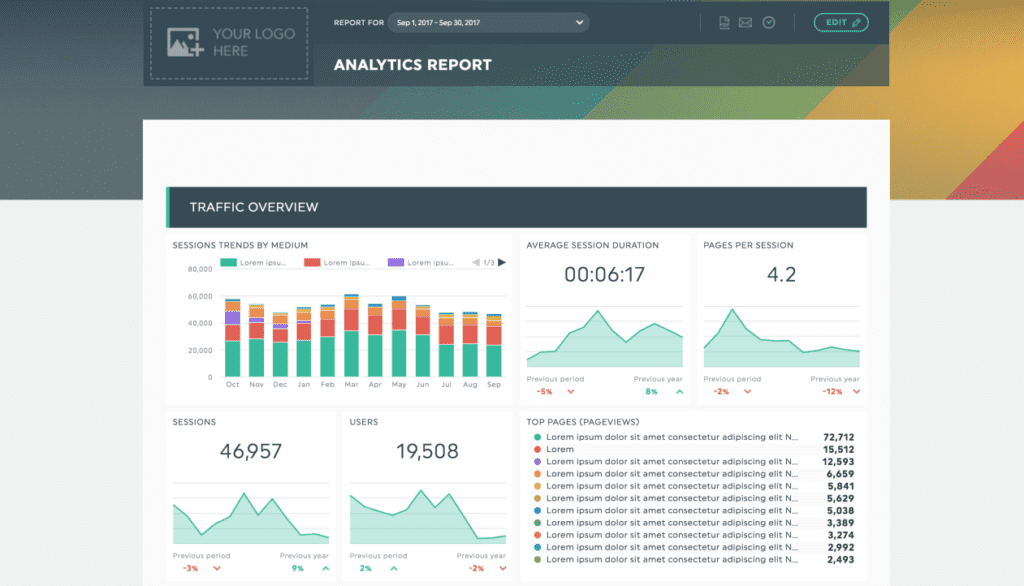 MIND-BLOWING SUPPORT
Your own product specialist
Free on boarding & demo calls
Unlimited email & video support
15-day free trial
Comprehensive Help Centre
Getting Started guide
Best practice guides
CUSTOMIZATION
Advanced widget editing
9 widget chart types
Custom dashboard templates
Data comparability over time
Multiple currency & language support
Editable dashboard header
Editable dashboard logo
Movable & editable section headers
Multi-widget merging
Cost-widget markup inclusion
Comment addition (w/ image & URL support)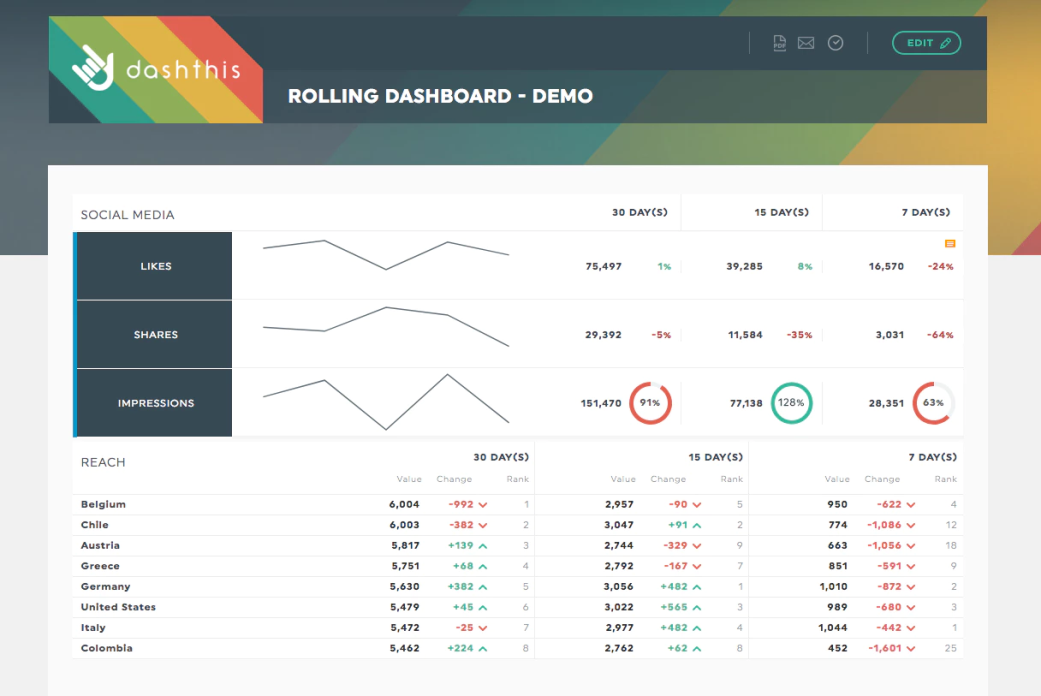 SIMPLE SHARING CAPABILITIES
Unlimited account users
Automatic dashboard dispatch by email
Recurrent dashboard dispatch management
Downloadable dashboard PDF
Dashboard group sharing
BEAUTIFUL INTERFACE
Simple & intuitive design
Awesome-looking dashboards
Drag & drop widget interface
Interactive dashboard viewer for clients
Diamond-precision data accuracy
Drag & drop dashboard group creation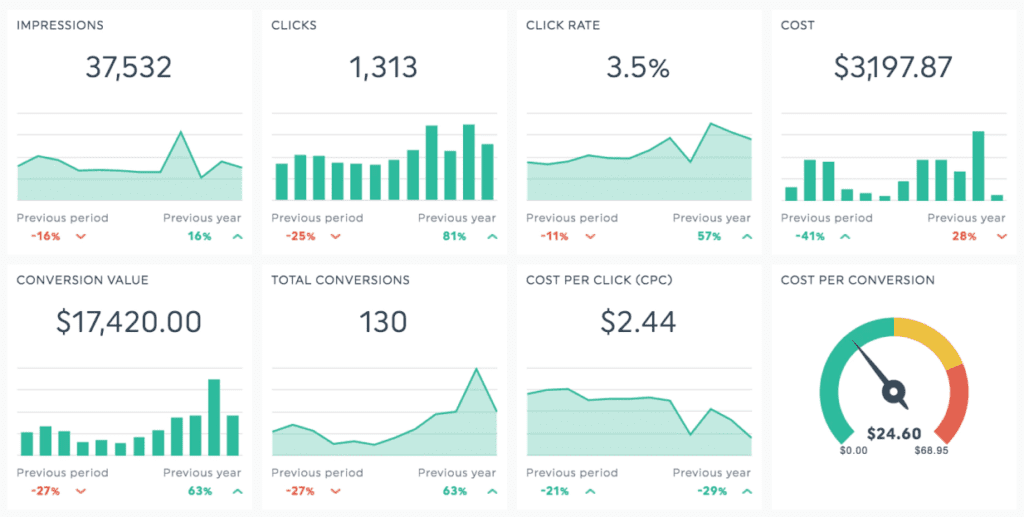 SECURITY & ACCOUNT MANAGEMENT
Dashboard password protection
Unique URL for each dashboard
Unlimited IP address filtering
100% data security
Simple access log
Simple billing history access
Every feature included in every plan
No contract, pay-as-you-go pricing
Price based on number of dashboards
Yearly prepaid plan availability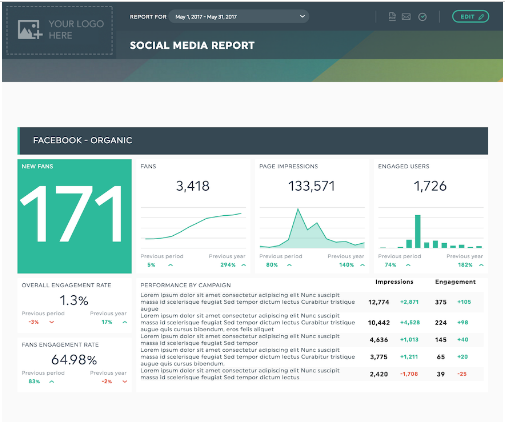 Dashthis Review: Integrations
DashThis is connected to 34+ of the most popular marketing tools, and the best part is: you can connect them all in one single DashThis report. Display your Facebook, Google Ads, and Twitter data, all in the same beautiful report! Plus, they have a nifty CSV file manager so that you can also add your own custom data.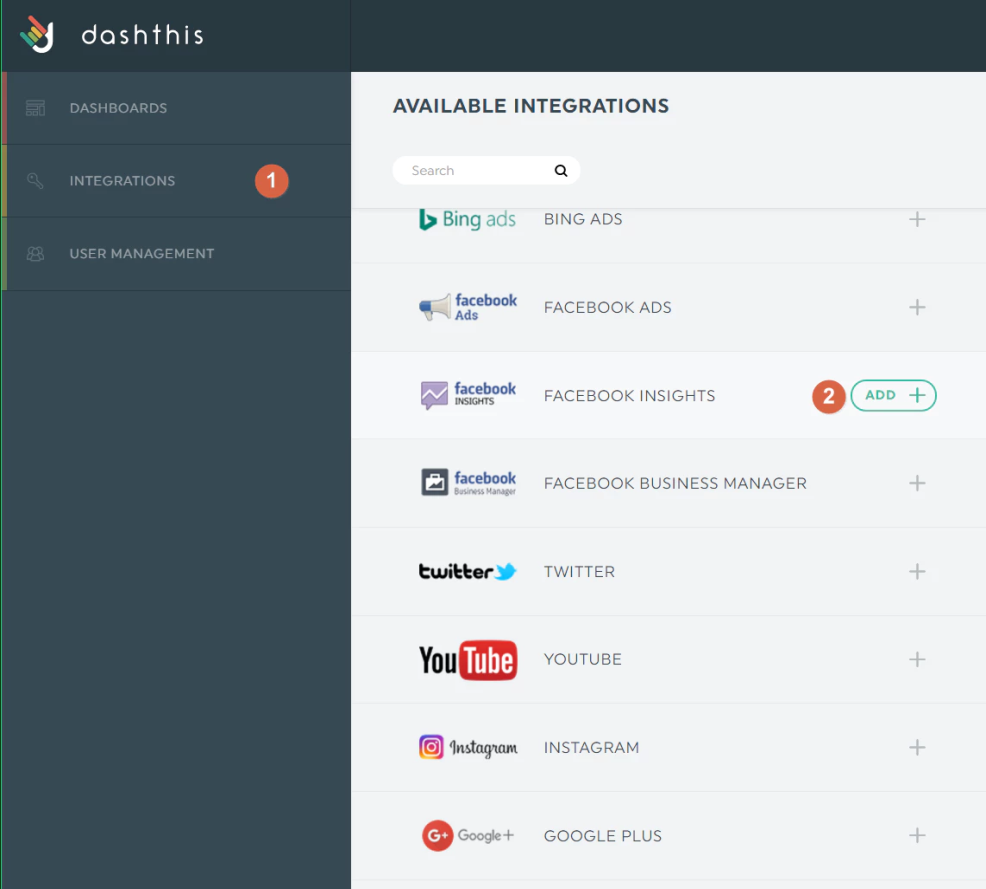 It integrates with the following applications:
Adform, Ahrefs Site Explorer, Bing Ads, Brightcove, Campaign Monitor, Facebook for Business, Formstack, GinzaMetrics, Google Ads (formerly AdWords), Google Analytics, Google Search Console, KeyMetric, Mailchimp, Majestic SEO, Marchex, Moz, Perfect Audience, Searchmetrics Suite, Smart AdServer, Web CEO, Clickmeter, Facebook Ads, Facebook Insights, Google Plus, Instagram, Instagram Ads, LinkedIn Pages, LinkedIn Ads, ComScore, DoubleClick Campaign Manager, DoubleClick Search, Twitter, YouTube
Dashthis Review: Pricing
DashThis offers several enterprise pricing options, depending on the preferred number of dashboards. Here are the details:
Individual – $39/month (Pay annually and get up to two months free!)
Professional – $129/month (Pay annually and get up to two months free!)
Business – $249/month (Pay annually and get up to two months free!)
Standard – $399/month (Pay annually and get up to two months free!)
Enterprise – $599/month (Pay annually and get up to two months free!)
---
Dashthis Review: Support Options
| | | |
| --- | --- | --- |
| | Free Version | Paid Version |
| Email | Yes | Yes |
| Forum/Community | Yes | Yes |
| FAQ/Knowledgebase | Yes | Yes |
| Social Media | Yes | Yes |
| Video Tutorials / Webinar | Yes | Yes |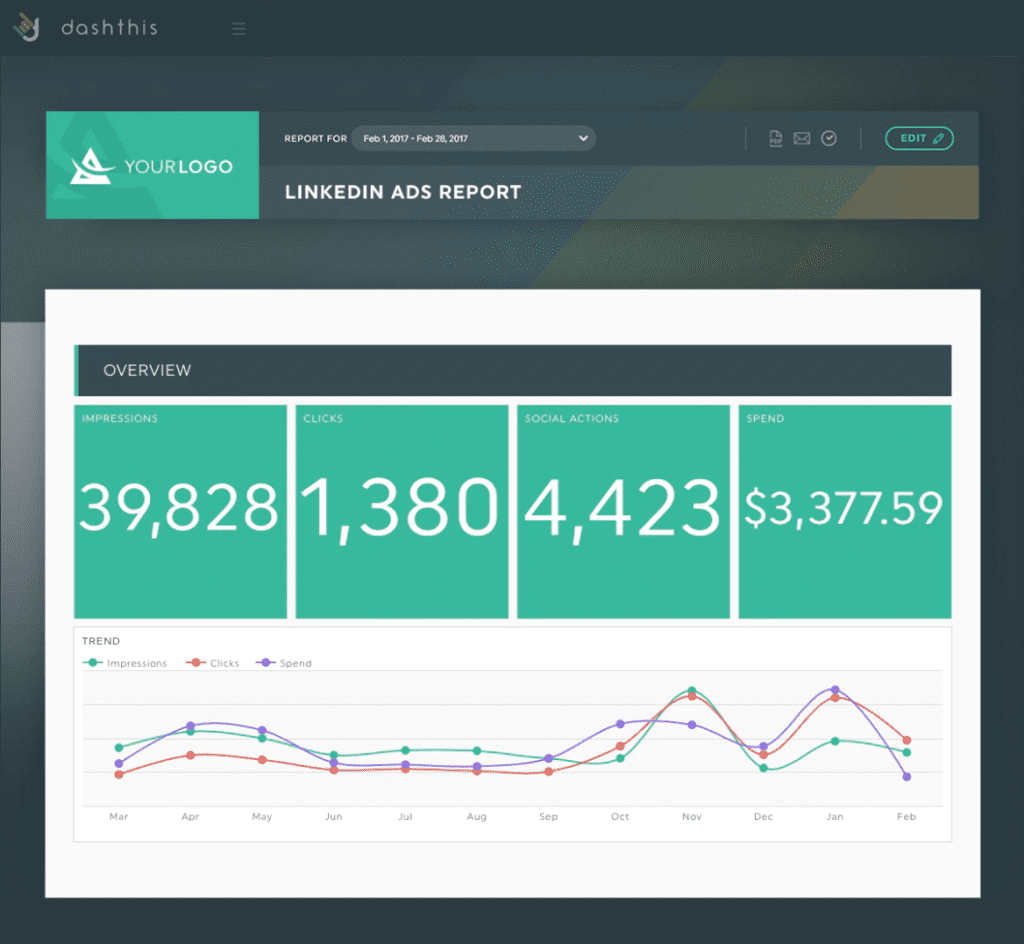 Dashthis Review: Competitors
1. Supermetrics
Supermetrics, from the company of the same name in Helsinki, offers an application which automates integration of data from multiple online advertising platforms (e.g. Facebook, Google Analytics and Adwords, Bing, etc) and supports customizable presentations and visualizations of the aggregated data to make cross-platform comparisons and summaries easier for marketers.
2. Leadfeeder
Leadfeeder is a B2B sales tool that shows organizations which companies are visiting their website. It integrates into the user's CRM and shows information on leads' visit data straight in Salesforce, Pipedrive or any other supported CRM. Leadfeeder uses Google Analytics and needs no news scripts to install. According to the vendor, signup takes 30 seconds and after the initial load, users can see leads from the last 30 days. The vendor's value proposition is that Leadfeeder's simple interface and timely data enables some of their users to close deals in the first weeks of their trial.
3. Alteryx Analytics
Alteryx Analytics is a business intelligence and predictive analytics solution. The vendor's value proposition is that their solution provides analysts with the unique ability to easily prep, blend, and analyze all of their data using a repeatable workflow, then deploy and share analytics at scale for deeper insights in hours, not weeks. According to the vendor, analysts love the Alteryx Analytics platform because they can connect to and cleanse data from data warehouses, cloud applications, spreadsheets, and other sources; easily join this data together, then perform analytics – predictive, statistical, and spatial – using the same intuitive user interface, without writing any code. Additionally, the vendor says thousands of companies and data analysts worldwide rely on Alteryx daily.
---
Summing Up
Clients love marketing dashboards because they're an effective, eye-catching way to illustrate campaign performance. Building dashboards, though, takes time that agencies don't always have. And that's why so many teams are investing in dashboard tools like DashThis.
DashThis, which was designed for agencies, promises to put all your SEO, social, email and other digital marketing data in one automated report. With its templates and widget-based design tools, DashThis speeds up the process of building a marketing dashboard.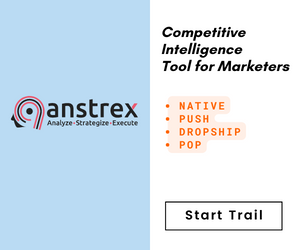 DashThis is a solution for smaller agencies that need to produce reporting on popular marketing platforms. It might not perform as well for organizations that are monitoring several data sources or need to generate more complex, more valuable business insights.
Our 'Handpicked' Tools for Internet Mareters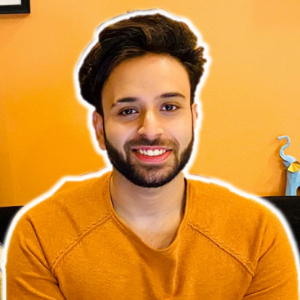 I and my team research various media buying platforms and can help you choose the right network; so you could rake in more greenbacks with an increased ROAS. I am just a mail away, so reach out to me if you need assistance with scalable media buying. mail: [email protected]