Report automation is the process of automatically creating digital marketing reports using software. The gathered data can then be delivered to specific email addresses or sources on a scheduled basis with automatic email dispatches. An automated reporting software generally goes through APIs to automatically fetch data from each platform and integrate it into the automation software system. Marketers now, have access to updated digital marketing reports to monitor and analyze customer behavior. A large portion of enterprises are switching from manual preparation of financial statements to financial reporting solutions that automate the process. Report automation has been in existence for several decades. IBM's operating system known as OS/360 was among the first initiative towards report automation to be tested. However, due to the complexities of reports and tasks, the system was unable to perform several operations. There was a need for more advanced systems to accommodate the new demand. This scenario accelerated the development of an advanced system to cater for emerging needs. That is how report automation applications came into operation.
The Need for a Report Automation Tool
Report automation is primarily used to save time by automating the parts of the reporting process that will not require human insight and giving enough custom options to add those insights into relevant steps of the process. Many financial reporting solutions are also very cost-effective and represent a significant savings over continual usage of preparing reports manually. With the right financial reporting tool, a business can save time and money while boosting the productivity of its operations. Automated reporting tools like Supermetrics Data Studio are created with the sole purpose of making automated reports. With features like easy integration with multiple data sources, ease of data visualization and real-time data analysis,
Supermetrics has become a popular marketing
tool.
Supermetrics Review: A Platform Overview
Supermetrics is one of the most popular business analytics software that puts all relevant data and key performance indicators in a unified and accessible location. Initially, it was designed to enable companies to simplify their access to their Google Analytics data. Later on, Supermetrics has evolved to become a full-blown business reporting platform that works with various analytics engines and tools. The software is an optimal platform to gather data and insights in order to devise and implement web analytics, social media, and online marketing. Supermetrics flagship product, the Supermetrics for Google Drive, enables businesses to run queries, refresh their data with just a push of a button, and effortlessly share reports and dashboards with other team members. Supermetrics Data Grabber delivers an Excel-based report automation application that can easily connect with a number of leading data sources like Google Analytics, AdWords, Facebook, Bing Ads, Twitter, and YouTube. Supermetrics Uploader lets you import advertising expenses data from any source into Google Analytics. Supermetrics Functions is a tool designed for advanced Excel users. This module enables them to enter their business metrics painlessly into Excel and Google Spreadsheet for a more custom and detailed reporting.
Supermetrics Review: Product Suite and Features
Supermetrics for Google Drive enables you to automate reporting processes in your Google Docs and Sheets. This allows you to import all the key metrics from multiple data sources like Google Analytics, Facebook, YouTube, Twitter, AdWords, Bing Ads, and Google Webmaster Tools, and have all your data transformed into spreadsheets and documents.
Whenever there is a need for the latest updated figures, the module lets you refresh your data with just a click of the button. The system can also be set to automatically update your data on a daily basis. The user-friendly interface helps in easy accessing of the data you need.
Supermetrics Data Grabber facilitates the users to generate Excel reports based on data from Google Analytics, AdWords, Facebook, Bing Ads, Twitter, and YouTube easily and instantly. There is no requirement of installing anything extra or embed a script.
With Supermetrics Uploader module users can leverage Google Analytics to display both the advertising cost data as well as the ROI from various data sources, including Facebook Ads, Bing Ads, and Yahoo Gemini, or even CSV files.
Supermetrics Review: Pricing Plans
Supermetrics pricing is based on five subscription options: for Data Studio ($0 to $382.72 per month), for Google Sheets ($0 to $190.72 and higher per month), for Excel ($126.72 to $254.72 and higher per month), for BigQuery ($190 to $490 per month), and Supermetrics API (custom priced). The main differences between the plans are the number of license users, reports, and queries per day.
| | | |
| --- | --- | --- |
| Plans | Monthly Pricing ($/Month) | Annual Pricing* ($/Month) |
| Supermetrics for Data Studio | $0 to $382.72 | $0 to $299 |
| Supermetrics for Google Sheets | $0 to $190.72+ | $0 to $149+ |
| Supermetrics for Excel | $126.72 to $254.72+ | $99 to $199+ |
| Supermetrics for BigQuery | $190 to $490 | N/A |
| Supermetrics API | Customized | Customized |
---
Supermetrics Review: Dashboard Overview
In Data studio:
Go to https://datastudio.google.com/ and log into your Google account,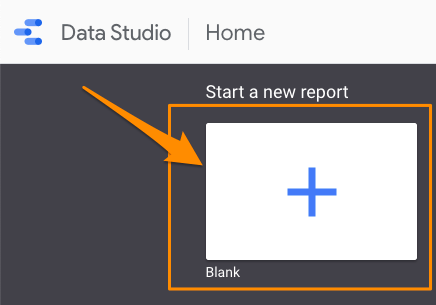 Click Start a new report->Blank.

Click on the CREATE NEW DATA SOURCE at the bottom of the right-hand "Select Data Source" pane.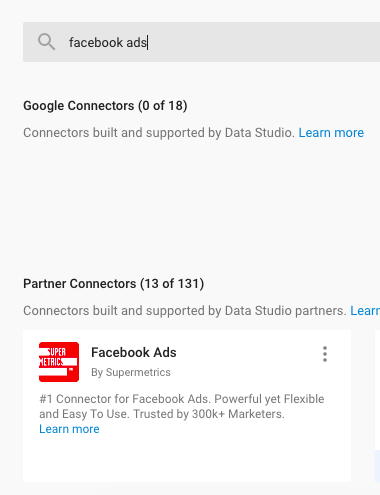 Scroll down to the "Partner Connectors" section and look for the Supermetrics connector you want to enable or you can use the search bar at the top.
Hover over connector card and click SELECT to start the process of using that connector.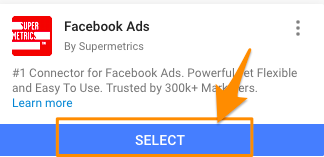 Click the AUTHORIZE button to give permission to the connector to access your Data Studio account.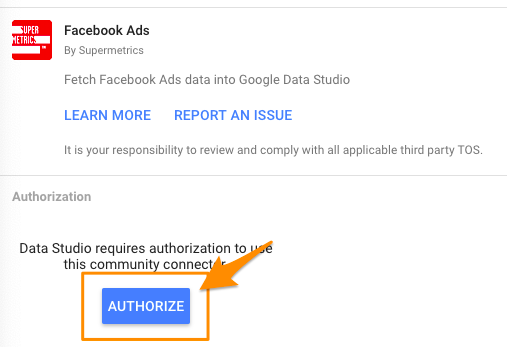 A pop-up will ask you to log in with your Google account – select the same account you intent do use Data Studio with and then click Allow to accept the access request.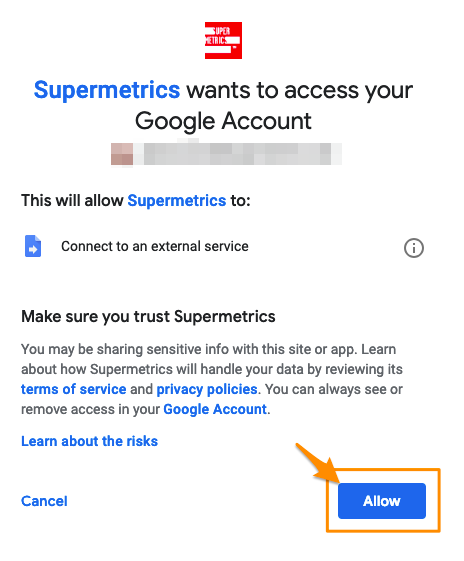 Click the second AUTHORIZE button that appears to log into the data source itself (in this example, into Facebook).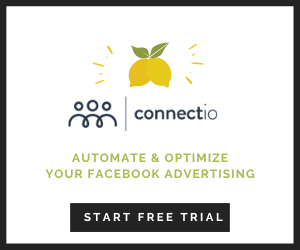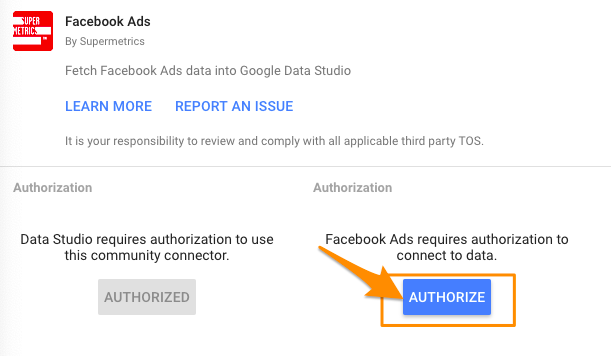 Follow the prompts to log into the data source with the appropriate platform user account.
Once the login is completed, it will return to the data source setup page.
Select the account(s) you want to use from the drop-down (best practice to select at least one account) and enable any other required settings.
Click CONNECT in the upper-right to save your configuration as a new data source file.

It will then take you to the field list. By default, you don't need to do anything here. Click ADD TO REPORT to proceed.

The data source is now added to the report to use as a resource! You can now select it for your report objects.

The final Dashboard looks like this which is convenient for reporting and Analysis.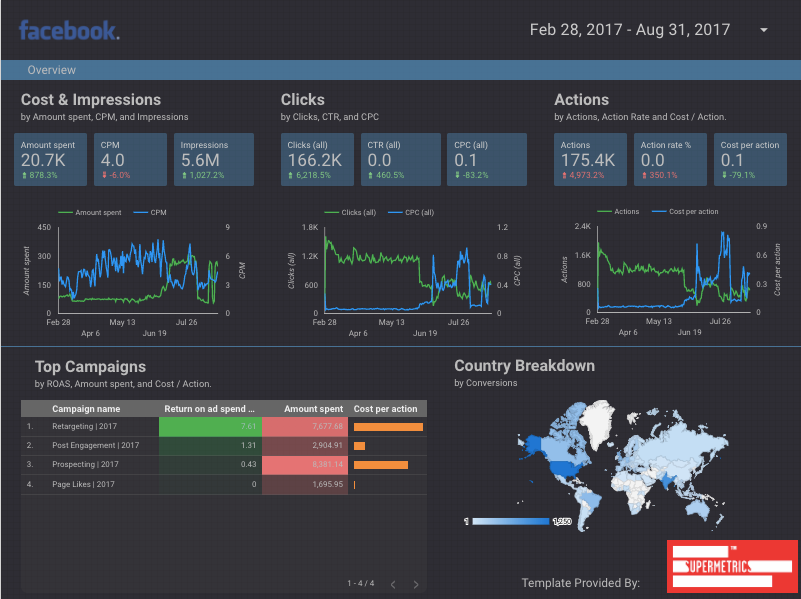 For Google Sheets: (Google Drive)

After the installation process of the chrome extension is done, you have to go to the add-ons in Google Sheets and launch it to open.
Then you have to log in to choose from a varied range of data sources from where you want to extract data.
A new window will be opened in your browser to start the connection process with that data source.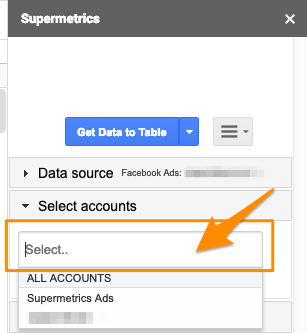 Follow the instruction that will be prompted in the new window to log into the data source with your account.
If it asks you to approve access permissions, accept those to make the add-on function properly.
Once all the steps have been followed to log in, the window should close and redirect you back to the Google Sheets sidebar.
If it doesn't open it automatically, click on the Select accounts section to expand it.
Click into the text box to see a drop-down of the accounts you can select for your query. Select at least one account.
All the processes are now done and you are free to make queries against that account to get the data from the sources you require.
Supermetrics Uploader:
Supermetrics Uploader automatically imports data from different advertising channels into Google Analytics. You will have all the campaign spends in the same place and easily compare your ad spends on each channel with the results. With the automatic updating of data, you can easily track your ROI on Google analytics.
Supermetrics Data-Grabber for Excel:
Marketers who are used to reporting on Excel, be it through the traditional CSV route or with Google API, can go with Supermetrics Data Grabber for Excel. Just like Supermetrics for Google drive, you can automatically import data from multiple sources into an Excel Spreadsheet and access all of its features. This product will enable you to create quick and authentic Excel reports. It works with Windows Excel 2003 and later versions.
---
Supermetrics Review: Pro Tips that You Need to Know
"Good for building web dashboard
Overall: Overall good tool but could improve with offering more integrations.
Pros: The connectors it has to several platforms and also the predefined dashboards that allow you to pull data from different data sources like FB/GA etc in a very easy way and the plug it into nice dashboards. Price-wise is very competitive.
Cons: I missed connectors to ecommerce platforms like Shopify or magento as it will be very useful for ecommerce users to add that data to do analysis. i also did not like that data only refreshes automatically every day, if not you need to do it manually." – Pedro G. (Senior Global Digital & eCommerce Manager: Consumer Goods)
"Best Decision For Dashboards + Ongoing Reporting
Overall: Overall I'm very happy with Supermetrics and the pros far outweigh the cons. It has become a critical tool in my day to day marketing & management toolbox.
Pros: I like that Supermetrics for sheets integrates seamlessly with Google Data Studio allowing me to supercharge my reporting capabilities. I am able to pull data from multiple sources and refresh it daily making sure all stakeholders have up-to-date relevant data at all time.
Cons: There are a few reporting features I would like to see like reports via labels for Google Ads and Facebook customer conversions could be simplified." – Shaun F. (Director of Online Advertising: Marketing and Advertising)
Tips
Error reporting can be better and there are times when data cannot be pulled
Supermetrics lacks the capability of storing data. Every time it pulls information for a report, it directly queries the source.
Integrating processes might get slower if you try to go very granular with your analysis.
Supermetrics does not feature the cleaning up of errors in your data. If you need to make corrections, you have to do that in your BI or visualization tool.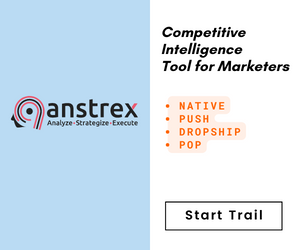 Supermetrics is a business intelligence software that is designed to cater to the specific needs of digital marketers. The smooth simplification of the process of data analysis and automation saves time and reduces effort. With the flexibility and frequent updates provided by Supermetrics is crucial to the growth of an organization. It is now a mandatory item in the toolbox of all the marketers.
---
Our 'Handpicked' Tools for Internet Mareters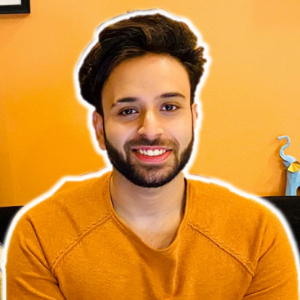 I and my team research various media buying platforms and can help you choose the right network; so you could rake in more greenbacks with an increased ROAS. I am just a mail away, so reach out to me if you need assistance with scalable media buying. mail: [email protected]