Interest targeting helps advertisers reach out to customers according to what Facebook knows about them and their activities on the app, which is tracked by Facebook Pixels. So, it basically helps an advertiser tell Facebook who their ideal customer is and who they want to show their ads and do business with.
Although data security and privacy is a very important subject right now, knowing about the customer's behaviour has major benefits for everyone. For a customer, it is helpful because the system does not show useless ads that they would not care about. The ads would be based on their activities, recent searches, and what they truly care about. It is great for advertisers because it helps run performance ads and spends money on showing ads to people who would want to see ads on the same product.
Interest targeting is normally used to target the cold audience, who are the people who have never heard of your brand or products.
Facebook is such a powerful platform. Even if you do not use any targeting, you will find your ideal customers. However, in the learning process, you will burn a lot of money. But, the more data you have, it would be easier for the algorithm to find new customers. If you do not have data, you have to eventually buy it, and the more clues and guidance you provide to the algorithm, the cheaper it would be for you to purchase the data.
The Need for Interest Targeting for Facebook Marketers
Facebook has come up with a new feature, which is interest targeting. It basically just targets the things that you are interested in. As a user, if you scroll through your newsfeed, you will notice that the content you have engaged with in the past is being shown again under Facebook Ads. Facebook derives such information from your lifetime of activities on the platform. It is a great way for advertisers to reach their target audience.
With interest targeting features, you can deliver your ads to your target people. These are the people who have shown interest in your industry in the past, by, for instance, engaging with your competitors and are hence, more likely to engage with your ads. To get to your target audience, you will see innumerable interest categories available for targeting, and if you narrow down your targeting options, you will be able to show ads to relevant and fresh audiences.
This is particularly important for Facebook marketers because Facebook undoubtedly provides you with a lot of opportunities, and to grab them, you have to refine your targeting and audiences.
Best Facebook Interesting Targeting Tool: What is Audiencer?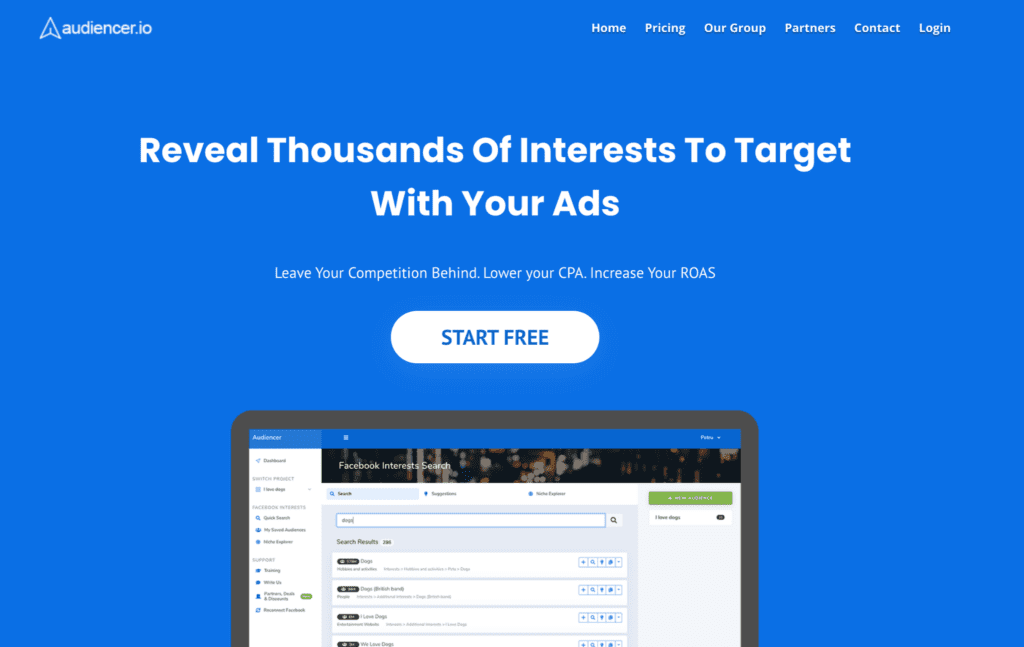 Audiencer is the best tool to find interests to target with your ads. It is particularly useful for agencies that run ads, freelance markets that run ads for other people, and for ecommerce businesses to help them find new customers.
Audiencer has a very large database that it crunches to help you find the best interest for your ads to run. It has a unique algorithm that uses everyone's older searches. It is all-in-all a community-driven intelligence.
Audiencer makes use of the searches that everyone has made and associates these searches with niches. So, when you are in a niche, based on the niche, Audiencer will give you suggestions, which are generally great.
---
How does Audiencer Work?
Audiencer put together all the interests that it has according to the searches and other activities on the platform into niches. So, if you are in the niches related to dogs, the interest in relation to dogs will have more relevance to you than interests related to programming or science.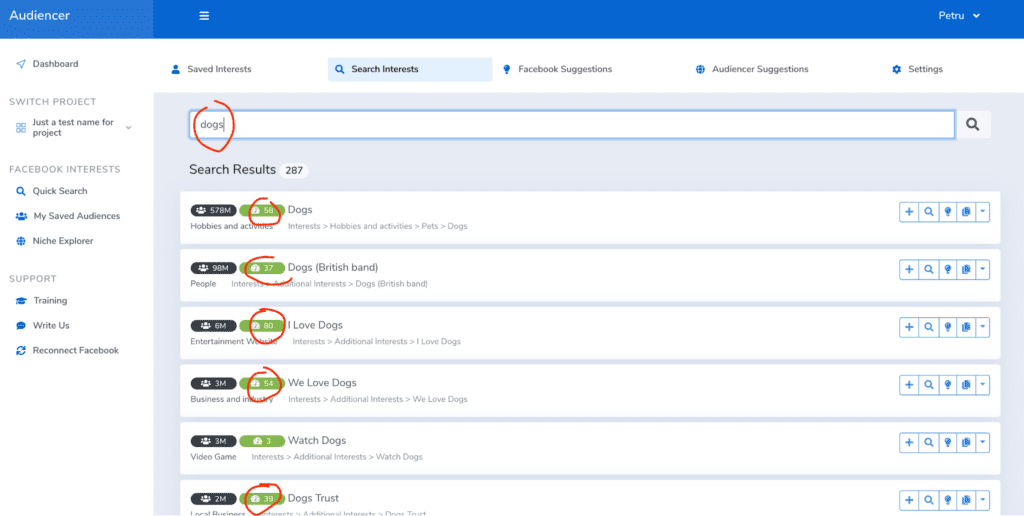 Simply based on this, Audiencer can provide you the interest to target with your ad only by telling which niche you belong to. It goes through over 3,00,000 data points to compute all of this.
Benefits Of Using Audiencer: A Facebook Interesting Targeting Tool for Marketers

Saves time: If you are a part of an agency and recently got a new client, you basically would not have time to do any research at all. You just have to tell Audiencer what your client's niche is, and it will immediately show interests that you can target for your client's ads.

This is one of the major benefits of Audiencer that it saves you a lot of time. If you try to find new cold audiences that you want to target, Audiencer helps you discover those too because sometimes it surfaces interests that you would not normally think about, so Audiencer undoubtedly saves you a lot of time.

If you target new and cold audiences, you can lower the cost per click by hitting high-affinity interests: High-affinity interests are the topics, buzzwords, public figures, brand tools, and more than only the fans in the market would have knowledge about and no one else. For instance, everyone knows about gaming and the video game industry, but the people who are really interested in the same would know about the apps like Discord and the specifics of the games.

So, this means that if you are in the gaming niche, you have better chances with targeting specifics than when targeting just gaming. Gaming is just too broad to be able to bring you an enthusiast.

Adaptive Suggestion: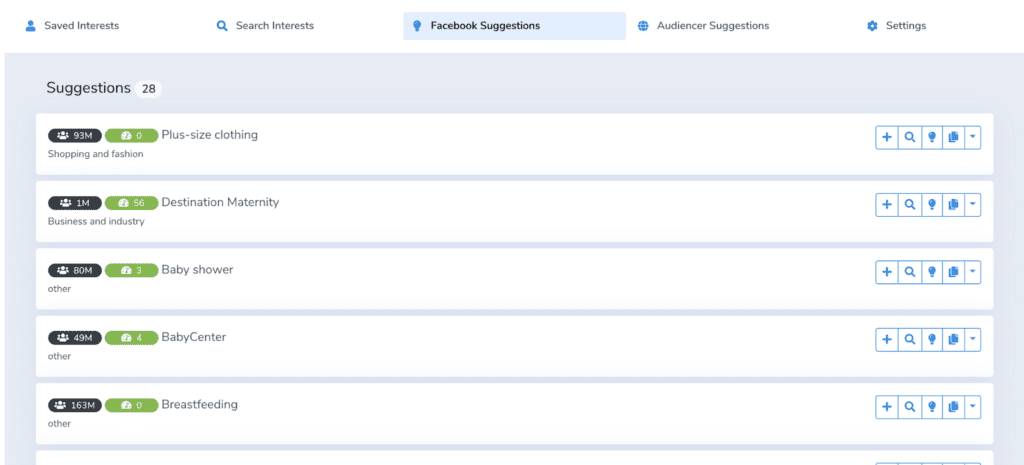 Generally, people recommend you to keep typing interest based on what you are trying to target. They also took the process to the next level. From the whole list of interests in your saved collection, you can take a few, and get suggestions for those.
For instance, let's assume you sell cat hoodies and wish to target people who have cars. Normally, you have to start your search with the cat's interests, but it is so broad, so you must approach this smartly and try cat foods.
You find the various brands that offer cat foods and then think about cat training and select an interest based on those.
Niche Recommendation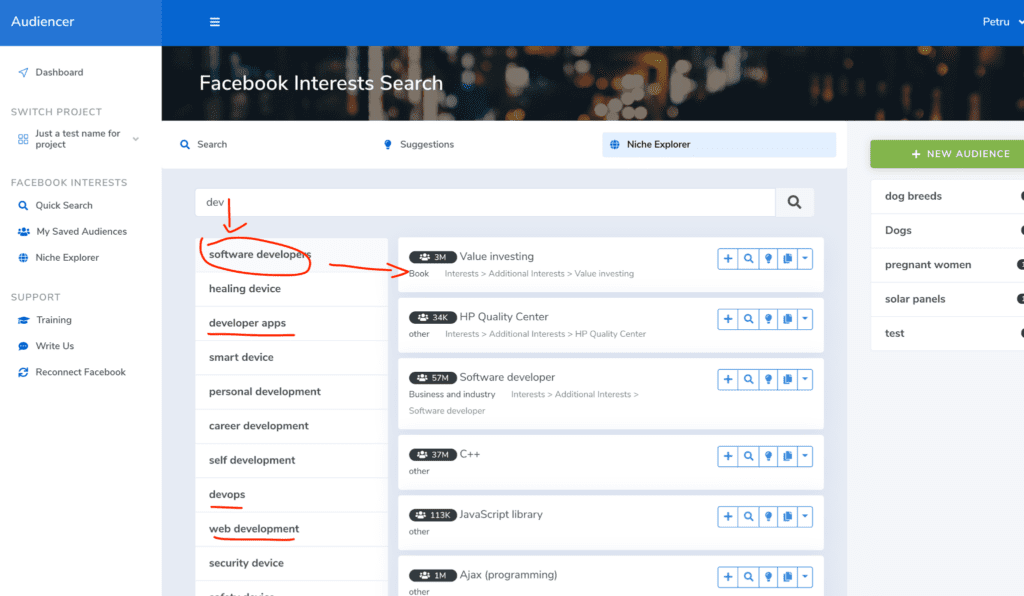 When you are doing your research, you just tell Audiencer what your niche is and who the target customer is because those niches are often defined as niche names and sometimes defined as avatar names like dog owners instead of just dogs.
So when you tell Audiencer what your niche or the target customer is, you get recommended interests right away, without doing any research at all.
This helps you save so much time, especially when you do not know what to look for and what the niche is well, and have clients to run ads for.
Self-learning system: Audiencer is a self-learning system that puts together human power and a unique algorithm to provide an interest related to your niche.
Niche explorer: With the niche explorer, you can quickly browse your niche to find new interests to target, even in cases that you do not know what to look for.
Ideal for agencies and consultants: If you are from an agency, are a consultant or a freelancer, or just a marketer, you can use Audiencer to find interests for your new clients and reuse the work because it remains saved in your account as long as you keep it.
Great support: They have excellent support that you can reach out to for any question, and they will get back to you in no time.
Saves money: It can be a relief in your pocket because if you advertise to the wrong audience, it will be very costly. A single failed campaign can cost you hundreds and probably thousands of hard-earned dollars.
All the successes of marketing campaigns have three big components: the product, the message, and the targeting. While you will not have any help with your product, this will certainly help you reach the right customers.
Build-in proprietary relevance matrix: They help you find the most relevant interest for your niche. They cannot guarantee any kind of result but use their AI tools to help you make a decision before you start a campaign.
Never lose your work: Audiencer allows you to keep your research campaign organized in the projects and audiences. You do not have to track endless texts or files with data inside. You can easily manage all the projects and niches.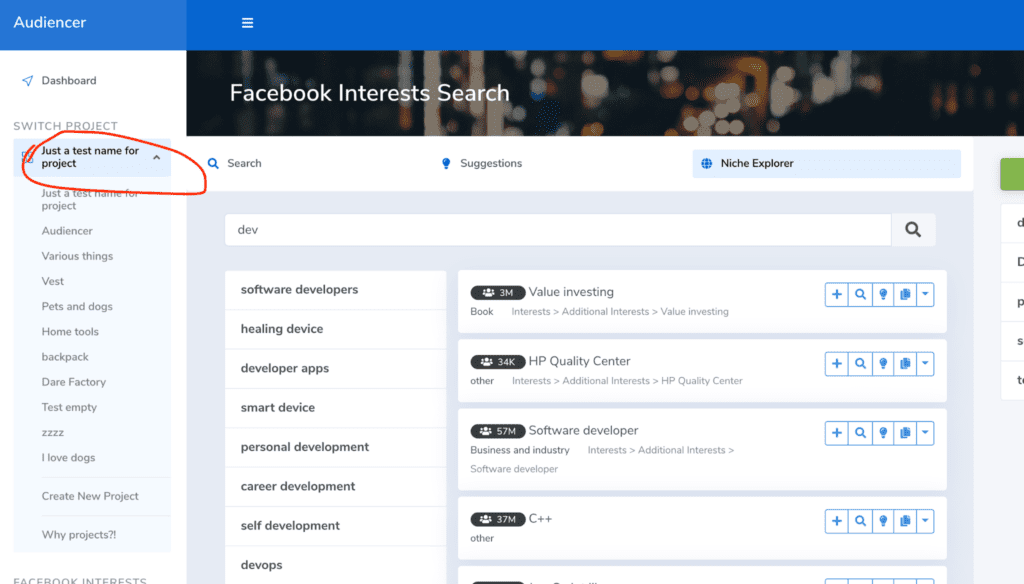 Google search integration: This is particularly helpful because you can come across interests whose meanings you do not know of, like new names or page names. You have to run a search on Google or Facebook to figure it out, and instead of typing it manually, you can just select and copy it.
Audiencer Features: Best Facebook Interesting Targeting Software Tool
They provide a quick search option.
You can save all the audiences you found and the work you did in the past.
You can organize the data and research you did into a project. So, for each client, you can have one project, and inside that, you have audiences. This is an easy way to isolate the work you have.
It is a robust training section.
They offer niche explorer, where you can just put in your niche or ideal avatar, and you can further discover avatars for you or niches, and inside these, you can see options where you can type interests that you can target with your ads.
They offer adaptive suggestions, where you can get Facebook data suggestions for the few interests you select. Then, you get Audiencer's suggestions based on your niche and the options to save your interests.
They offer relevance scores that tell you how relevant the interest is to your niche.
They have an advanced discovery system where you can use each of the interests you find to get suggestions from Facebook.
Over 200,000 interests you can search through via FB APIs.
Over 300,000 data points to give you the best suggestions for your research.
Audiencer Pricing: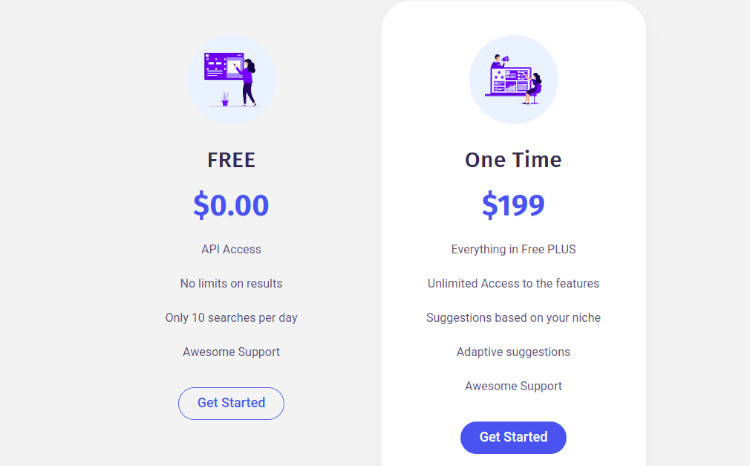 They sell for a one-time fee, so you have no issues with monthly rebills, and there is no commitment. You just have to pay $199 once and use the product for as long as you want.
Provided that just one failed campaign would cost you hundreds of dollars, this is a great investment.
---
How to Choose the Best Facebook Interesting Targeting Tool?
There are certain things that you have to consider when you are looking for a Facebook interest targeting tool. They are:
Size and niche: There is certainly no concrete number or range for how big or small your audience size should be. It is completely dependent on your objectives and niche. You must, however, decide what it must be. If you are a starter, the customary range would be within fifty thousand to two lakhs. Once you have enough traffic to let Facebook target audiences, you can increase your audience size.
Budget: When you run your acquisition ad campaigns, you must necessarily exclude existing website visitors and previous purchases. Generally, the goal is to spread knowledge of your brand to new people, so you must spend the impression budget on new and relevant audiences. You need to figure out how big your budget is for particularly Facebook interest targeting.
It is necessary to focus on these two and what your objectives are with your brand to choose the best facebook interest targeting tool.
Roundup: Go Ahead and Take the 'Free Trial'
You must now have a fair idea of how Facebook interest targeting works and helps you; it is suggested that you put it to use and grow your ROAS. It is always a good idea to put together interest targeting with other targeting methods to narrow down your audience. This will help you get a clearer picture of who you should show your ads to. In the end, you are essentially looking to make the best possible audience list for your ads, and you must make sure it is perfect. Audiencer.io is an excellent tool to help get the perfect audience and customers, so why don't you go ahead and take the free product trial. There's nothing to lose; you are covered under a 30-day money-back guarantee.
---