ReportGarden is a dashboard & reporting tool for Ad Agency to automate cross-channel reporting, manage campaign budgets, create invoices, perform SEO audit, and track keywords rankings for your clients. 1,000+ Top Agencies trusted ReportGarden to automate their workflows. ReportGarden enables you to unify marketing metrics from 35+ digital marketing channels in real time and save countless hours. Impress your clients, close more deals, and let us automate the rest.
The solution links multiple accounts such as Google Adwords and Analytics, Facebook Ads, Twitter, Mailchimp, LinkedIn and Bing Ads using APIs, and presents data within clear, visual reports. The platform offers deep data segmentation and filtration from all ad services.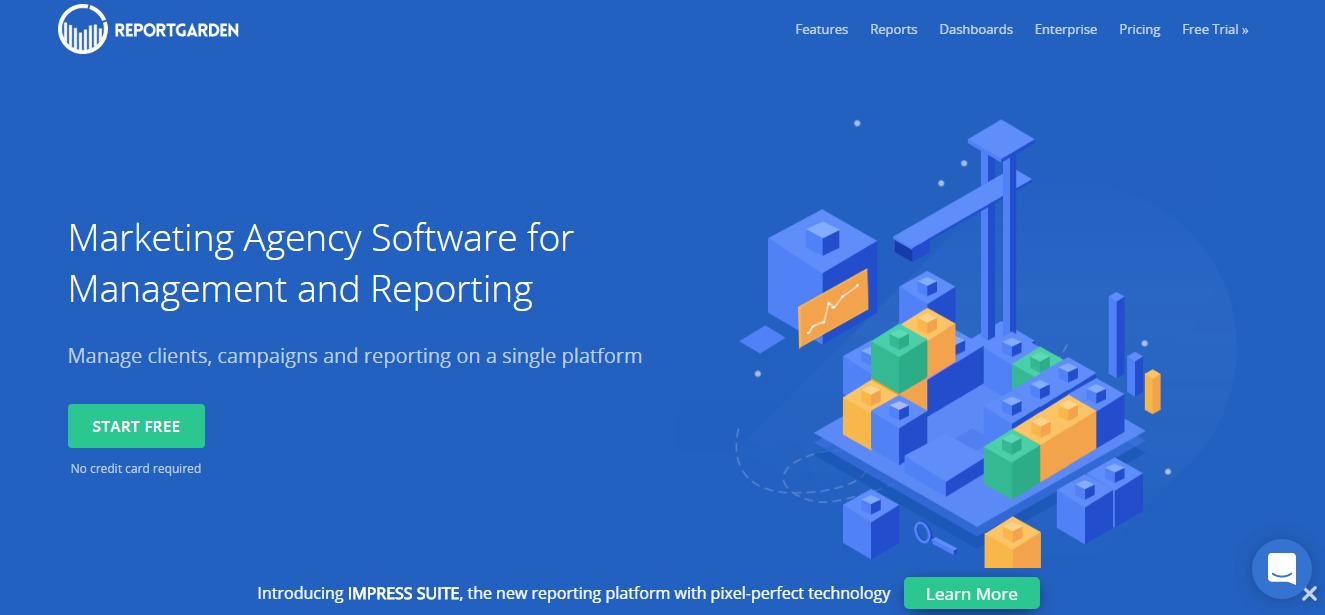 ReportGarden's full spectrum of marketing tools seamlessly integrate with the workflow of digital marketing agencies, and help automate time consuming tasks such as client reporting, data dashboards, PPC account health monitoring, SEO keyword tracking, and more. SEO professionals can seamlessly create automated custom reports and dashboards to prepare analysis and performance reports. With this data, account managers and executives are able to accurately inform their clients about the success of their marketing strategies.
The platform's interface includes functions for agency health, scheduling, templates, downloadable PDF reports, customized colors, a client portal, and drag and drop functionality for widgets. Users can connect multiple online ad accounts to automatically report on campaigns, ads, reach, CPM, and other KPIs. Users need to follow three simple steps in order to create their custom, automated client reports: first, they link ReportGarden to all desired accounts; second, they select a template; and lastly, they schedule the reports.
Report Garden Review: Benefits
ReportGarden makes it easy for marketing professionals and agencies deliver performance reports to their clients. There is no need for marketers to slave away for hours gathering data and making sense of numbers, figures, and charts. The software simplifies and streamlines the whole process by automating the analysis and report generation processes, instantly providing users with reports that are tailored based on their exact specifications.
With ReportGarden you don't have to waste time and resources compiling manual reports by pulling data from various sources, such as Google AdWords and Google Analytics. The software does it all, giving you end to end report automation with just a push of a button.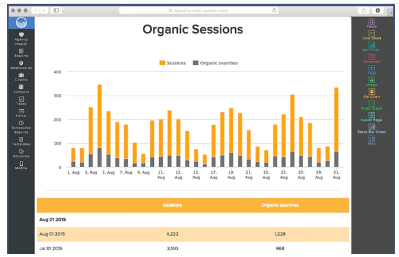 ReportGarden works with all the leading data sources, allowing you to tap all the channels you need and group them all together in a single report. Aside from Google AdWords and Google Analytics, the software is able to analyze and generate reports using information from Bing Ads, Facebook Ads, Twilio, Twitter Ads, Twitter Analytics, MailChimp, CallBox, and more.
Many marketing agencies rely on data to see results, especially if they are so much invested in paid advertising like Adwords, Bing Advertising, social media advertising, and remarketing to mention a few. ReportGarden gives you the platform that lets you build your own fully-customisable, easy-to-use, scalable dashboards and reports so that you get the data you need in the way you want it displayed.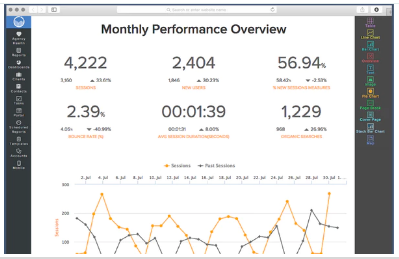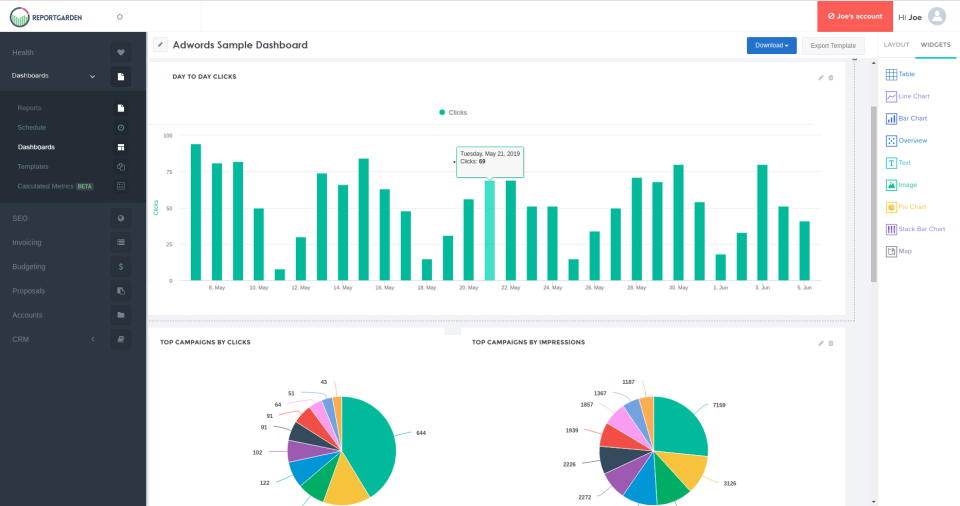 ReportGarden Feature Summary
Scheduled / automated reports
Referral source tracking
Campaign management
Collaboration
Project management
Scheduling
Task management
Time tracking
Print management
Ad hoc reports
SEO analysis
Automated client reporting
Automated marketing reports
Drag and drop widgets
Create & save templates
Cover page
Customization
PDF reports
Schedule
Client portal
Third party integration
Google AdWords & Analytics data
SEO reports
PPC reports
Google Analytics data widgets
Facebook Ads reports
Twitter Ads campaign visibility
LinkedIn Ads reports
Bing Ads data
Dynamic AdRoll retargeting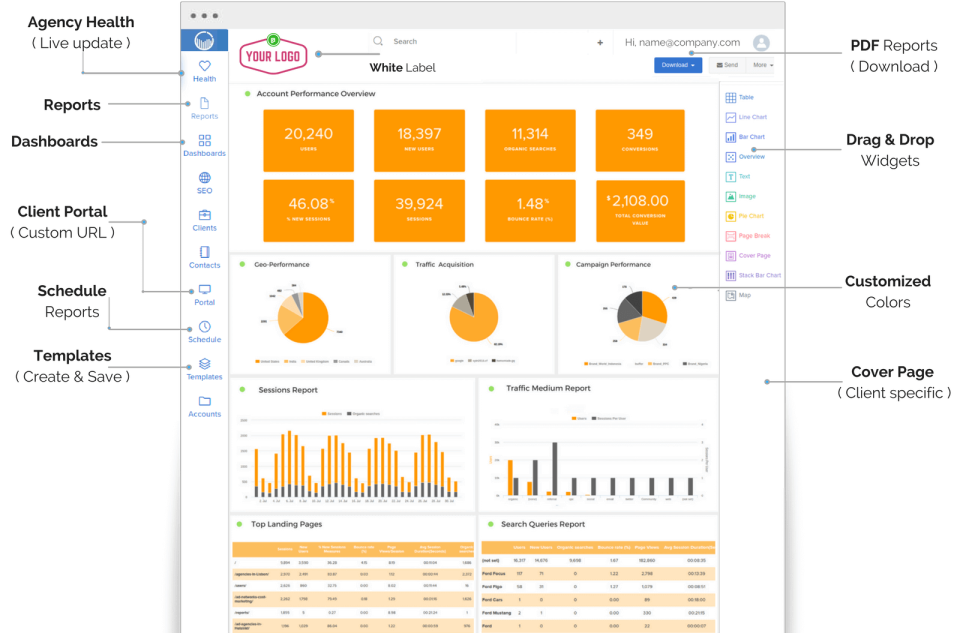 Report Garden Review: Utility
SEO professionals can eliminate the need to compile manual reports by allowing ReportGarden to pull Google AdWords and Analytics data straight into the system.
Users can efficiently create customized PPC reports by utilizing the platform's wide range of drag and drop widgets and metrics.
ReportGarden enables digital marketing professionals to transform huge analytics data into valuable insights with just a few clicks.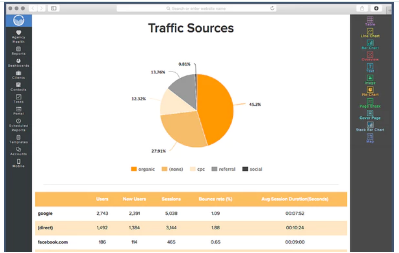 Users are able to analyze metrics and isolate trends and behaviors with end-to-end visibility into all Twitter Ad campaigns.
Ad agencies can identify the performance of their LinkedIn ads in order to focus more on key metrics and top performing ads.
Scheduling of the reports saves a lot of the customer's time every month since the reports get generated automatically and land into the customer's inbox.
Customers could also track their ad spent on their campaigns/ads and set alerts to know if they are reaching their limit.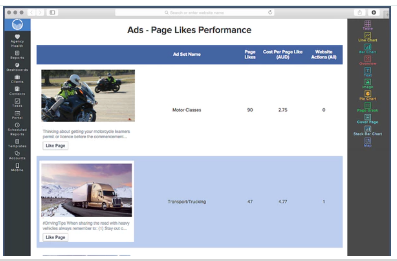 If the customer is having any issue they could reach out to our customer support personnel anytime of the day irrespective of the difference in timezone.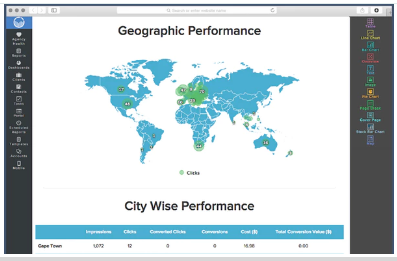 PPC Reporting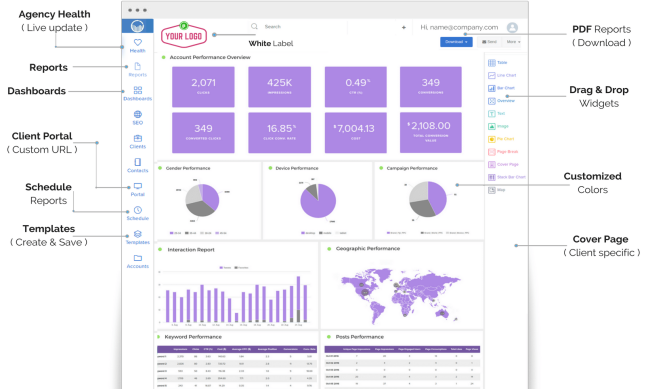 Quick & Easy PPC Reporting!
ReportGarden helps you combine valuable PPC data with beautiful visualizations, offering a refreshing alternative to the bland, dull, and data-heavy report alternatives. See how ReportGarden can help your agency:
Generate Custom PPC Reports.
ReportGarden provides a PPC Reporting Tool that helps digital ad agencies create client reports. Our reporting software is specially built for preparing custom Reports. Generate tailored and automated PPC Reports that your clients will actually read.
Google Adwords Reports
Analytics Reports
Facebook Reports
Twitter Reports
Bing Ads Reports
Single Click Reporting.
Using the software you can generate unlimited PPC reports using different reporting templates. These templates enable you to quickly generate reports that you can send out daily. Some of the most popular templates that ReportGarden provides are
Account Performance Report
Campaign Performance Report
Ad Group Performance Report
Report Garden Review: Dashboard Overview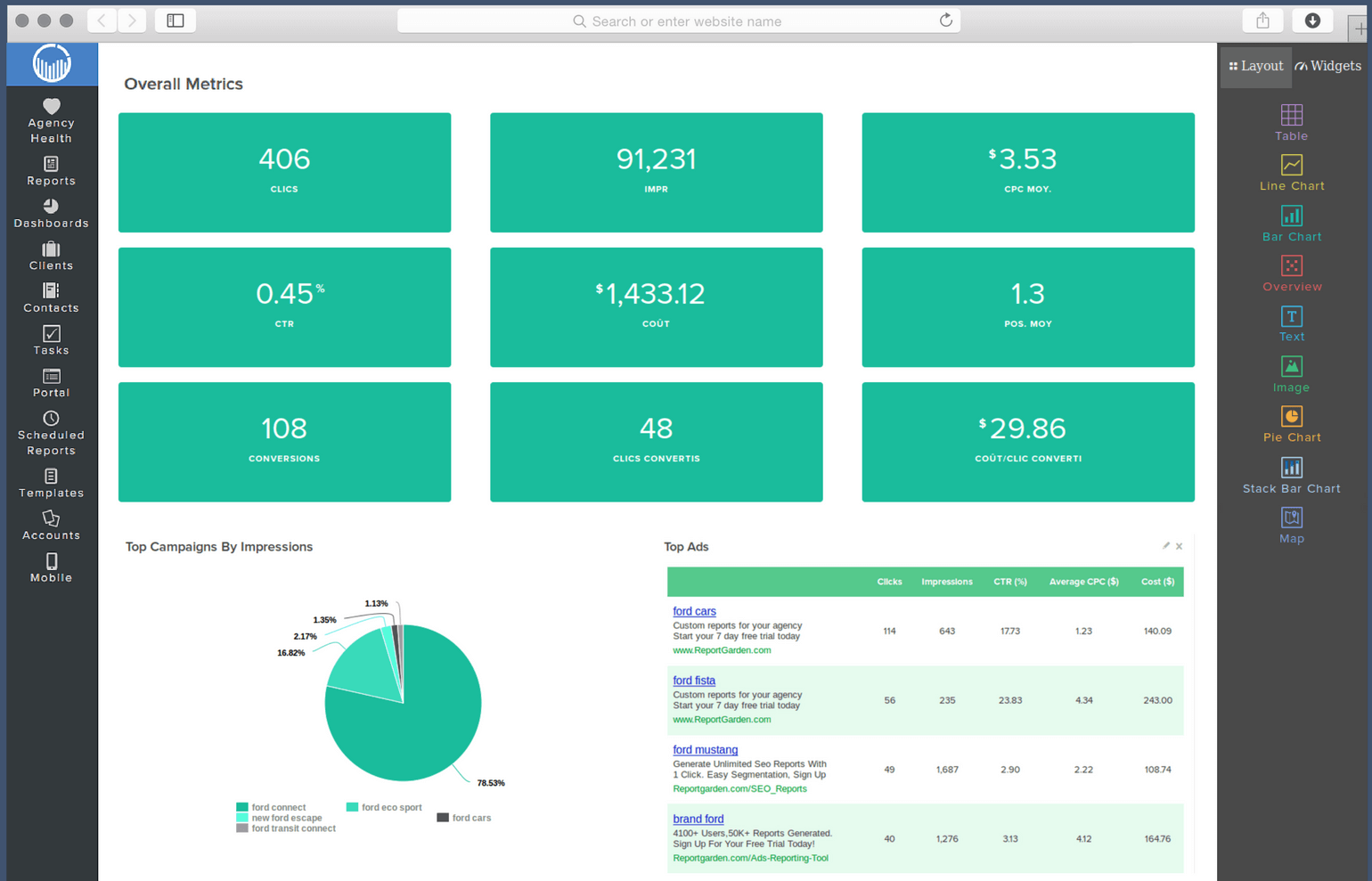 Outlining finest PPC AdWords KPIs
With Google AdWords, you can track and measure just about any metric. But, presenting metrics that matter in a dashboard would give a clear overview of account performance to the client. ReportGarden helps you present all the important AdWords KPIs in a single widget.
Clicks
Impressions
CTR%
Cost
Avg. CPC
Conversions
Facebook Ads Dashboard
The Success of your Facebook Ad campaign is determined by how precisely you are able to target your audience. ReportGarden lets you present these demographic dimensions with a detailed click, conversion, and cost-per-action data, making such segmentation enormously insightful to the clients.
Time
Age
Gender
Campaigns
Placements
Custom Audiences
Segmenting Twitter Ads
You can compare the performance of your campaigns by targeting type, regardless of how you have set up your campaigns. ReportGarden gives you insights about the Impressions, Engagements, Followers and Tweets for each dimension chosen, to help you connect better with your audience.
Campaigns
Individual Tweets
Location
Gender
Platform/device
Bing Ads Intelligence
The Dimensions tab holds some of the most useful information you can dig up about your Bing Ads' campaigns. ReportGarden lets you dig deeper into Bing Ads' campaigns with the Dimensions tab which opens up key features for optimizing your campaigns: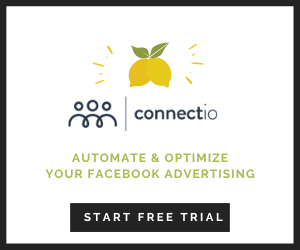 Ad Group
Ad Network
Campaign
Keyword
Franchise marketing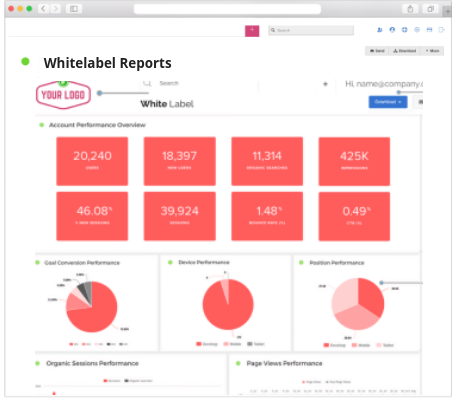 Branding Made Easy
White-labeled reports and dashboards uphold corporate look and feel, with options to regionalize branding on them. White label Reports from ReportGarden are fully integrated and ready-made, which makes branding very easy.
Custom cover pages
Franchisor and Franchisee logos
Custom report colors
Build Trust between Franchisors and Franchisees
Client portal allows Franchisees to keep track of the performance of their marketing campaigns over different locations at one place, giving them a professional, organized experience.
Single source of all necessary data
No more logging into different places for data
Interactive reports & dashboards
Analyse all franchise locations
ReportGarden's franchise marketing platform help you get a 360 view of your client's brand overall, creating groupings or view an individual location's marketing performance. Easily see which locations are doing well and which are underperforming and need assistance.
SEO Monitoring
Social Presence
Advertising Performance
Proposals
SEO Proposal template
With SEO proposal template, pitch the services you offer to your client such as Website SEO Audit, SEO Content Development, Link Development, Backlink analysis and showcase them with testimonials, timeframes, deliverables, insert the fee structure and terms and conditions. With our customizable templates create timeless proposals today.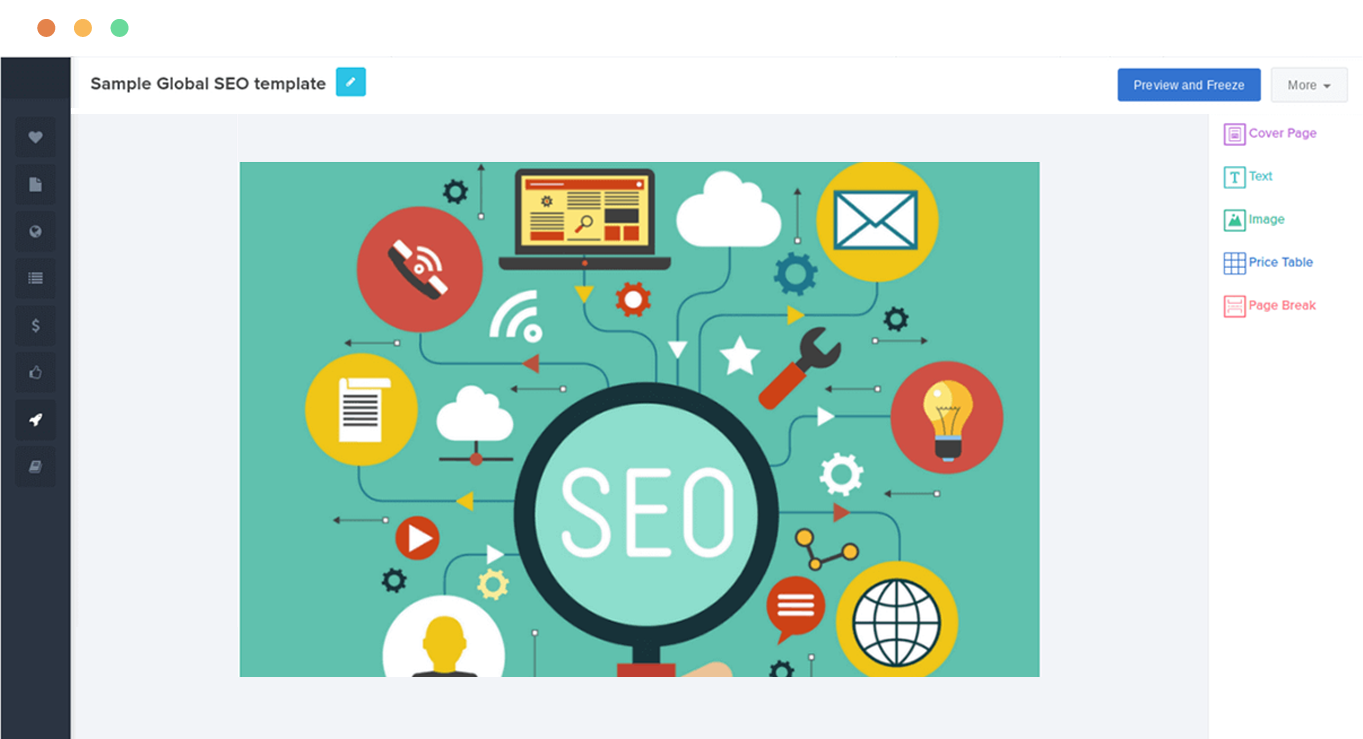 Social media proposal template
Our social media proposal template will provide a comprehensive example to let your client know the workflow with case studies, deliverables etc. and explain how your social media strategies like brand promotion, campaigns, engagement, lead generation, will increase the conversion rate while providing a definite timeline for your client.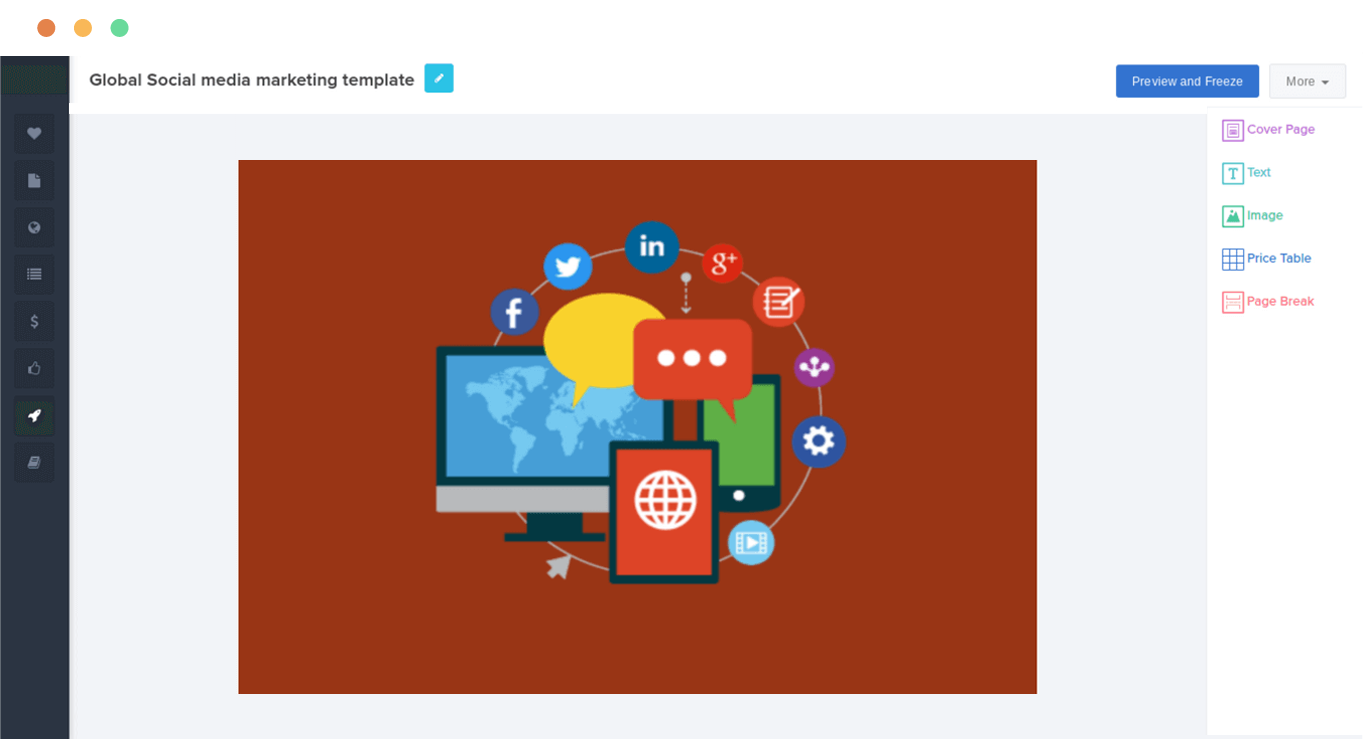 Website Design Proposal template
With our website design proposal template convey the services you offer to your client, change the layout, drag and drop widgets, change colors schemes, brand logo, insert text, tables, images etc. to match your business. Bring your brand into the limelight by sending white labeled proposals and invite your clients to view it in their portals.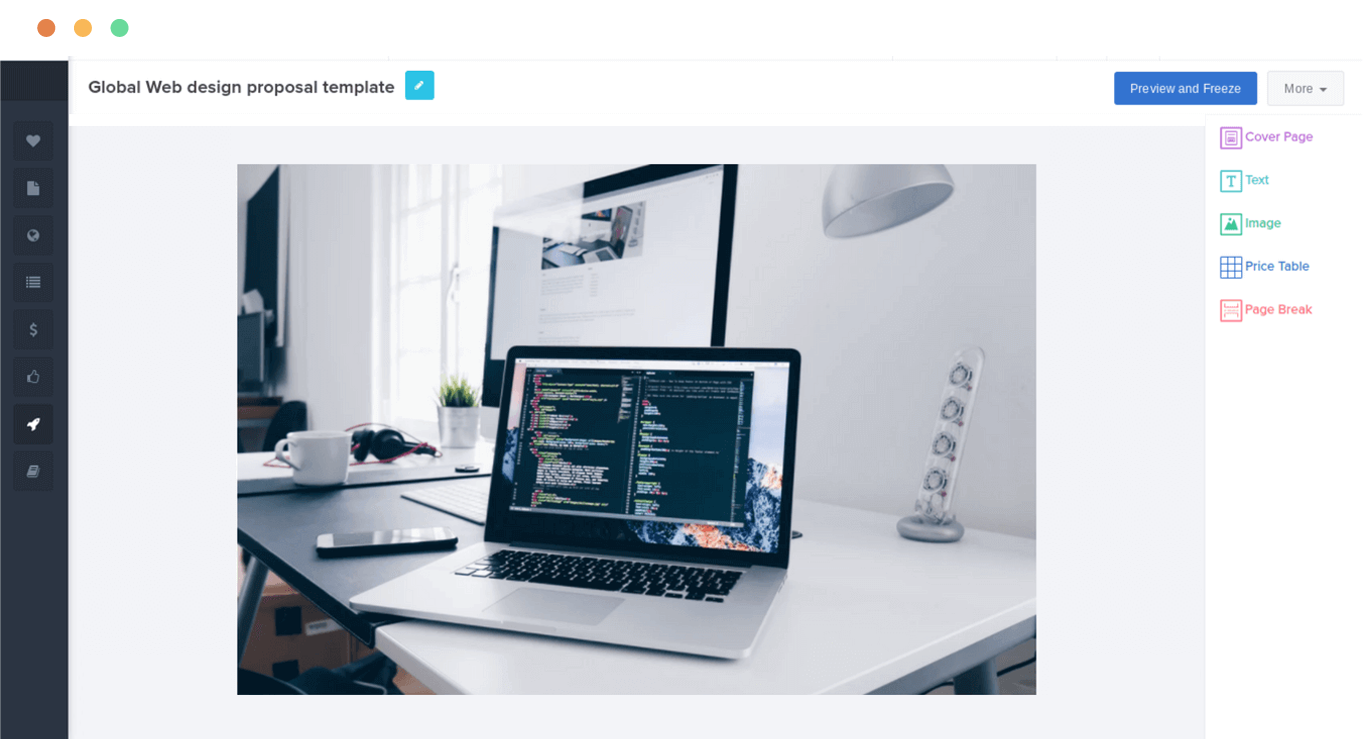 Branding Proposal template
With branding proposal template, pitch the services you offer to your client like brand promotion, discovery, brand evangelism, strategy and showcase them with testimonials, timeframes, deliverables inserting the fees structure and terms and conditions. With our customizable templates create timeless proposals today!
Report Garden Review: SEO Audit Tool
Keyword Analysis
This module from ReportGarden will let you know how the website is ranked in two ways based on the keywords. One being through user giving the keywords to check the ranks and other being the system automatically checking the keywords for which URL is ranked. With ReportGarden's SEO audit tool, you can analyze each of your targeted keywords and how and where is represented by which page on your website.
Backlink Analysis
ReportGarden provides useful information about the quality and quantity of backlinks pointing to the website. Backlinks audit analyses all backlinks to provide insights such as the quality of the links, anchor texts, Follow and NoFollow backlinks, domain authority of website that is giving you a backlink, and recommendations for improvement.
Website Analysis
ReportGarden's website analysis tool helps you perform a detailed Website Audit across multiple data points, and get insights on SEO errors you need to fix in order to increase your rankings. Monitor and analyze your website in real time and optimize the performance of your website. Draw data-driven solutions and find new ways to reach your customers with this simple website audit tool.
Budgeting
Pacing
ReportGarden automates the tedious process of manually downloading various reports on spend from all sources like AdWords, Facebook Ads to calculate the day spend. It also helps you track the seasonality of the spend and lets you make necessary changes to your client's budget.
Multi -Accounts
ReportGarden helps you track your client budget at multi level across multi platform campaigns and accounts. This opens up possibilities for agencies to monitor spend across platforms and provides a single point solution to management.
Rollover
Budget tracking software from ReportGarden helps your agency to roll over the budget to the next month when your Ad spend is less than the budget.
Notifications
As the client's spend nears its budget or it is not at par with the estimated spend, the account manager needs to be notified to take action on those campaigns. ReportGarden helps you schedule these notifications during that point where it would be feasible for you to take necessary action.
Dashboards
ReportGarden helps you manage multiple clients across various campaigns and accounts in one single platform. This opens up possibilities for agencies to monitor spend across all their clients in a single dashboard at the same time to track if they are over-spending or under-spending.
Invoicing
Simple Invoicing: This feature will allow users to bill their clients based on a Flat fee, Adspend % or a combination of both.
Invoice Templates: A user can create his own template to simplify his billing option which can be used in scheduling of invoices as well.
ETL Tool: This feature allows collecting ad spend data from multiple platforms like Adroll, Facebook, LinkedIn, Twitter, and more.
Integrations: This feature will allow integrations to various finance and accounting products such as Quickbooks.
Reporting: ReportGarden will help Agencies to create reports on revenue forecasting, invoice open rate and turnaround time for payments.
Auto reminders: This invoicing software from ReportGarden will help users give reminders on invoices and expedite the payment process from client.
Scheduling: ReportGarden allows users to Auto schedule their invoices. Those Scheduled invoices will automate the process of invoicing.
Reconciliation: Using ReportGarden, Agencies can evaluate their financial health which will help them to evaluate their clients.
Report Garden Review: Pricing
| | |
| --- | --- |
| FREE TRIAL | Available for 7 days. No Credit Card Required. |
| STANDARD PLAN | $149/mo |
| PROFESSIONAL PLAN | $299/mo |
| AGENCY PLAN | $649/mo |
| ENTERPRISE PLAN | $1299/mo |

ReportGarden offers the following pricing plans and a custom plan that starts at $65.
Standard Plan – $149/mo (billed monthly) or $1490 (billed annually, 2 months free)
Accounts and Dashboards – 30
Budget Spend ($) – 20,000
Keyword Units – 100
Google Integrations
Social Integrations
Professional Plan – $299/mo (billed monthly) or $2990/mo (billed annually, 2 months free)
Accounts and Dashboards – 70
Budget Spend ($) – 50,000
Keyword Units – 375
of Domains – 10
Crawl Limitations – 1,000
Crawl Archives – 3 months
Backlinks – 1,500
Invoices – 10
Proposals – 10
Approvals – 25
Lead Capture – 25
Integrations
Google Integrations
Social
Social+
Bing Ads –
Email & Retargeting
Call Tracking
Premium Integrations
Agency Plan – $649/mo (billed monthly) or $6490 (billed annually, 2 months free)
Accounts and Dashboards – 170
Budget Spend ($) – 150,000
Keyword Units – 500
of Domains – 20
Crawl Limitations – 5,000
Crawl Archives – 6 months
Backlinks – 5,000
Invoices – 30
Proposals – 25
Approvals – 50
Lead Capture – 50
Includes all the Integrations of the Professional plan
Enterprise Plan – $1299/mo (billed monthly) or $12,990 (yearly, 2 months free)
Accounts and Dashboards – 300
Budget Spend ($) – 300,000
Keyword Units – 1000
of Domains – 30
Crawl Limitations – 25,000
Crawl Archives – 12 months
Backlinks – 10,000
Invoices – 50
Proposals – 75
Approvals – 100
Lead Capture – 100
Includes all the Integrations of the Agency plan
---
Report Garden Alternatives: List of Competitors
1. Agency Analytics: AgencyAnalytics is an all-in-one SEO reporting software for marketing agencies, offering PPC keyword tracking, SEO auditing, backlink monitoring, social analytics, automated reporting, multiple third party analytics integrations, custom branded dashboards and mobile apps, and more.
2. HubSpot Marketing: HubSpot is a scalable, all-in-one marketing platform that covers a vast array of features and capabilities. The software can be used to carry out, track and measure all online marketing activities such as blogging, email marketing, and social media marketing. HubSpot Marketing can also be used to create landing pages and calls-to-action, providing users with SEO tips as they type. It acts as a content management system too.
3. Raven: Raven Internet Marketing Tools is used to efficiently manage search engine optimization, social media conversations and online advertising campaigns. With Raven you can conduct research and analysis, manage link building, track search engine trends, create and manage ad campaigns, monitor and manage social networks, collaborate with team members and instantly produce sophisticated campaign reports from one central location.
Summing up
ReportGarden is a cloud-based marketing analysis tool that offers configurable marketing reports and dashboards for search engine optimization (SEO), pay per click (PPC), marketing analytics, social-media performance and website backlinks. It is suitable for marketing agencies of all sizes.
Users can choose from various pre-built templates and dashboards, configure them to meet user needs or create custom reports. Reports include multi-channel reporting that can compare performance on sites such as Twitter, Pinterest, LinkedIn and Facebook. Also offered are reports that track links and impressions, visitor demographic breakdowns and Adwords performance.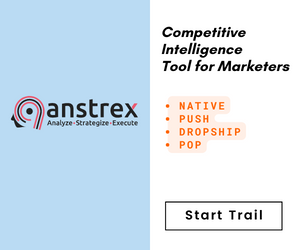 Gallery and dashboard tools let users present statistics and performance for various marketing channels. ReportGarden also offers white-labeling features, which allow companies to brand reports with custom colors and logos. Other features include tools to track SEO keyword rankings, campaign health monitoring, campaign alerts, and more.
---
Our 'Handpicked' Tools for Internet Mareters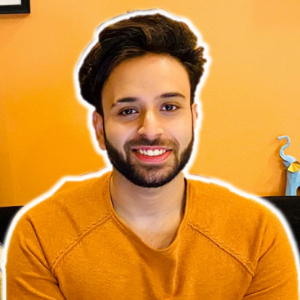 I and my team research various media buying platforms and can help you choose the right network; so you could rake in more greenbacks with an increased ROAS. I am just a mail away, so reach out to me if you need assistance with scalable media buying. mail: [email protected]