Native advertising continues to dominate the industry due to its higher click-through rate and better conversions for advertisers. Today, all the major exchanges and demand-side platforms offer native advertising capabilities that ensure advertisers can start with native advertising by just uploading the ad presets. Native ads take the form and structure of the content and provide a seamless experience to the users. The native advertising sector is predicted to be $400 billion by 2025 and the growth will be accelerated by some of the top native advertising platforms globally.
How to Choose the Best Native Advertising Platform for Media Buying
There are a lot of native advertising platforms in the market and choosing the right one can be a big problem for most advertisers and marketers. Thus we have put in a nutshell, the key factors that you should take into account while choosing the appropriate native advertising platform for your business.
See what targeting options the platform offers
Know where your ads are being shown
Ability to calculate ROI on your spends
Features of Look-a-Like Audience
Ability to target visitors based on interests
Image-rich gallery for Ad creatio
Taboola Review for Advertisers: Platform Overview
In this article, we go through a detailed review of the Taboola platform for advertisers. Out of the major native advertising companies, the campaign settings and features provided by Taboola are quite in-depth as they take special effort in ensuring the ROI for their advertisers is met. Go through this review to have an idea of the campaign settings overview, minimum spend, etc. It is being used by thousands of advertisers globally who are looking to increase their website audience, generate engagements on their posts, and enhance their lead generation activities. Hope this article on Taboola review for advertisers will be helpful.
Taboola Campaign Overview, Setup, and Management
Setting up a campaign is pretty easy and straightforward with Taboola. First, you need to ensure that two things are done- firstly, the credit card is added and the payment source is approved so that you can go live with the campaigns once created, and secondly, you need to add the Taboola pixel on your site to track conversions. Based on your objective, you can customize the pixel and once the pixel objective is met, you will be able to see a conversion. One pixel conversion means 100% here. Following this, the process of campaign creation is pretty simple.
Login to backstage and click on 'Campaign Management' button on the left. Now click on a 'New Campaign button'. Now you need to provide relevant information about the campaign settings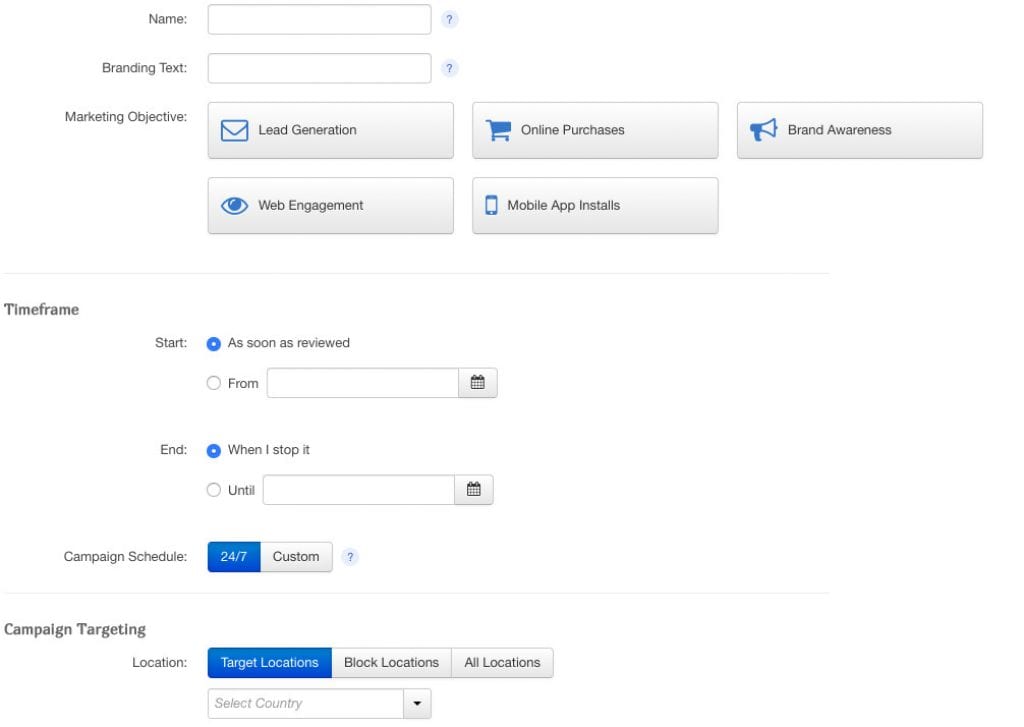 Here you can select your marketing objective from the options given- lead generation, online purchases, brand awareness, web engagement, mobile app installs, and more.
You can select other targetings and when starting the campaign, make sure you keep the audience at RON (run on network) and only filter via one geography and one device to track the results separately.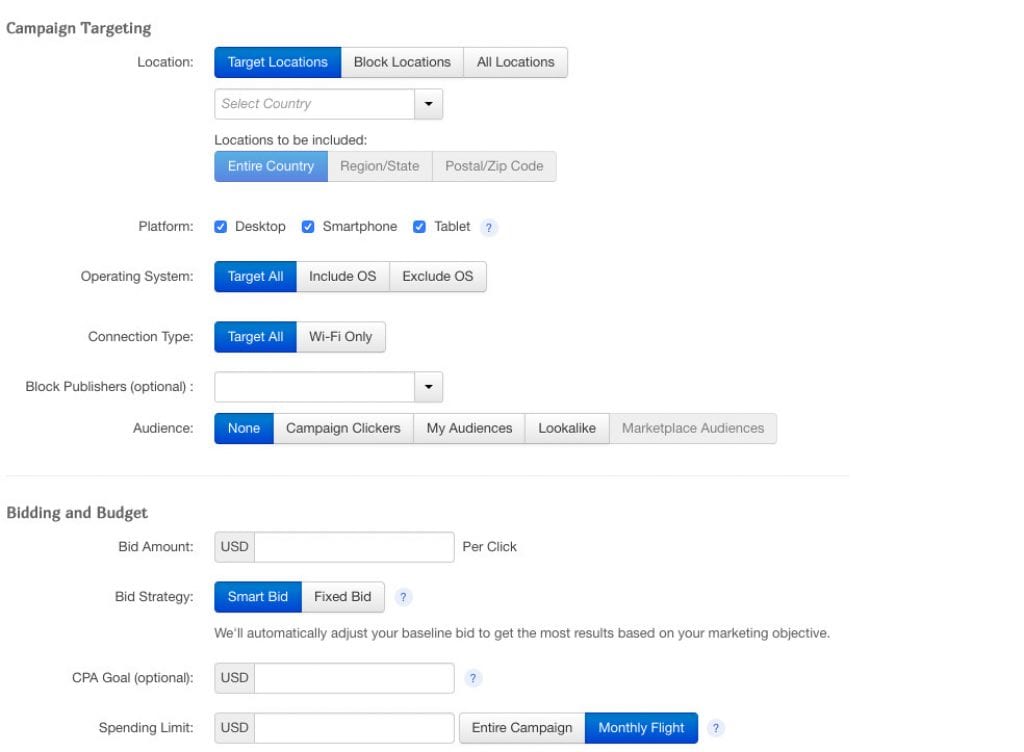 You have the option to choose a smart bid or a fixed bid and the spending limit as well. Make sure you keep the ad delivery uniform and use the UTM parameters so that your Taboola campaign data is properly reflected in Google analytics.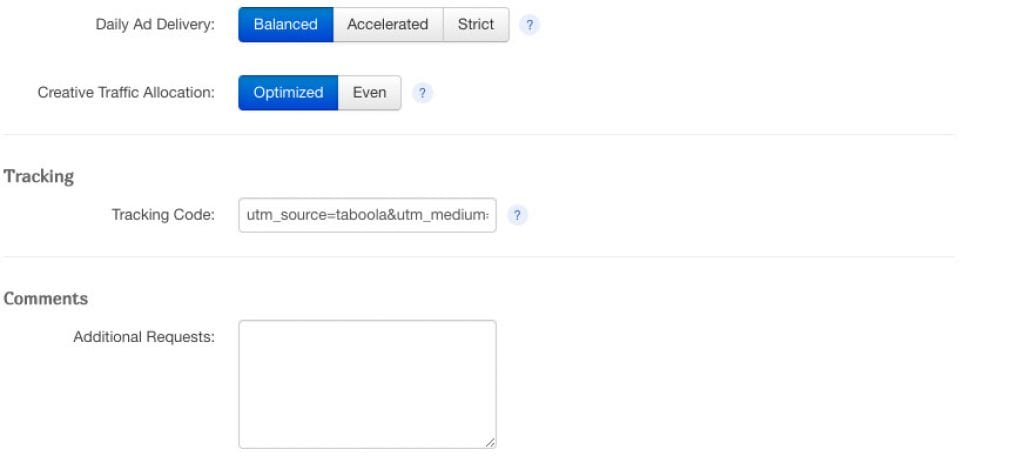 Once done, click on the finish button and then you'll be moved to the section where you need to add creatives.
Enter the landing page URL, select the thumbnail images from a database of images provided by Taboola in partnership with Shutterstock, add the title descriptions, and set the campaign to 'Go'. Once approved, which typically takes 4 hrs to 24 hrs, you'll ad campaign is live and will start collecting data.
---
Taboola Review for Advertisers: Best Practices for Campaign Setup
Over here, we have listed some best practices while setting up your campaign for maximizing the performance of your campaign. Note, it's all about optimization and testing, and you need to have the right data to ensure that you can optimize your campaign.
Creatives: When adding campaign inventory, you should aim to have at least 5-10 creatives. Drive to the same landing page, but test maybe 3-5 headlines and thumbnails mixed and matched. Our algorithm will drive towards the ads with the best performance, thereby automatically optimizing your traffic.
For ideas on what campaign content to run take a look at trends.taboola.com or our Creative Best Practices and Landing Page Best Practices. Also, be sure to utilize Taboola Trends for insights on what is working well on our platform.

Campaign Targeting: You will be looking to follow certain steps to make sure we can use your budget in the right direction, and also ensure that your insights are such that we can optimize your campaigns long-term.

Campaign Schedules – allow you to restrict the hours and days for which you are visible, making sure that your budget is used most effectively.
Location Targeting – should always at least be defined by the country. Countries bid differently and so to get the best use of your budget you should target only one country at a time. If you wish to run to multiple, try to keep them in the same time zone(s).
Platform Targeting – Like locations, each platform will bid differently. To get the most effective use of your CPCs and budget, it is best to target each one individually. Take a look at the following suggested benchmarks for a US campaign.
Audience Targeting – You can target several audiences depending on your goals. We have retargeting and lookalike audiences available, which are great for long term engagement and are especially useful in e-commerce campaigns. We also have our 3rd party data segments which allow you to focus your reach by demographic, behavior and more!
This being said, you should run your first campaigns to no specific audience. Our algorithm will already optimize your campaign initially, and we will provide you data up front on which audiences are engaging with your content. From there you can determine if it is worth further targeting your audience.
Bidding Structure – The list of CPCs above gives you some good benchmarks, but you will also want to be sure you are using our Smart Bid. This will automatically adjust your CPCs on a per impression basis. There are buffers in place to prevent overspend, but you should find that conversion activity increases. Moreover, you can override smart bid on a per-site basis from the "by site" tab of your campaign summary. SmartBid should always be your default.
UTM Parameters – If you use a program like Google Analytics, then it will be beneficial for you to take a look at our UTM Macros that can be added to pull back more information for deeper analysis.
Taboola Pixel – This is a very important step. You will want to make sure the Taboola Pixel is placed and that your conversions are defined. With this, we can optimize your campaigns by traffic source, audience, and more because we will be able to follow where conversions or the best activity is coming from. NOTE: If you are using a tag manager, then there will likely be unique set up involved that can be found in our help center. Examples include Google Tag Manager and Shopify.
Taboola CPC Rates for Advertisers

The CPC rates within the Taboola network vary based on your targeting parameters. If you're targeting desktop traffic, then your CPC rate would be comparatively higher in comparison with mobile. If you've target RON traffic, then the CPC rates will be on the lower side. For arbitrage sites, the CPC rates for the US and mentioned below.

Arbitrage:
Desktop CPC: ~$0.14 – $0.18
Tablet CPC: ~$0.12 – $0.16
Mobile CPC: ~$0.10 – $0.14
However, if your focus is a lead generation and conversions like sales, then you need to focus on interest-based audience and look-a-like audience once your campaigns have sufficient data, In those cases, the CPC will be a bit higher than the ones mentioned above and can vary based on the number of advertisers bidding for the similar traffic.  
---
Taboola Review for Advertisers: Advanced Campaign Optimization
These best practices can help you set your account for success and meet your campaign goals: Listed below are some crucial campaign settings that you should take into account once you start optimizing your campaign data.
Here are some tips and best practices for you to apply, in order to reach even better results
By-site optimization – Adjust your CPC bid depending on the performance of the traffic source.
Day-parting – Once you have enough data, you can see what days of the week get you the best results and target them specifically.
Audience Targeting – Create new, targeted, campaigns to your most engaging audiences. This is a great way to discover audiences you wouldn't target otherwise.
Also, we remind you to visit the Taboola Trends page. There you'll find what creatives and keywords are best performing within the Taboola network.
Taboola Payment Terms for Advertisers

You simply need to add your credit card in the payments section to get started with Taboola. Once you've done that and the billing team approves, you are all set to go live with the campaigns which you've created. Your credit card will be charged after 30 days for the transactions that take place during the period based on your campaign spent.

Taboola Support for Advertisers
Taboola offers a host of support to its advertisers. It includes trends that advertisers can keep an eye on to see what is performing best within the Taboola platform. Furthermore, there are helpful resources that you can check to keep yourself updated with the latest trends.
Case Studies and Playbooks
Advertiser Help Centre
Creative Recommendations
Advertising Policies

---