Modern-day shopping has made our lives visibly and physically easier. No more travelling, looking for a parking spot, paying parking tickets and dragging yourself to a store that might not even have the thing you're looking for. With a few clicks, you can not only eliminate these tasks, but also send back a product you are not satisfied with, and do it without paying extra. From competitive prices to A-class quality, every product reaches your doorstep.
Did you know that online shopping has only been around since the 1960s? And it has become popular only since 1991. Fast forward to 2020, and it is now an industry worth more than 100 billion dollars.
Retailers these days do not have to entirely depend upon entirely brick-and-mortar premises which are limited in their capacity to hold good at their inventories.
Experts estimate that on a typical day, a consumer exposes himself to an average of 4,000 to 10,00 ads, offline and online. Hence, e-commerce advertisers continue to rack their brains into formulating strategies that conquer the marketing challenges of the day.
The best way to be ahead of your game and build a secure consumer data? Google Shopping Ads! Before continuing, I assume you already have a Google AdWords account linked to Google Analytics, as it is a crucial step in interpreting data to improve your ads.
10 Google Shopping Ads Best Practices: Tips and Tricks
Google has made it very easy to set up Shopping ads, but they can be quite challenging to perfect if you don't have the correct strategy in place. Here are some of the best tips to ensure a steady flow of traffic which can maximize ROI, increase customer loyalty and leave you with excellent consumer data:
1) Have a Google Merchant Centre in Place:
Merchant store is a digital platform that makes online data management more effortless. It is a digital platform which stores information on all your products (product category, price, availability.), both offline and online. All of this is easily accessible to your customer across Google.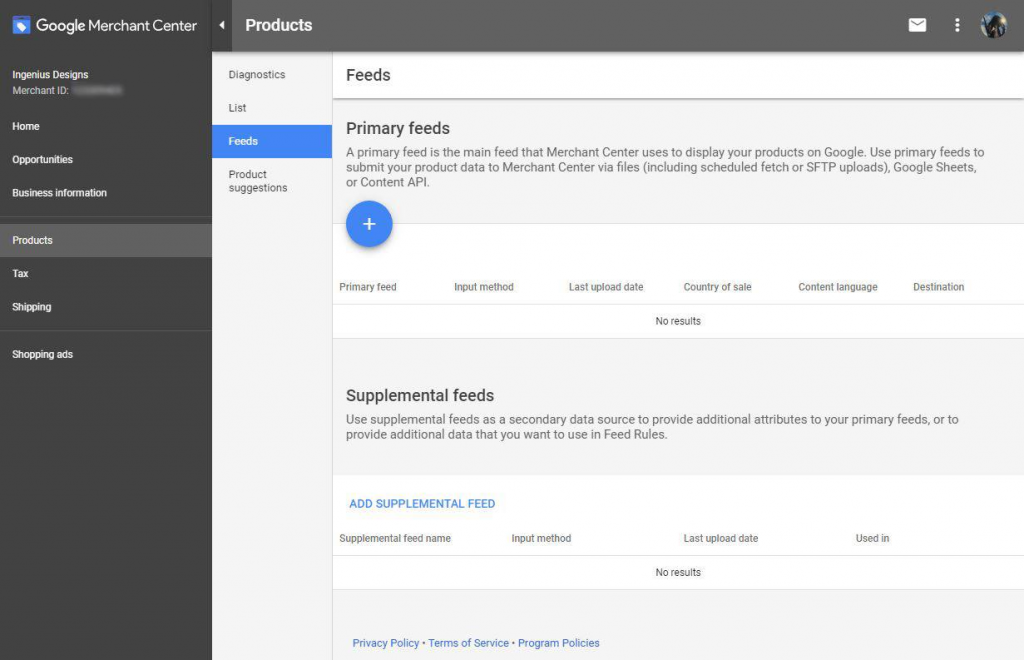 2) Optimize Google Shopping Action:
Studies show that a shopper stays for an average of 17 seconds to 2 minutes on an e-commerce website, depending on whether the website is user friendly if they find the product on the landing page itself and various other factors. The good news is, not only can you submit product data quickly, but through Google Shopping Action, your products are just a click away from the buyer. By entering the right keyword, a consumer can find your product right under the Google search engine. This program helps retailers to surface their products across different Google platforms and enables a smooth consumer buying experience. Here are a few helpful ways to enhance its use and ensure conversion.
Optimize this service the best you can by having the right product names and other keywords that are the easiest for the customer to find the product.
From visuals to copy, be as creative as possible to ensure clicks that get the consumer straight to the product details on your website
Think like your best competitor and give accurate shipping information, for example, a 'FREE Delivery' is likely to get noticed, raising the possibilities of purchase.
Have a strong pricing strategy and make it stand out. Give discounts and other reasonable offers to keep the customer coming back. You can even place deadlines and an expiration countdown to induce panic buy.
Reduce the number of steps to the goal of buying. Nothing turns off a consumer more than typing a long-form to buy a product. The result more often than not ends up in increasing your website bounce rate.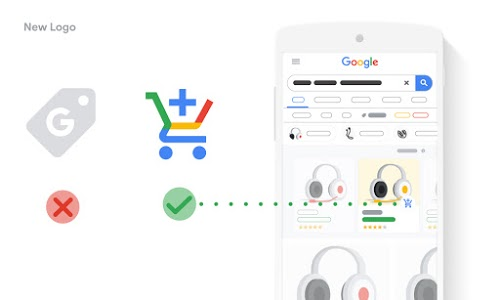 3) Use Google Merchant Promotion:
A free feature by Google, which helps online retailers give special offers on their products through Shopping Ads. This feature helps them stand out from their competitors, offering the same products and generate awareness by encouraging potential customers to visit their website. Special offers like – discounts and free shipping attracts new consumers and helps retailers build their customer data.
4) Use the Right keyword and visual:
a keyword is a hook through which users fish out what they are looking for across the internet. Use the right product name and a high-resolution product image. Mentioning product category is vital as a high number of users use broad terms like 'kids wear' instead of mentioning a brand.
5) Smart Shopping:
Google hasn't left out small-scale businesses in the race for revenue generation through Shopping Ads. Vendors with smaller bandwidth are supported through simplified advertising, with automated bidding, creative ad customization and placement via Google Machine Learning. Your ads are automatically optimized and streamline, keeping the company goals in mind.
Tips and Caution:
If your target audience lies in different countries, create a product data feed per country. Google Ads, in general, are country-specific, so it's wise to set a campaign for each country separately. Be time specific as well.
Don't skip the Learning Phase required to excel Smart shopping for your business. Playing around with the automated features can get more data which can help your campaign deliver performance.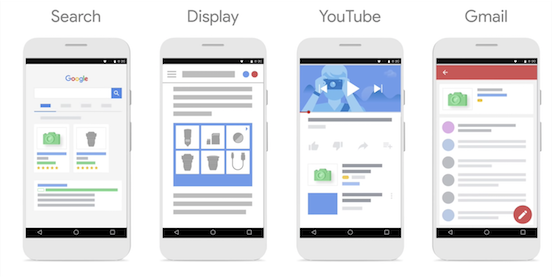 6) Introduce Remarketing with RSLA Campaigns
Lists for Search Ads (RLSA) is an incredible tool to target people who have already visited your site, and these include bounces, previous purchaser and audience that have interacted with your business in other modes. Remarketing creates powerful opportunities for driving conversions and customer loyalty through repeat purchases.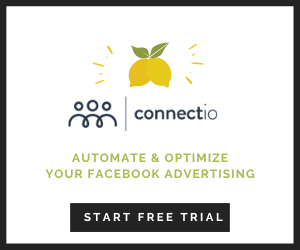 7) Attract new customer using Similar Audiences
With your campaign's remarketing data, you can attract future customers who have similar search/browsing history to your website using Similar Audiences and add them to the member list. Doing so eliminates guesswork and the need to discover new audiences because of the behavioural pattern of your existing customers and Similar Audience match, turning them into potential buyers. Thus, boosting the reach of your remarketing campaign.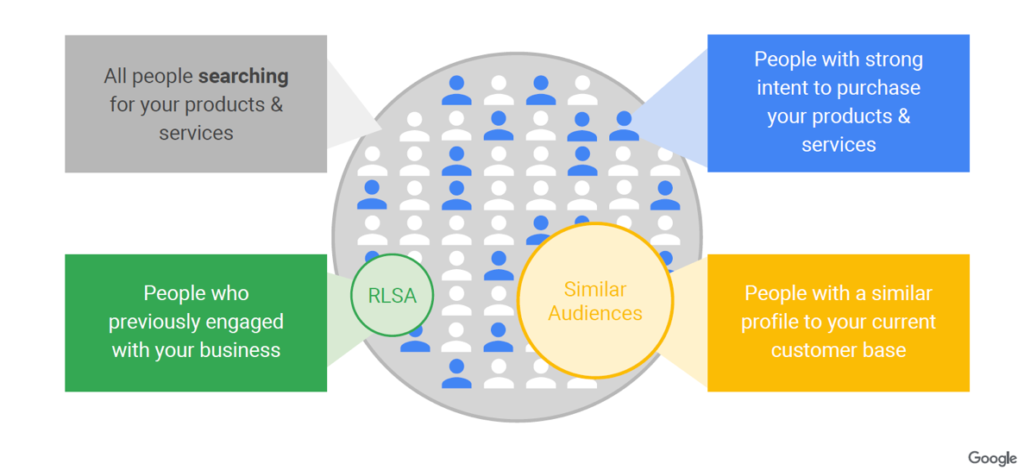 8) Customer Match
Catalogue-based businesses which keep a dedicated list of contact numbers and email ids can make use of their data to make ad campaigns effective, through Google Customer Match. This feature allows you to upload your list into Google Ads. This increases chances of repeat purchases making it easier to up-sell or cross-sell according to your audience behaviour, increase brand loyalty. These target people have abandoned their shopping cart and engage present customers.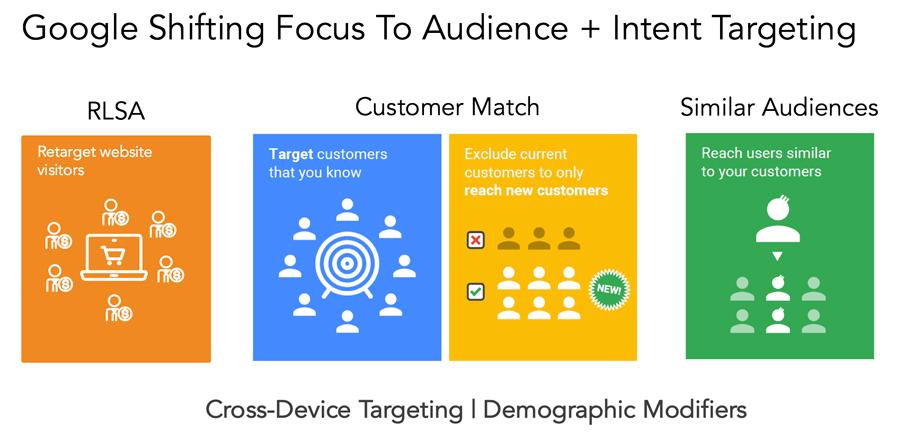 9) Get aggressive with Geo-targeting
Choose quality over quantity with distinct geo-targeting for your ad campaign. With Geography-based bids, you can change your bid percentage on a specific location. To execute this, check your ad performance goals and align it with your bid strategy. Here's a few more tips:
Decide which locations you want to target based on your product-need information and remarketing strategies.
If you have more than one ad campaigns, consider dividing your ad budget and put money where your ad is more likely to get more engagement.
Choose mobile ads for locations close to your stores and present offers which the customer can redeem in those stores, increasing offline footprint as well.
Run through Google Analytics Report and website visitor data with your team and make adjustments to enhance the user experience
Exclude locations, where engagement is less to none and ROI, is less.
Don't target entire countries. Instead, tailor specific locations where your ads receive the highest engagement, and the chances of purchase are more
Geo-targeting might work wonders if you go into further detail, depending on the kind of business your run. For example, if your product range on instant foods is most popular, your ads are better targeted to an area where the number of students and bachelors, hostels are more. Try targeting zip codes to make this work.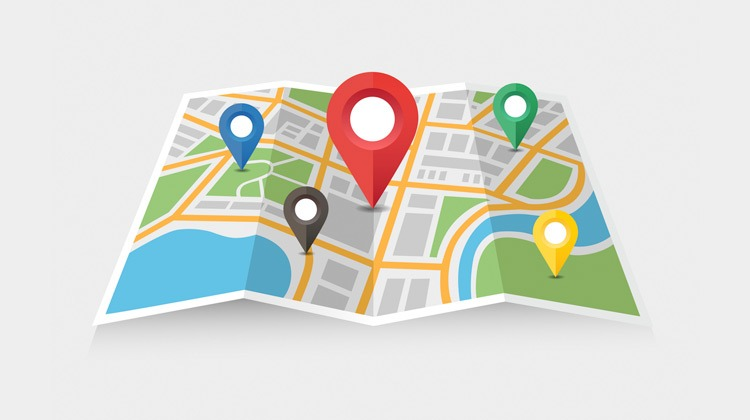 10) Get to the real Shopaholics
Showcase Shopping Ads, you have in your hands the best tool to show your product to millions of potential customers. This feature allows shoppers with searches that aren't brand-centric, but instead, they want to look for a product category, find out the best offer, product quality and buy. It is an excellent way to make a shopper who stumbles onto your product, a loyal customer. Get millions of impressions as 40% of the shoppers from every nook and cranny 'type broad terms' instead of a brand name—for example, Women's sportswear.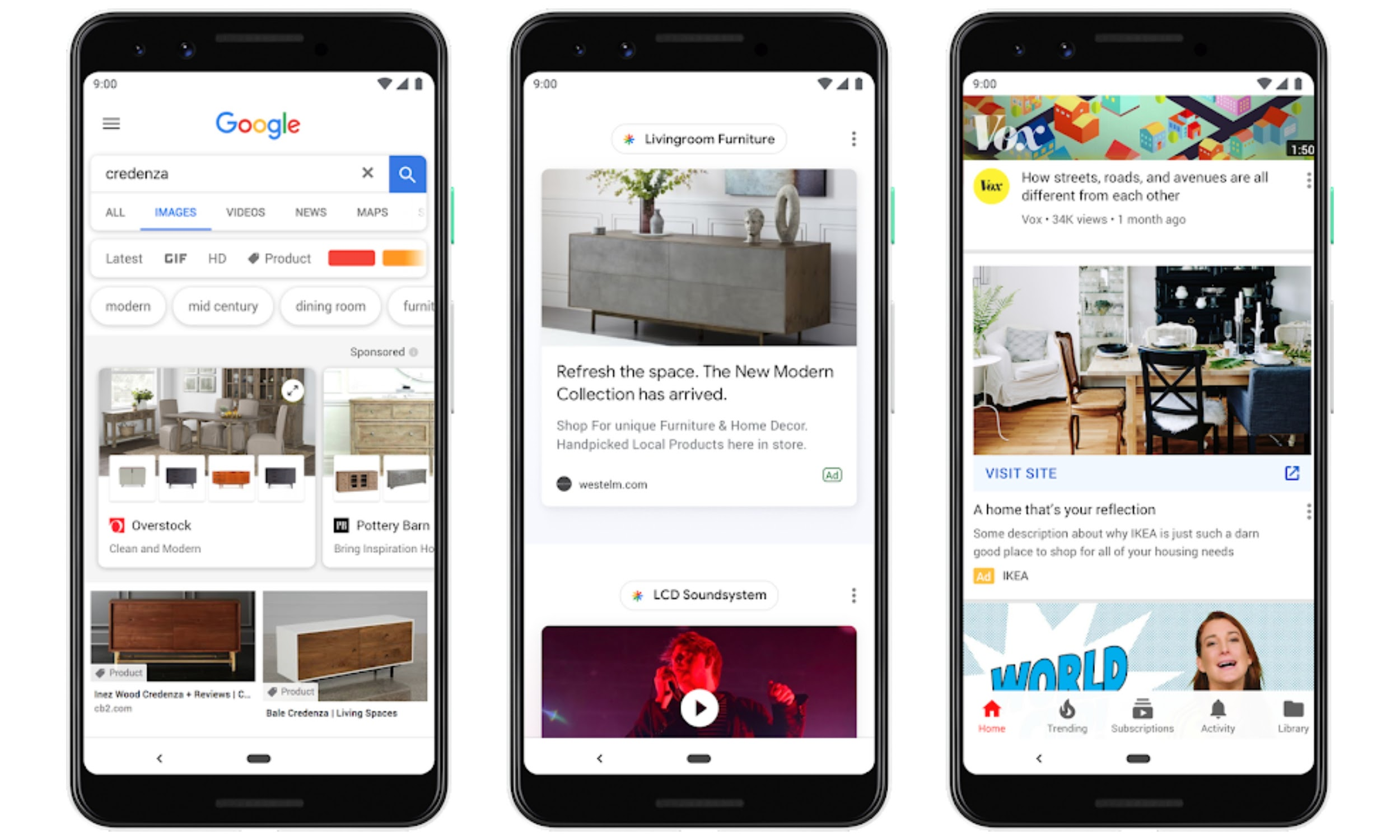 Bonus Tip: To increase ROI, push for the range of products that are in demand during a particular season.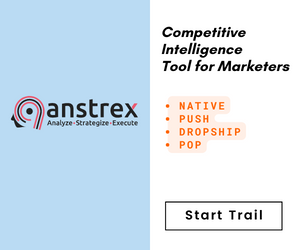 Shopping Ads has made it easier for retailers to generate revenue with advanced features like bidding, geo-targeting, remarketing and product feed. But it's only after repeated thorough testing and optimizing of these features, can you achieve balance and regular revenue flow through your ad campaigns. So, in the beginning, during and end of each campaign it is vital to bring out your Google Analytics Report and website visitors' data and set your marketing team to study and optimize campaigns for achieving continued performance growth. We hope this article on Google shopping ads best practices was helpful.
Our 'Handpicked' Tools for Internet Mareters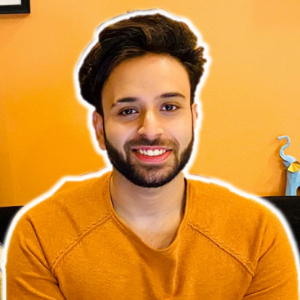 I and my team research various media buying platforms and can help you choose the right network; so you could rake in more greenbacks with an increased ROAS. I am just a mail away, so reach out to me if you need assistance with scalable media buying. mail: [email protected]